Beijing Subway Line 9

Guogongzhuang ↔ National Library (Identification Color: lime green )

Beijing subway line 9 goes from north to south in the southeast part of this city, covering Fengtai and Haidian Districts. It starts from Guogongzhuang Station in the Fengtai District, passes by Beijing West Railway Station and finally ends at the National Library Station. This 16.5-kilometers (about 10 miles) underground railway was constructed in two phases, and is now finished.


See subway maps for reference.



Timetable
Station
To Guogongzhuang
To National Library
First Train
Last Train
First Train
Last Train
National Library
05:59
23:19
---
---
Baishiqiao South
06:01
23:21
05:48
23:08
Baiduizi
06:03
23:23
05:46
23:06
Military Museum
06:07
23:27
05:43
23:03
West Railway Station
06:10
23:30
05:40
23:00
Liuliqiao East
06:12
23:32
05:37
22:57
Liuliqiao
06:15
23:35
05:34
22:54
Qilizhuang
06:18
23:38
05:31
22:51
Fengtai Dongdajie
06:21
23:41
05:28
22:48
Fengtainanlu
06:23
23:43
05:26
22:46
Keyilu
06:25
23:45
05:24
22:44
Fengtai Science Park
06:27
23:47
05:22
22:42
Guogongzhuang
---
---
05:20
22:40
Interval: 3 minutes 15 seconds at rush hours

Transfers


National Library: Transfer with Line 4


Baishiqiao South: Transfer with Line 6


Military Museum: Transfer with Line 1


Liuliqiao: Transfer with Line 10


Guogongzhuang: Transfer with Fangshan Line


West Railway Station: Transfer with Line 7


Qilizhuang: Transfer with Line 14



Surroundings and Bus Routes near All Stations
('

' subway transfer stations)



National Library
Surroundings: Beijing Dance School, National Library, Shenzhou International Hotel, Shenzhou Building, Rock Carving Art Museum, Capital Skating Stadium, Zhenjue Temple, Jiulong Business Center A, B, C, China Meteorological Administration, Capital Indoor Stadium, National Library of China, Zizhuyuan Park
Buses Exchangeable:
A: northwest exit: 86, 319, 320, 332, 634, 645, 689, 695, 717, 732, 808, 814, Special Line 4, SL 6, Yuntong 105, Yuntong 106, Yuntong 205, Night 209, 653
B: northeast exit: 86, 319, 320, 332, 634, 645, 689, 695, 717, 732, 808, 814, Special Line 4, Special Line 6, Yuntong 105, Yuntong 106, Yuntong 205, Night 209, 653
C: southeast exit: 332, 645, 732, 27, 362, 534, 632, 808, 814, 334, 347, 360, 360 Fast, 482, 601, 634, 697, 714, 808, 814, Special Line 4, Yuntong 105, Yuntong 106, 319, Yuntong 104, Yuntong 205, Night 206, Night 209
D: southwest exit: 334, 347, 360, 360 Fast, 482, Special Line 5, 114, 362, 480, 534, 601, 714, Yuntong104, Night 206, Night 211, 118, 809



Baishiqiao South
Bus Exchangeable: 14, 27, 86, 92, 320, 653, 645, 332, 114, 118, 717, 360, 482, Special Line 6, Night Line 202, Night Line 211
A (Northwest Exit): China Building Standard Design Institute
B (Northeast Exit): Guoxing Jiayuan Community
C1 (Southeast Exit): Zhengyuan Grand Mansion Restaurant
C2 (Southeast Exit): Newland Science and Technology Groups, Guoxing Mansion
E (Northwest Exit): Zizhuyuan South Road, Zhuyujiayuan Comminity
G (Southwest Exit): Chegongzhuang West Road, Municipal Environmental Protection Bureau, China Architecture and Building Press, Bank of Communication



Baiduizi
Bus Exchangeable: 812, 335, 619, 103, 121, 37, 61, 58, Yuntong 106, 612, 335, 619, 748, 336
A (Northwest Exit): Baiduizi Coummunity
B (Northeast Exit): Lixin School
C (Southeast Exit): Youyili Community
D (Southwest Exit): Navy General Hospital



Military Museum
Buses Exchangeable: 1, 4, 21, 65, 68, 205, 308, 320, 337, 617, 728, 802, 827, Special Line 1, Special Line 5, Special Line 6
A & B (Northeast Exit): Military Museum, China Century Monument
C1 & C2 (Southeast Exit): Yangfangdian East Road, Residence of Ministry of Railways
D (Southeast Exit): China ENFI Engineering Corporation
E1 & E2 (Northwest Exit): CCTV
G (Southeast Exit): ENFI Science and Technology Mansion, Industrial Bank, China Construction Bank, Yuyuantan Middle School
H (Southwest Exit): Xinhua News Agency Dormitory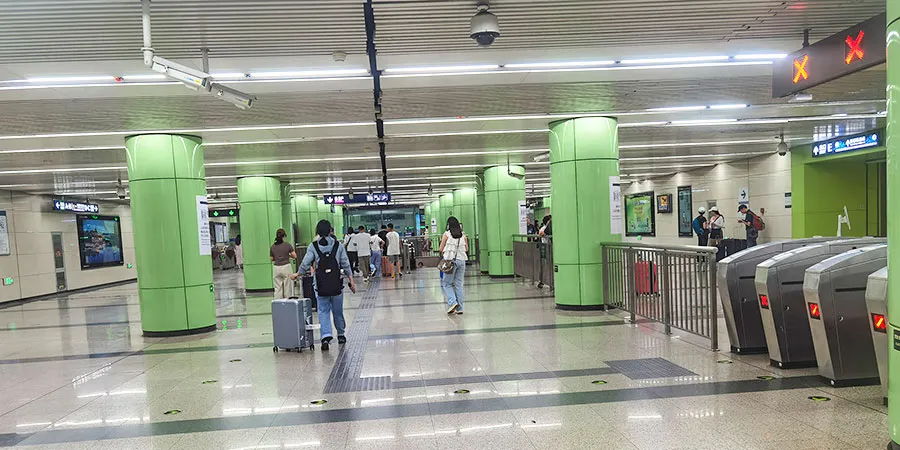 West Railway Station
Surroundings:
Beijing West Railway Station
,
Lianhuachi Park
Buses Exchangeable:
Exit A: 1, 201, 205, 209, 21, 212, 213, 300Nei, 300Wai, 300KuaiNei, 300KuaiWai, 301, 308, 309, 319, 32, 320, 321, 323, 324, 33, 335, 337, 339, 340, 368, 370, 373, 374, 38, 387, 390, 394, 40, 414, 436, 437, 45, 451, 47, 473, 477, 483, 50, 52, 54, 57, 6, 613, 617, 623, 624, 631, 34, 65, 658, 661, 662, 663, 67, 673, 68, 691, 694, 695, 698, 699, 715, 728, 74, 741, 76, 77, 83, 831, 832, 834, 835, 836, 837, 838, 840, 843, 845, 89, 9, 901, 917, 944, 968, 969, 99, 997, Zhuan27, Te2, Te6, Te7, Te8, Yutong102, Yuntong103, Yuntong108, Yuntong120, Yuntong201
Exit B (on the south square of West Railway Station): 993, 122, 109, 410, 53, 616, 72, 821, 820, 997, 982, Zhuan3, 890, 941, 349

Liuliqiao East
Surrounding: Guangan Road, Electric Power Hospital,
Lianhuachi Park
, Lianhuachi Long-distance Bus Station
Bus Exchangeable: 6, 38, 57, 74, 76, Yuntong102, Night Line 201, 309, 321, 339, 340, 349, 390, 394 Fast Line, 394, 477, 613, 691, 715, 820, 821, 831, 832, 835, 836, 837, 941, 978, 971

Liuliqiao
Surroundings: Guangan Tianyuan Hotel, Jiaochengshan Hotel, Guangan Road,
Bus Exchangeable: 309, 339, 340, 477, 568, 941 Fast Line, 941, 982

Qilizhuang
Bus Exchangeable: 77, 451, 477, Night Line 205, 323, 323 Fast, 458, 480, 531, 604, 654, 687, 699, 869, 840, 958, 969, 971, 973, 998,
A1 (Northwest Exit): Guanjing Hotel, Pizza Hut
A2 (Southwest Exit): Guanjing Mansion, Dazhong Electronics
B (Northeast Exit): Wanfeng Road
C (Southeast Exit): Wanfeng Road, Fengtai North Road

Fengtai Dongdajie
Surroundings: East Street, Donghuachang Road
Bus Exchangeable: 395, 451, 459, 477, 617, 678

Fengtainanlu
Surroudings: A1 Exit: Qiaosi Business Hotel, Hualinjiayuan Community
A2 Exit: Fengtai Hospital, South Fengtai Road
D Exit: Ecological Themed Park of Fengtai Technology Park
E Baofeng Mansion
Buses Exchangeable: 310, 313, 340, 349, 351, 353, 354



Keyilu
Surroundings: Dijing Garden, Dijing Road, China Unicom
Bus Exchangeable: 340, 604, 617, 687, 694, 351, 353, 451, 477, 480

Fengtai Science Park
Surroundings: Zhonghuan Road, Wuquan Road, Bus Museum, Bank of Beijing
Bus Exchangeable: Temporary line 3, 340, 353, 354, 451, 477, 480, 546

Guogongzhuang
Surroundings: Jialai Manor
Buses Exchangeable: 451, 477, 480, 497, 689, 692, 840
-