Beijing Subway Yizhuang Line

Songjiazhuang ↔ Yizhuang Huochezhan (Yizhuang Railway Station)
(Identification Color: fuchsia
)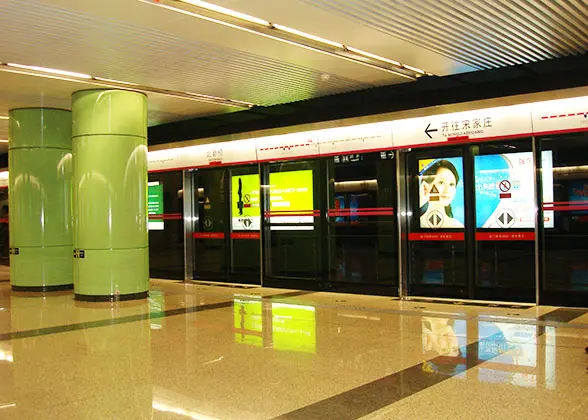 The first phase of Beijing Subway Yizhuang Line has been opened since 2010. It starts at Songjiazhuang Station in the Fengtai District, passes through Chaoyang and Daxing Districts, and finally reaches Yizhuang Huochezhan (Yizhuang Railway Station) in the Tongzhou District. It takes about 37 minutes to travel one way of the whole Yizhuang Line with a length of 23.3 km (14.4 mi) and 14 stations.

It connects the central urban area with the Yizhuang New Town, which is an important economic and technological development zone in southeastern suburb of Beijing, providing a solid transportation guarantee for 190 thousand company staff and 40 thousand residents living in the development zone.

See subway maps for reference.



Time for the first and last train of Beijing Metro Yizhuang Line:
Songjiazhuang Station: 5:59 – 23:19
Yizhuang Huochezhan (Yizhuang Railway Station): 5:19 – 22:39

Timetable
Station
To Yizhuang Huochezhan
To Songjiazhuang
First Train
Last Train
First Train
Last Train
Songjiazhuang
5:59
23:19
--
--
Xiaocun
6:03
23:23
5:50
23:10
Xiaohongmen
6:05
23:25
5:48
23:08
Jiugong
6:08
23:28
5:45
23:04
Yizhuangqiao
6:11
23:31
5:42
23:02
Yizhuang Wenhuayuan (Yizhuang Culture Park)
6:13
23:33
5:40
23:00
Wanyuanjie
6:15
23:35
5:38
22:57
Rongjing Dongjie
6:18
23:38
5:36
22:55
Rongchang Dongjie
6:20
23:40
5:33
22:53
Tongji Nanlu
6:23
23:43
5:30
22:50
Jinghailu
6:26
23:46
5:27
22:47
Ciqunan
6:29
23:49
5:24
22:44
Ciqu
6:31
23:51
5:21
22:41
Yizhuang Huochezhan (Yizhuang Railway Station)
--
--
5:19
22:39
Transfers

Songjiazhuang: Transfer with Subway Line 5 and Line 10


Rongchang Dongjie: Transfer with Yizhuang Tram T1 Line


Ciqu: Transfer with Subway Line 17


Yizhuang Huochezhan (Yizhuang Railway Station): Transfer with Beijing-Tianjin Intercity High Speed Train

Surroundings and Bus Routes near All Stations
('

' Subway Transfer Stations)



Songjiazhuang
Nearby Bus Stops: Songjiazhuang, Subway Songjiazhuang (Caojiagou)
Bus Exchangeable: 2, 39, 511, 526, 990, 181, 211, Night Line 28, Zhuan 189, Zhuan 62



Xiaocun
Nearby Bus Stops: Xiaoxun Qiao, Chengwaicheng
Bus Exchangeable: 25, 93, 128, 665, 680, 821, 985, 990, 182, Night Line 23, Zhuan 196



Xiaohongmen
Nearby Bus Stopss: Xiaohongmen, Santaishan Lukou
Bus Exchangeable: 985



Jiugong
Nearby Bus Stops: Jiugong Ercun
Bus Exchangeable: 324, 599, 685, 825, 926, 997, Xing 15, Xing 42, Xing 72, Xing 73, Xing 75, Xing 76, Zhuan 25



Yizhuangqiao
Nearby Bus Stops: Yizhuang Qiao Nan
Bus Exchangeable: 599, 652, 821, 997, Xing 42, Xing 72



Yizhuang Wenhuayuan (Yizhuang Culture Park)
Nearby Bus Stops: Xinkang Jiayuan
Bus Exchangeable: Zhuan 181



Wanyuanjie
Nearby Bus Stops: Wanyuan Jie Xikou
Bus Exchangeable: 324, 492, 652, Xing 15, 492, 120



Rongjing Dongjie
Nearby Bus Stops: Development Zone Traffic Service Center (Kai Fa Qu Jiao Tong Fu Wu Zhong Xin)
Bus Exchangeable: 453, 578, 580, 826, 846, 913, T31, 188, Xing 16, Xing 38, Xing 47, Xing 56, Xing 76, Xing 78, Zhuan 183, Zhuan 187



Rongchang Dongjie
Nearby Bus Stops: Development Zone Traffic Service Center (Kai Fa Qu Jiao Tong Fu Wu Zhong Xin)
Bus Exchangeable: 324, 652, 665, Yuntong 115, Yuntong 202



Tongji Nanlu
Nearby Bus Stops: Tongji Nanlu Nan
Bus Exchangeable: 542, 913, T106, T12, T28, T54, T67, T69, 166, Zhuan 184



Jinghailu
Nearby Bus Stops: Andingying
Bus Exchangeable: 523, T28, T29, T56, T68, T87, 166, Zhuan 159, Zhuan 182, Zhuan 184, Zhuan 188, Zhuan 232, Zhuan 47



Ciqunan
Nearby Bus Stops: Ciqu Jieli
Bus Exchangeable: Zhuan 207



Ciqu
Nearby Bus Stops: Ciqu Middle School, Ciqu
Bus Exchangeable: T11, T56, 820, 986, T87



Yizhuang Huochezhan (Yizhuang Railway Station)Surroundings: Yizhuang Railway Station, Ronghai Avenue, Qianmo Fengyun Urban Idyllic Belt Park, Lepao Park, Xugong Group, Jinfu Wetland Park
Bus Exchaneable: 913
- Last updated on Apr. 13, 2023 by Gabby Li -