Beijing Transportation
Beijing is the most important transportation hub in mainland China in air, rail and road transportation: China's largest airport is located here; it is the biggest rail hub of the country; many national roads and expressways radiate out here. Its urban area also has well appointed transport system. However, as a metropolis in a densely populated country, transportation in the city's urban area is a bit crowded, especially during rush hours (around 08:00 and 18:00). During these time periods, traffic jams are common and may cause significant delays. If possible, avoid taking buses/taxis at this time of a day as it may drain your limited vacation time. The local government has carried out many measures to relieve traffic pressure, including encouraging traveling by public transport tools, allocating car registration by a license-plate lottery system, and controlling traffic by odd-even license plates, etc.

You can use the following search bar to find schedules on flights, trains and city buses:
Air
There are two passenger airports in Beijing: Capital International Airport in northeast of the city, about 25 kilometers (about 16 miles) from Tiananmen Square and Nanyuan Airport in south city, about 13 kilometers (about 8 miles) from Tiananmen Square. The third airport, Beijing Daxing International Airport, will be built in Daxing District in the October, 2019. Most of the domestic and international flights arrive at and depart from the capital international airport, the reputed "First Door of China". It is the largest, busiest, most important modern airport in China as well as the first and only airport in Asia-Pacific area equipped with two control towers, three terminals and three runways. Currently, over 90 airlines operate about 1,400 flights to / from 223 destinations at home and abroad here. The airport can be easily reached by airport shuttle bus, express subway train and taxi.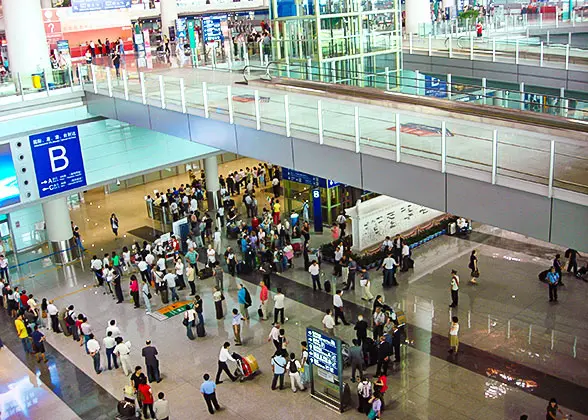 Capital Airport
Capital Airport

Terminal 1

Terminal 2


Terminal 3 - Transfer in T3,
- Facilities & Services of T3
- Airport Maps



Airport Express Train


Airport Shuttle Bus to Downtown


Community Bus to Shunyi


Intercity Bus to Tianjin, Hebei & Inner Mongolia

| | |
| --- | --- |
| Beijing Railway Station | Bullet Train Locomotive |
As one of the busiest long-distance bus transport hubs, Beijing has 20 coach stations operating buses to Tianjin, Zhangjiakou, Xi'an, Shanghai, Hangzhou, Harbin and Suzhou. There are ten major ones in downtown, including Liuliqiao Passenger Transportation Junction, Bawangfen Long-distance Bus Station, Lianhuachi Bus Station, Dongzhimen Long-Distance Bus Station……

Transportation to Major Destinations and Nearby Cities

How to Travel between Beijing and Tianjin

How to Travel between Beijing and Zhangjiakou

Airport Bus to Tianjin, Hebei & Inner Mongolia

Beijing-Shanghai Train vs. Plane: High Speed Train to Shanghai, Flights to Shanghai

Beijing-Guangzhou Train vs. Plane: High Speed Train to Guangzhou, Flights to Guangzhou

Beijing-Xi'an Train vs. Plane: High Speed Train to Xi'an, Flights to Xi'an

Beijing - Hong Kong Train vs. Flight: Train to Hong Kong, Flights to Hong Kong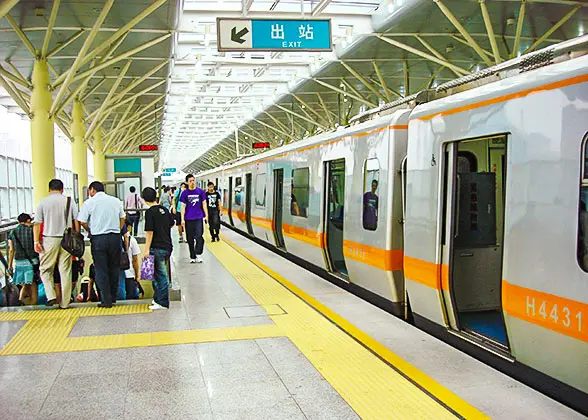 Subway Station
On October 1st, 1969, the first subway line of this city was put into use, making it the first China city having subway. 22 subway lines (including one airport express line) have been in operation with a total mileage of 636 kilometers (395 miles) in the city nowadays. Due to the frequent traffic jams, especially during rush hours, subway is probably the most time-saving transport means in the city. Even some super stars in the city travel by subway if in a hurry.
Operating Subway Lines:
Line 1, Line 2, Line 4, Line 5, Line 6, Line 7, Line 8, Line 9, Line 10, Line 13, Line 14, Line 15, Line 16, Batong Line, Yizhuang Line, Changping Line, Daxing Line, Fangshan Line, Yanfang Line, Western Suburban Line, Line S1

Subway Maps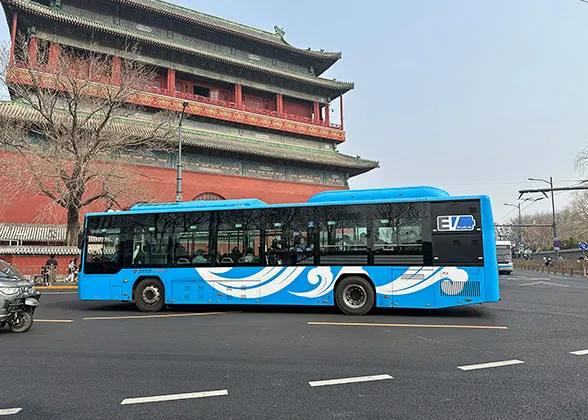 Over 1,200 bus routes are running in Beijing, including regular downtown lines, suburban lines, night lines and intercity lines. Payment by both cash and the Transportation Smart Card can be accepted.


Bus / Subway Search


Hub of Tour Dispatch: offering tourist buses to major attractions in and around the city.


Sightseeing Bus: Dangdang trolley bus & city sightseeing bus to Tiananmen Square and Summer Palace; tourist bus to Badaling Great Wall and Ming Tombs.

67,000 taxis are in operation in Beijing to serve the public with the flag-down rate of CNY13 for the first 3km (2mi). The drivers would charge by meter for downtown travels, and ask for flat rate for long-distance trips. An 8-hour taxi rental with driver may cost CNY500-800. The cost from Capital Airport to Badaling Great Wall is CNY500-600 for a round trip.



Recommended Tour offered by TravelChinaGuide.com:


Beijing Mini Group Day Tour from $89 to Forbidden City & Great Wall: 1 - 6 People, No Shopping

86,000 public bicycles at the docking stations and 2.35 million dockless sharing bikes are good supplement to the mass transit of Beijing city buses and subways. The public bikes can be rented by everyone who is between 18-65 years old and over 1.3m (4ft) with the Transportation Smart Card.

Rickshaw
Rickshaw is a traditional form of transport. Nowadays, modern rickshaw travel is an excellent way to experience old Beijing culture and Hutongs (alleyways). After paying a negotiated fare, the rickshaw pullers will take you through the narrow lanes. They give you detailed explanations on the history and culture of the Hutongs and some even speak fluent English.

Professional tour guides speaking English, Japanese and other foreign languages are also available in the Hutongs. For self-guided travelers, it takes 20-30min for a simple rickshaw experience and costs CNY20-30 per person. If a puller asks for tips, CNY5-10 would be proper. To explore more of the city by rickshaw accompanied by a professional guide, it takes around 2.5h and the charge is CNY200-250 per person. Sometimes the rates are higher than taxi rates, especially during holidays. Therefore, it is recommended to bargain for an exact price prior to boarding.


Rickshaw Tour to Hutongs

It can be used by everyone without registration on all subway lines, city buses, taxis, Airport Express Train, S2 trains to Badaling Great Wall, and public bicycles. Some dedicated supermarkets, restaurants, parks, and department stores also accept the payment with the card. One can buy and top up it at the Customer Service Centers of all subway stations.

Named Jingjinji Card for short, the transportation card works for dedicated city buses in Beijing, including all routes departing from the Railway Stations, and Dang-dang Sightseeing Bus Line 1 & Line 2, public buses in Tianjin Binhai New Area and Wuqing District, and all buses in cities of Hebei Province like Shijiazhuang, Zhangjiakou, Qinghuangdao and Xingtai.

- Last modified on Feb. 27, 2019 -
Questions & Answers on Beijing Transportation
Asked by Nizam from BANGLADESH | Mar. 19, 2019 11:38

Reply
Hotels nearer to Holiday Inn Dongzhimen Beijing
Please name me the hotels nearby on s walking distance from Holiday Inn Express Dongzhimen.
Answers (1)
Answered by Oscar from CANADA | Mar. 19, 2019 20:20

0

0

Reply
There is a Golden Pineapple International Youth Hostel in No 18, Xinzhong Street, Dongcheng district. It is about 5 minutes' walk west to the Holiday Inn Dongzhimen and it costs around CNY300 per night.
Asked by Nicholas from AUSTRALIA | Mar. 18, 2019 04:13

Reply
Can you tell me the costs for 3 people from the Beijing Capital Airport to Penta hotel?
Arriving at 10.15pm on 13 April. Thanks
Answers (1)
Answered by Matthew from USA | Mar. 18, 2019 19:46

0

0

Reply
For your convenience, you are suggested to take a taxi from the airport to your hotel. Generally speaking, it costs CNY120 to 130 for one cab.
Asked by Pitak from THAILAND | Mar. 14, 2019 22:10

Reply
Public taxi in front of Gu Bei Shui Zhen
When we finished visiting Gu Bei Shui Zhen in Miyun are there any public taxi outside the entrance to take us back to Dwa hotel in Jingshanling?
Answers (1)
Answered by Nicholas from FINLAND | Mar. 18, 2019 02:34

0

0

Reply
Well, as I know, it may difficult for you to find official taxi outside the scenic area. Thus you are suggested to hire a private car or share a car with other tourists.
Asked by Nizam from BANGLADESH | Mar. 13, 2019 06:28

Reply
Layover tour in Guangzhou hiring a taxi for 4 to 5 hours and back to airport to catch up flight?
Hi, I am arriving CAN Baiyun Airport from Beijing at 17:00 on 30 March. I have next flight at 03:00 on 31st March. We are 04 and will have 4 to 6 pc luggage. Can I take a tours by Taxi from airport to see places of attractions, and do little shopping in street markets for 4 to 5 hours and back to airport to catch the flight!! What may be the cost? Is there scope to leave the luggage in the airport in any store!! Please help.
Answers (1)
Answered by Nicholas from CANADA | Mar. 18, 2019 23:01

0

0

Reply
Yes, you can make full use of the layover to tour around the city. Taking taxi is a nice way to save time. Taking Haizhu Square as an example, the cab fare is around CNY120 to 130.

Yes, the airport has left luggage service. Upon landing, you can find the right direction based on the English signs at the airport.
Asked by Eluith Velez from UNITED STATES | Mar. 12, 2019 11:35

Reply
How should I travel?
Hello,

Need help organizing a trip. Going mainland from Hong Kong and plan to be 2 nights in Xi'an, 3 nights in Beijing and two nights in Shanghai. Flight options are limited as far too long from Hong Kong to Xi'an. Do you recommend taking that flight and then train from Xi'an to Beijing and later to Shanghai?

Thank you,
Answers (2)
Answered by Anna from NETHERLANDS | Mar. 12, 2019 20:57

0

0

Reply
Hi, I think it is available and the high speed trains are very convenient. You are suggested to book train tickets in advance. TravelChinaGuide.com provides online ticket booking service. If interested, their contact information is booking

travelchinaguide.com.
Have a nice trip!
Answered by Eluith E. Velez Gonzalez from PUERTO RICO | Mar. 14, 2019 04:37

0

0

Reply
Thank you very much. Best regards.