Beijing Transportation
Beijing is the most important transportation hub in mainland China in air, rail and road transportation: China's largest airport is located here; it is the biggest rail hub of the country; many national roads and expressways radiate out here. Its urban area also has well appointed transport system. However, as a metropolis in a densely populated country, transportation in the city's urban area is a bit crowded, especially during rush hours (around 08:00 and 18:00). During these time periods, traffic jams are common and may cause significant delays. If possible, avoid taking buses/taxis at this time of a day as it may drain your limited vacation time. The local government has carried out many measures to relieve traffic pressure, including encouraging traveling by public transport tools, allocating car registration by a license-plate lottery system, and controlling traffic by odd-even license plates, etc.
Air
There are two passenger airports in Beijing: Capital International Airport in the northeast of the city, about 25 kilometers (about 16 miles) from Tiananmen Square and Daxing Airport, about 53 kilometers (33 miles) south of Beijing city center. They both serve domestic and international flights; so double confirm which airport you are going to use, especially when departing from the city. Both the airports can be easily reached by airport shuttle bus, express subway train and taxi. There are also long-distance buses connecting the airports with nearby cities like Langfang and Baoding.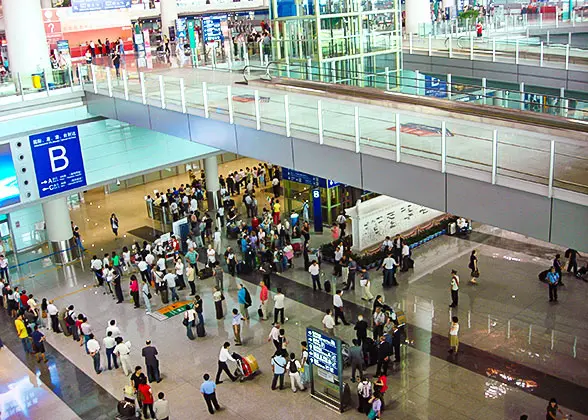 Capital Airport

Terminal 2


Terminal 3 - Transfer in T3,
- Facilities & Services of T3
- 5 Things to Do
- Airport Maps



Airport Express Train


Airport Shuttle Bus to Downtown


Community Bus to Shunyi


Facilities and Services

Daxing Airport Express

Daxing Airport Shuttle Bus

How to Travel from Beijing to Daxing Airport
| | |
| --- | --- |
| Beijing Railway Station | Bullet Train Locomotive |
As one of the busiest long-distance bus transport hubs, Beijing has 8 coach stations operating buses to neighboring cities like Tianjin, Zhangjiakou ... There are ten major ones in downtown, including Liuliqiao Passenger Transportation Junction, Zhaogongkou Bus Station, Sihui Bus Station ……

Transportation to Major Destinations

How to Travel between Beijing and Shanghai: Train vs. Plane

How to Travel between Beijing and Guangzhou: Train vs. Plane

How to Travel between Beijing and Xi'an: Train vs. Plane

How to Travel between Beijing and Hong Kong: Train vs. Flight
Transportation to Other Cities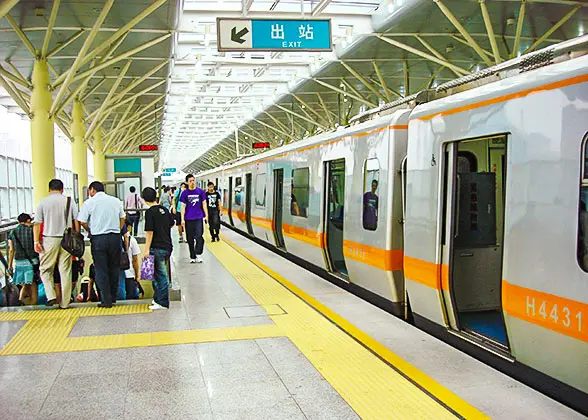 Subway Station
In 1971, the first subway line of this city was put into use, making it the first China city having subway. At present, 29 subway lines have been in operation, including two airport express lines and two tram lines. Due to the frequent traffic jams, the subway is the most time-saving transport means especially during rush hours.
Check out each subway line to know its route and schedule to better plan your trip.
Line 1, Line 2, Line 3 (not open yet), Line 4, Line 5, Line 6, Line 7, Line 8, Line 9, Line 10, Line 11, Line 13, Line 14, Line 15, Line 16, Line 17, Line 19, Daxing Line, Changping Line, Yizhuang Line, Fangshan Line, Yanfang Line, Line S1, Capital Airport Express, Daxing Airport Express (New Airport Line), Xijiao Line (Western Suburban Line), Yizhuang T1 Line

Subway Maps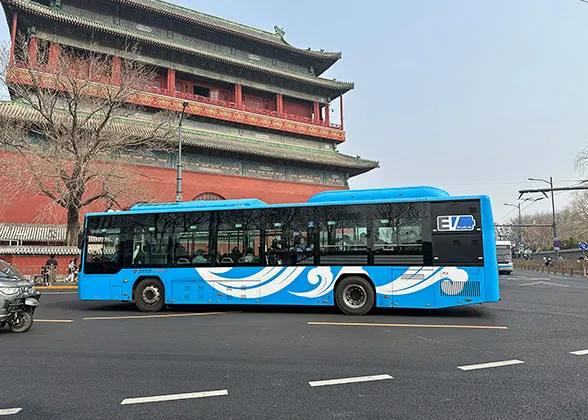 Over 1,200 bus routes are running in Beijing, including regular downtown lines, suburban lines, night lines and intercity lines. Payment by both cash and the Transportation Smart Card can be accepted.


Bus / Subway Search


Hub of Tour Dispatch: offering tourist buses to major attractions in and around the city, like Deshengmen Bus Station.


Sightseeing Bus: 4 Dangdang bus lines & 3 city sightseeing bus lines to Tiananmen Square and Summer Palace


Beijing Tourist Bus: 12 special lines and 5 holiday lines

About 67,000 taxis are in operation in Beijing to serve the public with the flag-down rate of CNY13 for the first 3km (2mi). The drivers would charge by meter for downtown travels, and ask for flat rates for long-distance trips. An 8-hour taxi rental with a driver may cost CNY500-800. The cost from Capital Airport to Badaling Great Wall is CNY600-800 for a round trip.

300,000 dockless sharing bikes run by DiDi Bike, Hello Bike and Meituan Bike are good supplements to the mass transit of Beijing city buses and subways. Internet access and mobile apps are a must to use these dockless bikes and they accept online payment by Apple Pay, Wechat Pay or Alipay.

Rickshaw
Rickshaw is a traditional form of transport. Nowadays, modern rickshaw travel is an excellent way to experience old Beijing culture and Hutongs (alleyways). After paying a negotiated fare, the rickshaw pullers will take you through the narrow lanes. Tourists can find the rickshaws at attractions like Nanluoguxiang, Shichahai and Houhai. The price is CNY100-200 depending on the duration and sometimes the extra service fee is charged. It is recommended to bargain for an exact price before boarding.

There are two types of Beijing smart transportation cards, Beijing Yikatong Card and Beijing Hutong Card with "China T-Union"that can be used in over 300 cities in China. Users can take their passports and go to the customer service centers of subway stations to apply for a deposit card. To top up the physical card, users can go to the service centers and self-service machines at subway stations.
- Last updated on Sep. 13, 2023 by Gabby Li -
Questions & Answers on Beijing Transportation
Asked by Claire Devine from UNITED KINGDOM | Sep. 24, 2023 08:25

Reply
Hour and half transfer
So beijing airport says 60minutes for international to international transfer . We have 1 and a half hours transfer ( if flights are running on time lol). Just wondered has anyone done this transfer and did it all go OK, also if we did miss the connection, would air china get us on the next available flight . Stressing so much about this.
Answers (1)
Answered by Olivia | Sep. 25, 2023 20:57

0

0

Reply
I'm afraid it's quite stressed. You 'd better contact the airline to see how will it go if you miss the connecting flight.
Asked by CVSANEVA from ZAMBIA | Apr. 14, 2022 14:34

Reply
Guangzhou to Zambia by sea how long does it take
Answers (1)
Answered by Coco | Apr. 22, 2022 02:39

0

0

Reply
There is no passenger ship from Guangzhou to Zambia.
Asked by Park Chan Woo from REPUBLIC OF KOREA | Jan. 10, 2021 21:40

Reply
From Beijing To Ulaanbaatar
Hello I have a question about the train from Beijing to Ulaanbatar
We are planning to go Mongolia by train

Is the K3 or K23 still available now?
Answers (1)
Answered by Gwendolyn | Jan. 12, 2021 18:47

0

0

Reply
Sorry, I didn't find the latest information. Maybe the train is still suspended because of the virus situation.
Asked by Wilson Law from CANADA | Dec. 18, 2019 21:26

Reply
Making Connection Flight from Terminal 3 to Terminal 1 at Beijing Capital Airport
I am flying Air China from Hong Kong and will arrive at terminal 3 in Peking Airport, then I have to make a connection flight from terminal 3 to terminal 1 to catch the All Nippon Airway to Osaka. What direction i have to follow and how much time should I allow? Looking at the airport map, terminal 1 and terminal 3 are in a different building, do I have to catch shuttle bus or train to reach there?
Answers (3)
Answered by Sally from AUSTRALIA | Dec. 22, 2019 22:09

0

0

Reply
Follow the signs in the airport and you can take terminal shuttle bus line 1 from T3 to T1. It takes around 30 minutes.
Answered by Wilson Law from CANADA | Dec. 23, 2019 18:22

0

0

Reply
Do I have to go through the Custom at Terminal 3 to catch the line 1 bus and again to go through the Custom and security at terminal 1 in order to go to the boarding gate? As in North America, we are making the connecting flight within the secure area, we don't have to get out and check back in the security to make connection. Thanks for the help.
Answered by Liz from SINGAPORE | Dec. 24, 2019 17:52

0

0

Reply
You need to claim your luggage after landing and take terminal shuttle bus to T1, then go through custom to take next flight.
Asked by SKIPPERSUN | Dec. 16, 2019 22:29

Reply
I planned a flight from Vladivostok, through Beijing, to Indonesia.
The flight from Vladivostok to Beijing starts at 23:30 on 02.22.20, arrival in Beijing Terminal 3 at 00:10 (about) 02/23/20. Departure from Beijing Terminal 2! at 02:30, so there is only about 2 hours difference between flights, different terminals T3 - T2, no luggage only hand luggage, no visa, all tickets are on hand. The question is - do I have time for the flight, is there any quick way to move between T3 - T2, is there any transit corridor for me when I check in China???
Tnx
Answers (1)
Answered by Suzy from MALAYSIA | Dec. 19, 2019 17:14

0

0

Reply
As I know, passengers need at least 160 min to transfer from T3 to T2. I'm afraid you can't catch your next flight if it is not a connecting flight.