Beijing Taxi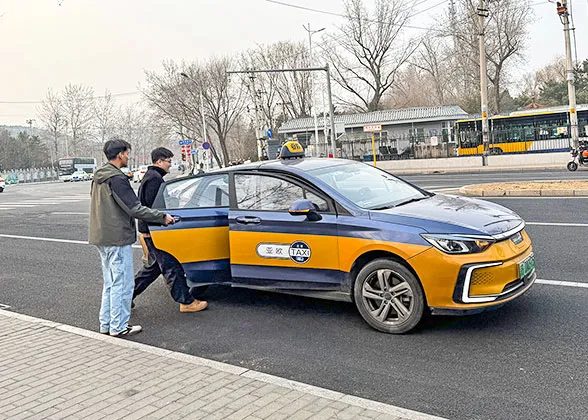 Beijing Taxi
Taking a taxi is the most convenient way for newcomers to travel around a metropolis like Beijing. There are over 66,000 taxis running in every corner of the city. Most of drivers in Beijing can speak some simple English, which offers western visitors a great convenience of being able to communicate with them.
Cab calling service is available. Passengers can book a cab 24 hours in advance by phone, internet or mobile phone through the citywide reservation system. Passengers who book cabs at the six urban districts during the peak traffic time four hours in advance are insured to be successful except those who break an appointment more than twice a year. The reservation hot line is 96103.
Price
| | |
| --- | --- |
| Minimum Fare | CNY 13 for the first 3 kilometers (1.86 miles) |
| Basic Unit Price | CNY 2.3 per kilometer (0.62 mile) above 3 kilometers in the daytime |
| Low-Speed Drive and Waiting Fare | Waiting and traffic jam time when the speed is lower than 12 kilometers (7.5 miles) per hour is charged extra the fare of 2 kilometers for each 5 minutes during the rush hours, and the fare of 1 kilometer for each 5 minutes during other time period. |
| Reservation Fee | CNY 6 for reservation over 4 hours in advance; CNY 5 for reservation within 4 hours. |
| Empty Run Fare | If a single journey is longer than 15 kilometers (9.32 miles), the empty run fare is charged i.e. the price per kilometer rises 50% to CNY 3.45. |
| Night Fare | From 23:00 to 5:00, the charge per kilometer rises 20% i.e. to CNY 2.76. |
| Charge for Sharing a Car | Sharing is encouraged for it to some extent relieves the traffic load of the city. If two or more passengers share one cab, one only need to pay 60% of the original fare. |
Notes
1. The morning rush hours is from 7:00 to 9:00, and the evening rush hours is from 17:00 to 19:00.
2. The price is calculated exactly by every 500 meters (547 yards) and every 2.5 minites.
3. The price will be rounded to the whole number of Chinese Yuan. For example, CNY 15.4 will be rounded down to CNY 15, and CNY 15.6 will be rounded up to CNY 16.
4. The toll for an expressway or a bridge should be extra paid by the passengers.
5. There is an empty run of about 50 kilometers (31 miles) while returning to the city center. So, few drivers would like to have a single run to the spot. It is best to hire one for a round trip under this circumstance.
Reference Taxi Fare:
| | |
| --- | --- |
| Capital Airport – downtown area | CNY90-100 |
| downtown area – Badaling Great Wall | About CNY500 for a round trip |
| downtown area – Mutianyu Great Wall | About CNY600 for a round trip |
| Dongzhimen – Beijing Railway Station | CNY20-25 |
| downtown area – Summer Palace | CNY50-60 |
| Beijing - Tianjin | CNY800-1,000 |
Note: the downtown area refers to the areas of Tiananmen Square, Forbidden City, Xidan, Wangfujing Street, etc.
Useful Tips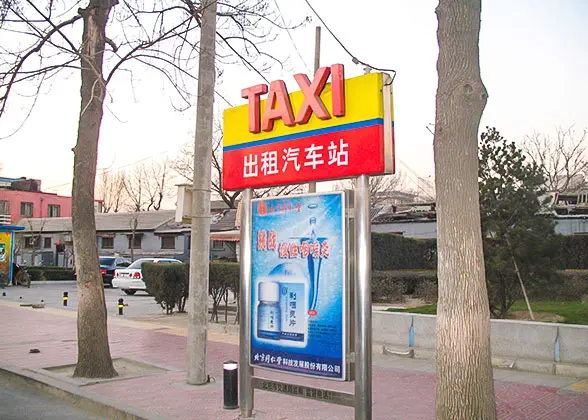 Taxi Stand
1. Usually, you can hail one anywhere in the city. However, if there is a solid white line with police around in the prosperous area, such as Tiananmen Square, the drivers will not stop for you. In this case, you should look for a taxi that is waiting on a side street. Additionally, if you know the way to your destination, please hail on the correct sides of the road.
2. Make sure you use an official one with a sign on the roof and with the driver's registration card.
3. It is recommended that tourists ask for a receipt when alighting from a cab because the details of the car are listed in it. This is useful should you have any problems such as leaving property behind.
4. Ask someone to write down your destination in Chinese beforehand in case of getting lost.
5. The fare can be paid with Transportation Smart Card which is used to travel on subway trains and buses.