Beijing City Bus
City bus in Beijing is the most widely used and affordable amongst all means of public transportation, although it can be very crowded and may meet a traffic jam.
Till 2017, the entire public bus network has over 1,200 routes with 29,515 buses. Public buses are identified either by numbers or Chinese characters. The automatic station reporter will announce the stations both in Chinese and English.
Beijing City Bus Routes
1. Downtown Regular Lines: 1 to 751, Te 2 to Te 19
2. Suburban Lines: 802 to 998
3. Outskirts Lines: Starting with Y, H, M, X, Fang, Xing, Mi, Shun, Tong……
4. Business Lines in Rush Hours: 0003 to 0122
5. Night Lines 1 to 38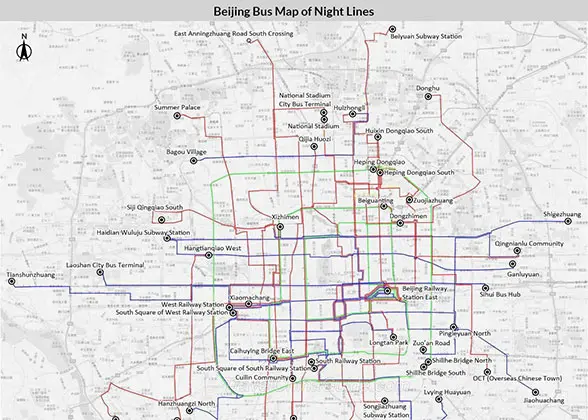 Beijing Bus Map -
Night Routes
6. Sightseeing Bus: Dang-dang trolley downtown lines, night tour lines, tourist lines 1, 2 & 3 to Great Wall
7. Capital Airport Shuttle Bus, Nanyuan Airport Shuttle Bus
8. Tram Line: Xijiao Line
9. Express Lines: BRT 1 to 4; Express Through Lines 1 to 150;
10. Other Lines: Special 4 to 169; Commuter Lines, Yuntong Lines 101 to 205
11. Intercity Lines: to Fengning, Xinglong, Wenan, Luanping, Goabeidian, Yanjiao, Langfang……

Beijing Bus Schedule
Regular bus routes, such as downtown, special and Yuntong lines, start running at 05:00 – 05:30 and stop at 22:00 – 23:00. Some suburb lines may stop operation at 18:00 – 19:00. Beijing night buses nos. 1 to 38 operate from 23:00 to 05:00 the next day. Commuter and business lines only operate on weekdays during rush hours, 06:30 – 09:00 & 16:30 – 20:00.
| | |
| --- | --- |
| Embark a Self-service Bus | A Beijing Bus with Conductor |
Bus Fare & How to Pay
All routes are charged by distance. The minimum fee is CNY2 for the first 10 km (6 mi), and an extra CNY1 is added every additional 5 km (3 mi). The maximum charge can be CNY10 - 12. Passengers paying by Beijing Transportation Smart Card enjoy a 50% discount on downtown buses. Children below 1.3 m (4 ft) can take all public buses for free.

Passengers should insert the exact amount of bus fare to the coin box on the downtown lines. If paying with Transportation Smart Card on these buses, they need to swipe it when getting on. Do swipe the card again if there is a card reader at the door for disembarking so that the bus fare can be deducted. Most suburb lines require paying cash to the conductor to get a paper ticket.

Bus Stations/Stops & Boarding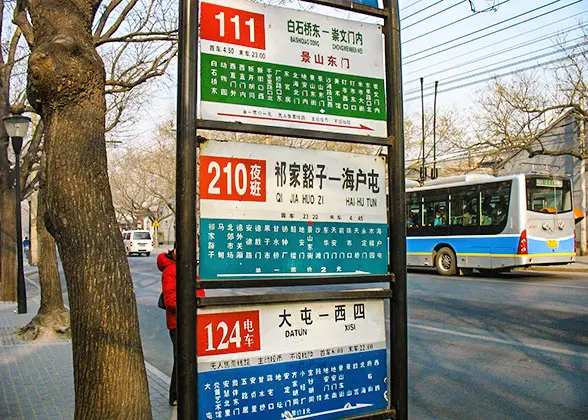 City Bus Station
The bus stops are marked with route details in Chinese showing route number, name of the stop you are standing at, all stops of the route, operating hours and direction of the bus. The terminals of some routes are also marked in Pinyin at some bus stops.

Passengers must wait and take a bus at the dedicated stop instead of hailing along the street. For buses with two doors, the front door is for boarding and the back one is for drop-off. Passengers taking a bus with three doors should get on from the middle door and get off from the other two.

Some city buses run to attractions in and around Beijing. For instance, bus no. 877 goes to Badaling Great Wall, no. 916 to Mutianyu Great Wall with a transfer at Huairou, and no. 331 to Fragrant Hills. In addition, Beijing Hub of Tour Dispatch operates downtown sightseeing buses to Tiananmen Square, Forbidden City, and Summer Palace. Dang-dang trolley sightseeing buses, double-deckers, and night tour lines are available. There are also suburban tourist buses to Badaling Great Wall and Ming Tombs.



Join in Beijing Bus Tour to Forbidden City and Great Wall arranged by TravelChinaGuide.com!

Trolley Bus & Tram in Beijing

Beijing has 25 trolley bus routes whose ticket fare is CNY2-4: nos. 6, 22, 38, 42, 101 - 118, 124, BRT 1, BTR 3



Tram Lines:


Xijiao Line, the first modern tram line in Beijing
Route: Bagou, transfer with subway line 10 – West Gate of Summer Palace – Chapeng – Wan'an – Botanical Garden – Fragrant Hills
Service Hours: from Bagou, 05:30 – 22:30; from Fragrant Hills, 06:00 – 23:00
Frequency: 10 - 12 min
Duration: 32 min
Fare: CNY 3 – 4
Payment: cash, Beijing Transportation Smart Card



Beijing will have more tram lines in suburban districts of Yizhuang, Fangshan, Shunyi and Tongzhou.
- Last modified on Sep. 09, 2019 -
Questions & Answers on Beijing City Bus
Asked by Alvaro from COLOMBIA | Sep. 22, 2019 13:45

Reply
I need from Beijing international airport city, to 51 Jiugulou Daniel, 1000009, Beijing....
which bus or Subway i needed?
Thanks
Asked by ankush from INDIA | Sep. 19, 2019 18:21

Reply
how foreigners can book the bus ticket from Guangzhou to yangjiang.
Asked by Zsofka from HUNGARY | Sep. 16, 2019 14:38

Reply
Travel to Beijing jianguo quianmen from the airport
We would like to travel the easiest and quickest way with public transportation to the Jiangui Quianment Hotel ( No.175 Yong An Road, Hszicseng) from the airport. Thank you for the help.
Answers (1)
Answered by Cameron from UNITED KINGDOM | Sep. 19, 2019 19:27

0

0

Reply
You can take shuttle bus line 7 from T1 to Guangqumen station, then transfer to metro line 7 to Hufangqiao station (Exit C), and walk south of 500m to your hotel. It takes around 1 hour with CNY33.
Asked by Albert from NETHERLANDS | Sep. 08, 2019 10:48

Reply
I want to travel from Beijing Beiyuan road to the China national convention center
And both are not recognized by the algorithm
Answers (1)
Answered by Chole from AUSTRALIA | Sep. 09, 2019 19:34

0

0

Reply
You can take metro line 15 from East Datunlu station to Olympic park station (Exit H), and walk south of 200m to it. It takes around 30 minutes with CNY3.