Hongluo Temple (Red Shells Temple)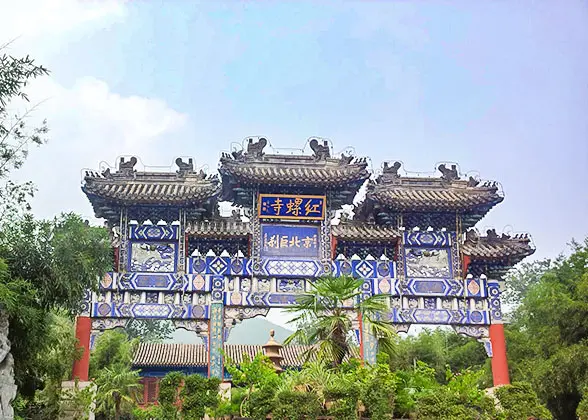 Hongluo Temple
Situated in the north of
Huairou

District
, Hongluo Temple is 34 miles (about 55 kilometers) from downtown Beijing. It was originally constructed in the Eastern Jin Dynasty (317 - 420) and expanded in the Tang Dynasty (618 - 907). Covering 1,980 acres (800 ha), the one-thousand-year old temple faces Hongluo Hill in the north and Hongluo Pool in the south. The good location and climate, as well as profound cultural achievements, make it an extraordinary Buddhist holy land. About the Buddhist temples in China, people say: "In the south,
Putuo Temple
is primarily recommended, while in the north, Hongluo Temple is especially valued."
There are superb views of the Imperial Bamboo Forest, Duo Ginkgoes and Wonder of Wisterias Wreathing Pine, which are the representatives of the natural landscapes. Hongluo Temple, Guanyin Boddhisattva Temple and 500 Arhat Statues constitute three Buddhist culture areas. Additionally, Hongluo Hill and Green Dragon Hill are two beautiful sightseeing areas.
Hongluo Temple
In Hongluo Temple, there are four Buddhist halls standing on the north-south axis. They are Three Gate Hall (Mountain Gate), the Hall of Heavenly Kings, Mahavira Hall and Three Sages Hall.
Passing the Three Gate Hall, you can see the Hall of Heavenly Kings. Statues of four heavenly kings are displayed inside it. They are endowed with sacred obligations to bless people to have a full harvest. In the center of the hall is the statue of Maitreya, a fat Buddha. He is known as the laughing Buddha and he tells people about the importance of tolerance.
After visiting the Hall of Heavenly Kings, you are in a yard, where there are another four Buddhist halls. The Hall of Thousand Arms Goddess and Jialan Hall lie in the east, and Damo Hall and Hall of the Founder of Pure Land School (a branch of Buddhism) are in the west. It is right in this yard that the superb scenery Duo Ginkgoes has been standing for over one thousand years. The 100 feet (about 30 meters) high ginkgoes stand like a couple, so they are also called Couple Ginkgoes. As old saying claims that it is impossible for only one tree to constitute a forest, however, the male ginkgo grows out upward limbs from its own roots. The local people say that in ancient times, a new limb would sprout when a new dynasty was coming into being.
Mahavira Hall stands behind the two ginkgoes. The statues of Sakyamuni, Medicine Master Buddha and Amitabha lie in the hall. The statues of eighteen arhats are on both sides. Sakyamuni used to be a prince of ancient India. Considering the death, disease and hardship in the earthly existence, he felt sympathetic to people. At age 29, he started to cultivate himself by learning the Buddhism ideology. Finally he became a Buddha and helped a lot of people. Medicine Master Buddha endeavored to relieve the diseases and sufferings of people during his lifetime. It's said that the pure water in his hand could help people from their sufferings. As is recorded in the sutra, the eighteen arhats live for developing Buddhism. They are told to help people in their earthly existence and give up the opportunity to live in a Buddhist paradise.
After appreciating Mahavira Hall, you can view another superb scenery: the Wonder of Wisterias Wreathing Pine out of the hall. A pine is wreathed by two Wisterias. The 20 feet (about 6 meters) high pine has nine limbs which spread in all directions. The two luxuriant wisterias twist around the overall pine, forming a large scale of shade.
The Three Sages Hall comes into sight as you marvel at the wonder of wisterias and pine. In the hall, there are three statues of three Buddhism sages including, Amitabha, Guanyin Boddhisattva and Wisdom Illuminating Boddhisattva. Amitabha was a king who gave up his throne and pursued the essence of the world. At last, he got to the heavenly pure land, where he directed and led people to learn the Buddhism ideology. Guanyin Boddhisattva is the symbolization of great kindness. Claiming everyone is equal at birth, she lived to help people from hardships. Wisdom Illuminating Boddhisattva is a major guardian of Amitabha. He illustrates the world with his endless wisdom, aiming to save anyone in need.
Guanyin Bodhisattva Temple
First built in the Jin Dynasty (1115-1234), the existing Guanyin Bodhisattva Temple was reconstructed in 1997. Facing south, there are three halls in it. They are Mountain Gate Hall, Hall of Baby-sending Guanyin Bodhisattva and Huicheng Hall. Baby-sending Guanyin Bodhisattva is actually an imaginary Buddha by ancient people who wanted babies. It is said that Guanyin Bodhisattva has 33 body symbolizations, among which Baby-sending Guanyin does not exist. It merely shows people's hopes to get babies.
500 Arhat Statues
The 500 Arhat Statues are located in an ancient pine forest inside Hongluo Temple. They are made to the proportion of human beings. Surrounding a statue of the laughing Buddha, the 500 statues are divided into 10 groups. The expressions on their faces are all different. They reflect a mysterious cultural atmosphere, together with the elegant pine forest.
Tip: If you happen to visit the temple during January 1st to 6th in the
Chinese lunar calendar
, the temple fair cannot be missed.
How to Get to the Hongluo Temple:
Take bus 916 or 916 Express at Dongzhimen Station and get off at Huairou Bus Station. Then walk westward to take bus H57 to Luzhuang Cunkou, then walk northeast along Hongluosi Rd. to the destination.
Take a direct tourist bus at Dongzhimen Outside at 8:30 to the temple at a cost of CNY30.
Beijing Bus / Subway Search
Fees

Entrance Ticket:
CNY 54 for adults
CNY 27 for minors aged 7-18
Free for children under 6 and the old over 65

Slideway:
CNY 100 for round-way trip, CNY 80 for one-way trip
Half of the price for children under 1.4 meters (4.6 feet)

Opening Hours
8:30-17:00 (stop entering at 16:00)

Other Attractions in Huairou District:

Mutianyu Great Wall

Jiankou Great Wall

Yanqi Lake

Qinglong Gorge

Yunmeng Mountain
- Last updated on Nov. 21, 2023 by Kate Liu -
Questions & Answers on Hongluo Temple
Asked by Daniel from SPAIN | Jun. 08, 2020 06:42

Reply
Is yet available the bus 867 for arriving to Hongluo Temple?
I think now is not available...
Answers (1)
Answered by Joshua from USA | Jun. 15, 2020 02:25

0

0

Reply
No, it is not available nowadays. To Hongluo Temple, you can take bus no. H57 or H82.