Huairou Travel Guide
Brief Intro: Huairou, the 'Back Garden of Beijing', is suburban Beijing's most famous holiday resort
Location: northeast of Beijing, neighboring Shunyi and Changping District, Yanqing County and Chicheng, Fengning, Luanping County in Hebei Province.
Geography: a narrow strip from high north to low south, with a variety of mountains and plains
Area: 2,128.7 sq km (827.9 sq mi)
Population: 273,000
Administrative Division: 2 Municipal Streets (Quanhe, Longshan); 3 Municipal Districts (Huairou, Yanqi, Miaocheng); 9 Towns (Beifang, Yangsong, Qiaozi, Huaibei, Tanghekou, Bohai, Jiuduhe, Liulimiao, Baoshan); 2 Manchu Towns (Changshaoying, Labagoumen)
Postal Code: 101400
Dialing Code: 010

Local Highlights
- one of the earliest areas to develop rural tourism in Beijing
- fresh water reserve area for Beijing
- one of the most important film bases in northern China
- local products: Chinese chestnut, ginseng, small red bean, sturgeon, salty duck egg, Hometown Sausage and Hongluo preserved fruit, replicated ancient china wares
Attractions
Special Tours: Fruit Picking (in season), Rural Tour,
Great Wall Tour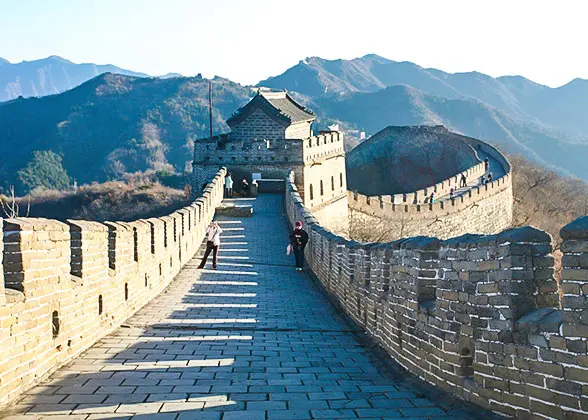 Mutianyu Great Wall
Scenic Spots: Mutianyu Great Wall, Jiankou Great Wall, Huanghuacheng Great Wall, Hefangkou Great Wall, Hongluo Temple, Qinglong Gorge, Mt. Yunmeng, Mt. Wofo, Tianhua Cave, Longtanjian Natural Scenic Spot, Yougu Shentan Natural Scenic Spots, Mt. Linlong, Xiangshui Lake Scenic Spot, Tianchi Canyon, Lantian Pasture, Eden Happiness Forest
Amusement Parks: Primitive Tribe Park, Yanqi Lake Park, Huaibei Ski Resort, Caribbean Lagoon WaterPark
Picking Gardens: Huisheng Picking Garden, Lvhu Picking Garden, Chinese Dates Garden in Qiaozi Town
Rural Tour Villages: Beizhai Customs' House in this area, Weidian Village in Bohai Town, Dongyu Village in Liulimiao Town, Baichazi Folk Culture Village in Liulimiao Town, Changshaoying Manchu Town, Labagoumen Manchu Town

Yougu Shentan Natural Scenic Area, covering about 2.3 sq mi, is located in Duanshuling Village, Huaibei, this district. The green ridges, elegant peaks, strange rocks, steep cliffs, meandering waters, magnificent waterfalls and other attractions compose its distinctive beauty. The most attractive scenic spots here are Heaven-Heading Gate, Lying Dragon Ridge, Olecranon Peak and Moon Reflection Spring. In the natural area, you can also enjoy some adventure sports and amusement activities.

Qinglong Gorge is a scenic area integrating the green mountain, limpid water and the ancient Great Wall. A magnificent dam divides the area into two parts: The north part is for scenery viewing and the east bank is for entertaining activities, such as bungee jumping, rock climbing and others. On the mountain top, the well-preserved watch tower of the Ming Great Wall attracts a large number of tourists each year. The Jade Emperor Pavilion is the highest peak and Canglong Valley presents a nice view along the streams, such as Yufeng Pool, Yuebo Pool, etc.

Tianhua Cave, also called Huacang Cave, is 50 meters (about 164 ft) long, 60 meters (about 197 ft) wide and 200 meters (about 656 ft) deep. Actually, the cave is a natural limestone Karst cave. It is divided into seven floors and five palaces, including Guanyin Boddhisattva Palace, Western Pure Land Palace, Maitreya Buddha Palace, Plutus Palace and Jade Emperor Palace. The sights here will be of interest as the limestone takes different shapes, such as in stone columns, turtles, spiral shells and other things.

Useful Numbers
Tourist Complaints: 010-69622508
Consumer Complaints: 010-69642225
Hotels Complaints: 010-69688657
Price Information Hotline: 010-69646347
Tips
Annual Local Tourism Festivals:
Hongluo Temple Flower Admiring Festival: April 15th - May 15th
Mutianyu Great Wall Flower Admiring Festival: April 15th - May 15th
Yanqi Lake Spring Outing Fair: May 1st - May 7th
Hongluo Temple Red Maple Admiring Festival: middle of October
Yanqi Lake National Day Festival: October 1st - October 5th
Mutianyu Great Wall Red Maple Admiring Festival: September to October
Huairou Golden Autumn Picking Festival: September 15th - October 30th
Huairou Tourism and Drink Culture Festival: April 20th - April 22nd
Hongluo Temple Fair: January 1st - January 6th in the Chinese lunar calendar
Huairou County is a transportation hub for the this district. This is where tourists usually take the bus to the tourism spots in the district. From Dongzhimen in urban Beijing, there are shuttle buses to this county every day. The district now has seven bus stations providing buses to its towns and villages. Hiring a car in the County is also a good way of traveling around the sites.

Further Reading: Great Wall of China in Huairou, Beijing
- Last updated on Jun. 19, 2023 by Brenda Lian -
Questions & Answers on Huairou District of Beijing
Asked by Shahrukh from PAKISTAN | Aug. 15, 2017 19:25

Reply
Any economic hotel near Yanqihu Campus, the University of Chinese Academy of Sciences?
Answers (3)
Answered by Anne from POLAND | Aug. 15, 2017 20:23

0

0

Reply
Beijing Mingchun Hotel located at no.46, District 1, Huaibei Railway Station, is about 800 meters from the university. You can take it into consideration. It may charge CNY150-200/night for a standard room.
Answered by Shahrukh from PAKISTAN | Aug. 18, 2017 13:47

0

0

Reply
Thanks but there is no availibility at Mingchun hotel for my desire date of Sep 1st to Sep 4. Any other hotel nearest to university at lowest price.
Answered by Tom from DENMARK | Aug. 20, 2017 21:26

0

0

Reply
As I know, there are not many hotels near, you can stay in the Xihu Hotel, which is in 11 Yanxiu Rd, but it's not very cheap, and it costs at least CNY330.
Asked by Rajlakshmi from INDIA | Jun. 12, 2014 04:41

Reply
What are the tourist hotels/resorts available for stay in Huairou and what are the rates?
Answers (1)
Answered by Coco from INDONESIA | Jun. 12, 2014 04:56

0

0

Reply
There are many choices in the district. I lived in a Tang Conference Resort, at the cost of around CNY600. It is a little expensive, but worth it. Besides, you can choose to stay in an economic hotel like Shanshui Trends Hotel (chain hotel), which costs CNY200 or a little more.
Asked by Ruth Godwin from U.S.A. | Feb. 13, 2013 10:15

Reply
From the Beijing airport, what is the best way to get to Huairou?
Answers (1)
Answered by Rushan | Feb. 14, 2013 01:07

1

0

Reply
Hi, you can take Airport Express Train to Donzhimen first, where you can transfer to bus no. 916 or 936 to Huairou district.
Asked by Mr.Amin from UK | Feb. 11, 2010 14:00

Reply
Which train station is closer to Mutianyu? Huairou or Huairou North?
Many thanks.
Answers (1)
Answered by Mr.Jamie | Feb. 11, 2010 20:22

2

0

Reply
I don't think it will be convenient to take a train to Mutianyu. Actually, there are direct buses departing from downtown Beijing to Mutianyu. Here is the detailed transportation: https://www.travelchinaguide.com/china_great_wall/scene/beijing/mutianyu.htm