Fengtai Travel Guide
Brief Intro: Fengtai District is one of the four suburb districts of Beijing. It is the interflow center of goods in southwest Beijing, as well as a historical and cultural tourism destination.
Location: southwest of Beijing, neighboring Chaoyang, Chongwen, Xuanwu, Shijingshan, Fangshan District and Daxing County
Geography: mountains in the west, plains in the east
Area: 304 sq km (117 sq mi)
Population: 974,000
Administrative Division: 16 Municipal Streets (Fengtai, Changxindian, Nanyuan, Dongtieying, Youanmen, Xiluoyuan, Donggaodi, Lugouqiao, Taipingqiao, Xincun, Yungang, Heyi, Majiabu, Dahongmen, Fangzhuang, Wanping), 3 Municipal Counties (Lugouqiao, Huaxiang, Nanyuan), 2 Towns (Changxindian, Wangzuozhen)
Postal Code: 100071
Dialing Code: 010
Local Highlights: revolutionary tourism spots ('red tourism')
| | |
| --- | --- |
| Lugou Bridge | Vivid Stone Lions on the Bridge |
Attractions
Red Tourism Spots: Lugou Bridge, Wanping City, Changxindian February 7th Revolutionary Site, Memorial Museum of Chinese People's Anti-Japanese War, Memorial Statue Garden of Chinese People's Anti-Japanese War
Historical Sites: Shuiguan Ancient City Site, Dabaotai Western Han Dynasty Tomb Museum, Lotus Pool, Zhengang Pagoda, Nangangwa Bridge
Famous Parks:
Beijing World Park
, Qinglonghu Park, Yingshan Forest Park,
Garden of World's Flowers
, World Terrestrial Heat Park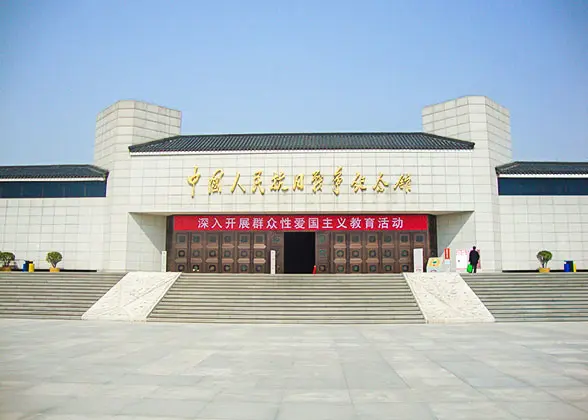 Memorial Museum of
Chinese People's Sino-Japanese War
Located in Wanping City, where the Lugou Bridge Incident happened, the Memorial Museum of Chinese People's Sino-Japanese War is the only specialised memorial museum which exhibits and reflects the Sino-Japanese War in all aspects. The main buildings of the museum are divided into three parts: the major hall, the material center and the traditional Chinese courtyard house in the north and south. To date, the museum has held about 30 special-topic exhibitions and has gathered over 10,000 pieces of collections about the war. In the front of the museum is a square of 8,600 square meters (about 10,285.5 sq yd) where a Lugou Awake Lion stands symbolizing the disillusion of the Chinese people.

Qinglonghu Park, covering an area of about 0.26 sq mi, is located on the bank of Qilong River which is about 20 km (about 12.4 mi) from Beijing city. The beautiful scenery in the park attracts a large number of tourists. Outdoor beach bathing area, fruit picking garden, water amusement facility and other distinctive places provides a relaxing paradise. In the fruit picking garden, there are over 20 species of fruit to pick and taste. Moreover, Farm-house Enjoyment Tourism here provides particular Chinese rural dishes.

Zhengang Pagoda, first built in the Jin Dynasty (1115-1234), is 18 meters (about 59 ft) in height and 24 meters (about 78.7 ft) in perimeter at the base. It is delicately carved with the patterns of warriors, civilians, flowers and the heads of beasts on the tower body. On each of the floors stands the statue of Buddha, some with hands crossed and some with hands extending up.

Tips
Fengtai has favorable transportation to tourist spots in the area. National highways, railways and city buses will make a convenient travel experience. There are more than 50 first class restaurants, 40 hotels and 30 supermarkets. The Dahongmen Special Shopping Street is a must when you shop there. Gyms are also well developed. The softball Competition of 2008 Beijing Olympic Games will be held in Fengtai Softball Field in Fengtai Sports Center (No.55, Xisihuan Nan Lu).
Useful Numbers
Tourist Consultation: 010-63981812
Tourist Complaint: 010-63862123
Consumer Complaint: 010-63442474
- Last modified on May. 31, 2020 -
Questions & Answers on Fengtai District of Beijing
Asked by Peter Kilgour from NEW ZEALAND | May. 30, 2020 03:16

Reply
Majiapu West Rd
What is located at 36-3-19 Majiapu West Rd
Answers (1)
Answered by Liliana from UNITED KINGDOM | May. 31, 2020 23:20

0

0

Reply
It is Dongya Sanhuan (东亚·三环) Community.
Asked by bryan gerard from USA | Apr. 24, 2014 13:43

Reply
restaurants near the orient international hotel and conference center in Beijing
I will be coming to a conference in
Orient International Conference and Exhibition Hotel
No. 9 Shan Hu Road
Wang Zuo Zhen, Fengtai District
what restaurants close to this hotel would you recommend?
bryan

gerardgenetics.com
Answers (1)
Answered by Shana from SWEDEN | Apr. 25, 2014 02:22

2

2

Reply
You must refer to the Orient MGM International Conference & Exhibition Hotel. If so, the hotel itself has Chinese and western dining halls, where you can taste very good food!