Changping Travel Guide
Brief Intro: Changping District, one of the 11 plan-to-establish new cities, is the high-tech and science base of Beijing.
Location: Northwest of Beijing, joining point of the Taihang Mountain and Mt. Yanshan
Geography: It is located in a connection area of plains and mountain. The latter in the northwest, occupy about 59% of the whole area.
Area: 1,344 sq km (about 519 sq mi)
Population: 829,000
Division: 2 Municipal Streets (Chengbei and Chengnan); 15 Towns (Nankou, Machikou, Shahe, Huilongguan, Dongxiaokou, Yangfang Xiaotangshan, Nanshao, Cuicun, Baishan, Beiqijia, Xingshou, Changling, Liucun and Shisanling)
Zip Code: 102200
Dialing Code: 010
Local Highlights: high-tech, sports venue, universities, agricultural science and hot springs
Local Products: apples and strawberries

Attractions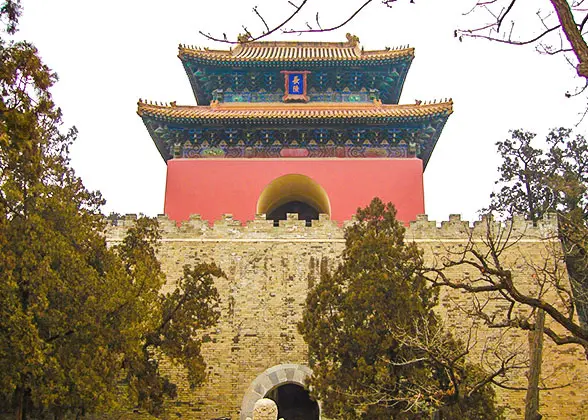 Ming Tombs
Cultural and Historical Sites: Juyongguan Pass, Ming Tombs, Yinshan Silver Pagoda Forest, Yanshou Temple, Heping Temple, Shenlu Park
Scenic Spots: Gouya Scenic Area, Duijiuyu Scenic Area, Mt. Dayangshan Scenic Area, Tianlongtan Scenic Area, Huyu Scenic Area, Mt. Mangshan National Forest Park, Tianchi Scenic Area
Amusement:
Snow World Ski Resort
, Ming Emperors' Waxwork Palace, Beijing International Golf Club, China North International Shooting Range, Jiulong Amusement Park, Beijing Crocodile Farm
Museums: China Tank Museum, China Aviation Museum
Special Tours:
Xiaotangshan Hot Springs
,
Xiaotangshan Modern Agricultural Science Demonstration Park
and another 50 folk cultural tourism villages.
Yanshou Temple, about 50 km (about 31 mi) from the downtown of Beijing, was originally named Zengjiabu Temple. The scenic area is famous for the strange pines, clean spring, magnificent mountains, exuberant trees, ancient temple and ancient tower. The temple was first built in the early years of the Ming Dynasty. It's said that Liu Bowen (a court minister then) who constructed Yanshou Temple was not willing to give up the valuable land as he chose the location of the emperor's tombs. Therefore, nowadays Ming Tombs are not far from the temple. In the temples stand the statues of Buddha Sakyamuni and Kwan-yin made of white marble. Moreover, Yanshou holy water continuously flows out from the narrow gap. As the local people say, drinking the water could benefit your health by improving your physical condition; resulting in living longer than the common people.

Mt. Mangshan National Forest Park, covering an area of 8,622 ha (about 33.3 sq mi), is the largest national forest park of Beijing. It is so named due to its shape. Various species of trees and flowers here add the attraction of the park. Apart from the natural landscape, there are Giant Buddha, Mt. Mangshan Tower, mountain green corridor and other human cultural spots. The Giant Buddha is actually the granite statuary of Lauphing Buddha (Maitreya Buddha), which is the largest stone Buddha in northern China. In the lawn before the Buddha are the lifelike statues of Chinese 12 zodiacs. A high ancient tower, located in the top of Mt. Mangshan, is a duplicate of the Ming architecture. It was built here to protect it from the forest fires that happens in the park.

China Aviation Museum is the first aviation museum in China open to the public. It has on display a large number of valuable aviation objects. At present, 163 planes of 91 types and over 600 kinds of weapons including missiles, radars, anti-aircraft guns have been displayed to the visitors. The museum is divided into Exhibition Cave 1 and Outdoor Parking Exhibition. The former, covering 20,000 square meters (about 23,919.8 sq yd), exhibits the representative planes in China's different historical periods and the latter shows the planes made by different countries. Additionally, there are Engine Exhibition, Aviation Equipment for Arial Photography, the Private Plane of Chairman Mao and others. In the treasure exhibition hall, a replica of the remote-control plane, made in this museum, as well as some valuable gifts representing the friendship between China and foreign countries are displayed.

Tips
Acting as the north gate of Beijing, Changping District is one of the most important transportation junctions of the city. National highways, ring roads and light rail transit conveniently connect Changping with its neighboring cities and counties. Its science, education, culture civilization and tourism industry are well developed. Star level hotels, travel agencies, tourist restaurants and shopping sites provide a good tourism environment for visitors. In addition, the qualifying event for the cycling section of the 2008 Olympic Triathlon will be held around the Ming-tomb Reservoir.
High-tech Parks: Zhong Guan Cun Science Park Changping Sector, Zhongguancun Life Science Park
Famous Universities: China University of Political Science and Law, China University of Petroleum, North China Electric Power University, Beijing University of Chemical Technology
Useful Numbers
Tourist Information: 010-89740051
Tourist Complaints: 010-69704656
Consumer Complaints: 010-69744996
Taxi Complaints: 010-68351150
Ambulance: 010-69742549
Traffic Accidents: 010-69742627
- Last updated on Nov. 03, 2019 -
Questions & Answers on Changping District of Beijing
Asked by Darryl from UNITED KINGDOM | Oct. 27, 2019 13:41

Reply
Does anyone know if the tank museum is still open? I want to visit in march 2020
Answers (3)
Answered by Gina from CANADA | Oct. 29, 2019 00:12

0

0

Reply
As I know, it has been closed forever.
Answered by Darryl from UNITED KINGDOM | Nov. 03, 2019 14:23

0

0

Reply
It is definitely still closed? People are still offering tours to see the tanks, I would love to see them, theres a lot of rare tanks there. This is sad news
Answered by Gina from CANADA | Nov. 03, 2019 19:22

0

0

Reply
Yes, it is closed. You can go to The Military Museum of the Chinese People's Revolution.
Asked by Oliver from UK | Aug. 16, 2019 23:12

Reply
How difficult is traveling from Changping district to Haidian district? What's the best way?
Answers (1)
Answered by Barbara from AUSTRALIA | Aug. 19, 2019 00:18

0

0

Reply
You can take metro line of Changping from Changping Station to Xierqi Station, and transfer to metro line 13 to Dazhongsi Station (Exit A), and take bus No.101/425 to Changchunqiao Station. It takes around 1.5 hours with CNY9.
Asked by Adrien Amadeo-Vittone from CANADA | Jul. 11, 2017 22:41

Reply
Does anyone have information on travel from Beijing to Mangshan Park for the day?
Answers (2)
Answered by Anne from ICELAND | Jul. 12, 2017 02:12

1

0

Reply
If you want to visit the park from Capital Airport, then hope the following could help!
Take Shuttle Bus-line 18 and get off at North Changping Station. The ticket fare is CNY 30 per person. Then transfer to bus no.886 to the national park directly.
Answered by Adrien from CANADA | Jul. 12, 2017 10:02

0

0

Reply
Thanks!
Asked by MAYRA from USA | Jun. 17, 2017 08:49

Reply
Gouya Natural Scenic Resort
Hi,

I know the scenic resort is this district. I was hoping to take a day trip from the center of Beijing. What is the best way to get here and what is the cost?
Answers (1)
Answered by Nancy from CANADA | Jun. 23, 2017 04:54

1

0

Reply
Well, I will use Dongzhimen Metro Station as the start point. You can take metro line 13 from Dongzhimen to Xi'erqi Station and transfer Metro Changping Line to Changping Station, Exit A. Then you may walk about 400 meters along South Gulou Street and turn left for about 100 meters to West Gulou Street Bus Stop. Afterwards, you can take bus no.Chang 35 to Huanghuayucun Bus Stop. Upon arrival, you can find the destination directly.