Xiaotangshan Modern Agricultural Science Demonstration Park
Xiaotangshan Modern Agricultural Science Demonstration Park, built in 1998, stands in the plains at the southern foot of Yan Mountains, about 30 kilometers (19 miles) from downtown Beijing. There are abundant water and geothermal resources around the park where you can enjoy the beautiful landscapes and hot spring baths.
When it is winter outside, it is still spring inside the park. Flowers blossom in full season here. Entering Xiaotangshan Modern Agricultural Science Demonstration Park, you can see advanced agriculture knowledge and enjoy many green foods like fresh vegetables and fruits, which can give you a special and meaningful experience.
Xiaotangshan Modern Agricultural Science Demonstration Park consists of seven districts and one garden, like Precise Agriculture District, Aquaculture District, Agriculture Products Processing District and Seed Agriculture Garden. Seed Agriculture Garden is a core zone which demonstrates natural landscapes and modern agriculture in its Animal Breeding Center, Grape Gallery and Butterfly Orchid Greenhouse.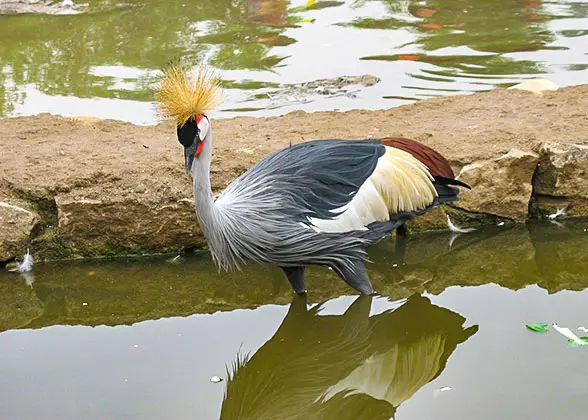 Animal Breeding Center
Animal Breeding Center
The Animal Breeding Center in Xiaotangshan Modern Agricultural Science Demonstration Park keeps national protected animals in China. There are more than 300 different animals of over 20 categories, like white-naped cranes, red-crowned cranes, African ostriches and Australian ostriches. The square park is constructed with winding paths, a creek and artificial hills. Along the creek, you can reach the center of the park, namely a small island where many aquatic animals live. Lingering there, you can close to the docile animals and feed them.
Long Farm Gallery
You can get to the 3,000 meters (3,200 yards) long gallery where many plants grow, like towel gourds, snake beans and different-shaped calabashes. Almost one third of the gallery is the Grape Gallery. You may see colorful and sweet grapes, such as American red grapes and Xiangfei grapes.
Butterfly Orchid Greenhouse
On both sides of the gallery, there are two Butterfly Orchid Greenhouses, covering 20,000 square meters (23,900 square yards). Butterfly orchids of almost 300 categories and other precious orchids are planted here. No matter what season it is, you can always appreciate those fragrant flowers in the greenhouses.
Peony Garden
Peony Garden
At the end of the long gallery, there is Peony Garden, covering around 6,600 square meters (7,900 square yards). Over 10,000 peonies of almost 100 kinds are planted here. The garden keeps large and beautiful peonies with all the colors like red, white, pink, yellow, purple, blue, green, black and assorted colors. The best time to appreciate these peonies is from late April to early May.
In addition to those sites, there are some other places in Xiaotangshan Modern Agricultural Science Demonstration Park. There is a greenhouse showing the high-quality fruit trees from south China. The banana trees planted here were even taken to outer space by Shenzhou IV Spaceship. Besides, Pineapple Exhibition shows different categories of pineapple flowers which only blossom once in their entire life. You can carefully appreciate these beautiful flowers if time permits. If you want have a rest, you can get to the Hot Spring District to relax yourselves.
How to Get Xiaotangshan Agricultural Park
Take
subway Changping Line
, and get off at Nanshao Station. Then, take bus Chang 51 Branch and get off at Xiaotangshan Agriculture Park Station.
Admission Fee
CNY 30 per person
Free of charge from May 19 to September 27 every year
Opening Hours
8:00-17:00
8:30-16:30 from May 19 to September 27

Nearby Attraction:
Xiaotangshan Hot Spring
- Last updated on Nov. 23, 2023 by Kate Liu -