Yanqing Travel Guide
Brief Intro: Yanqing County is the summer escape resort and the agricultural base of Beijing. In addition, five venues of 2022 Beijing Winter Olympics will be constructed here.
Location: northwest of Beijing, 74 km (46 mi) from the urban city, neighboring Huairou, Changping districts and Huailai, Chicheng counties in Hebei Province
Geography: a small basin with mountains in the north, south and east and Guanting Reservoir in the west
Area: 2,000 sq km (772 sq mi)
Population: 276,000
Administrative Division: 11 Towns (Yanqing, Kangzhuang, Badaling, Yongning, Jiuxian, Zhangshanying, Sihai, Qianjiadian, Shenjiaying, Dayushu, Jingzhuang); 4 Municipal Shires (Dazhuangke, Liubinbu, Xiangying, Zhenzhuquan)
Postal Code: 102100
Dialing Code: 010
Local Highlights: the Great Wall culture; ecological and rural tours
Local Products: apples and grapes

Attractions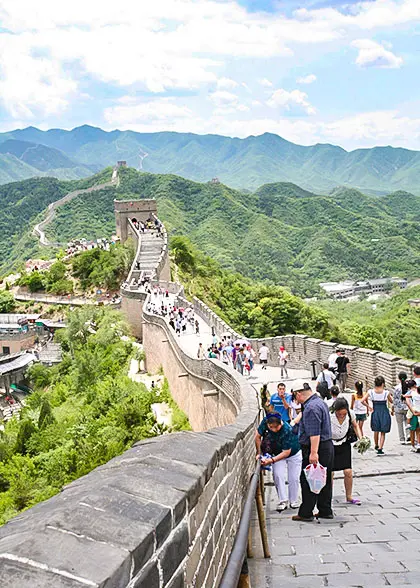 Badaling Great Wall
Cultural and Historical Sites: Badaling Great Wall, Guyaju Caves (Ancient Cliff Dwellings)

Scenic Spots: Longqing Gorge, Kangxi Grassland, Tianmo Desert, Badaling National Forest Park, Badaling Wildlife World, Mt. Songshan, Mt. Yudu, Mt. Lianhua, Wild Duck Lake, Petrified Wood National Geologic Park
Amusement: Badaling Ski Resort, Shijinglong Ski Resort, Gui River Cruise
Rural Tour: Shangmo Folk Custom Village, Lipaohong Apple Orchard
Located in the northeastern Yanqing County, Longqing Gorge is 85 km (about 52.8 mi) from the downtown of Beijing. It was originally named Gucheng Jiuqu, which means the zigzag water flowing around or within the city. There are many scenic spots in Longqing Gorge, including Cockscomb Mountain, also called "Peak with Unique Beauty and Phoenix Coronet Isle", which has a shape resembling a crowing rooster and is considered as a symbolizing landscape. The highest peak of the Longqing Gorge is the Immortals' Temple. The temple is divided into two yards, the Jade Emperor Pavilion and the Immortals' Teahouse. The Cave of Hundred Flowers covers 3,000 square meters (about 3,588 sq yd) and contains all kinds of synthetic flowers, trees and other plants as well as many animals, which add even more vitality to the elegant landscape. Apart from the beautiful scenic spots, you can also enjoy some extreme sports, such as ziplining (Feijiang), bungee jumping and others. Another activity staged here is Longqing Gorge Ice Lantern Festival. Each winter, from the middle of January to the end of February, various ice sculptures and ice lanterns attract a large number of local and foreign tourists.
Petrified Wood National Geologic Park lies at the banks of Bai River, Yanqing County. Covering about 226 square kilometers (about 87 sq mi), the park has about 780 species of plants and 180 species of vertebrates. The geologic park is characterized by its Jurassic petrified wood of 0.14-0.18 billion years. The park is divided into five scenic areas: Fossil Wood Area, Dropping-Water Pot Scenic Area (Dishuihu Scenic Area), Wulong Gorge, Yanshan Heavenly Pool and Yunlong Mountain, which includes 25 scenic spots.
Badaling Wildlife World is located at the foot of the well-known Badaling Great Wall. Covering an area of over 1.54 sq mi, this zoo has nearly 10,000 wild animals, including African lions, white tigers, Siberian tigers, brown bears, sun bears and kangaroos. The park has five functional zones: animal visiting zone, mountain forest sightseeing zone, environmental reserve zone and entertainment zone. Here, tourists can not only watch the wild animals, but sometimes, may even have their pictures taken with the animals.
Annual Festivals
Yanqing Apricot Blossom Festival: April 1st - middle May
Planting Festival: later March - later May
Mountain Climbing Festival: April 1st - later May
Summer Escape Festival: June 18th - September 18th
Golden Spring Picking Festival: September - November
Ice & Snow Tourism Festival: January 1st - later February
Tips
Despite a small county, Yanqing has well-developed transportation and communication facilities. Railways, national highways and countryside highways form an intensive road network. Traveling from Beijing to Yanqing, takes less than one hour. Yanqing County is the transition center of the whole area, from where tourists can change or charter buses to other tourism hotspots. Hotels ranging from two-star to four-star provide comfortable accommodation for visitors. For dining, genuine rural dishes made of potherbs and wild game are a must.
Useful Numbers
Tourist Consultation: 010-81191011
Tourist Complaint: 010-81191168
Consumer Complaint: 010-69141559
Ambulance: 010-69101443
Folk Custom Tour Consultation: 010-81196883
- Last updated on Feb. 08, 2021 -
Questions & Answers on Yanqing County of Beijing
Asked by Kathleen from USA | Feb. 05, 2021 05:09

Reply
Ice and Snow Festival
Do you need to reserve tickets for the Ice and Snow Festival ahead of time? Does the festival have a website?
Answers (2)
Answered by Karen | Feb. 07, 2021 17:21

0

0

Reply
Do you refer to the Ice and Snow Festival in Harbin?
Answered by Kathleen | Feb. 08, 2021 02:23

0

0

Reply
No, the one at Longqing Gorge. I found tickets on Dianping but it requires a Chinese ID to purchase.
Asked by Lanz | Dec. 31, 2019 06:27

Reply
How to get to badaling greatwall from yanqing
How do i get to badaling greatwall via bus? If i have a checkin in holiday inn express in badaling?
Answers (1)
Answered by Liz from SINGAPORE | Jan. 01, 2020 19:40

0

0

Reply
You can take bus 919 from Yanqing Dongguan Bus Station to Badaling station.
Asked by Desiree F from PHILIPPINES | Dec. 07, 2019 10:14

Reply
How to reach Yanqing from Beijing Capital airport?
Will there be snow in Dec 16 at Badaling Wall and ski resort? Thank you
Answers (1)
Answered by Amanda from GERMANY | Dec. 09, 2019 23:38

0

0

Reply
You can go to the ski resort during that period of time. But I am afraid that there is no snow in Dec.16th.
From PEK, take Airport Express to Sanyuanqiao Station first. Then take bus no.847 to Madianqiao Bus Stop and transfer to bus no.919 to Yanqing.
Asked by Mona from AMERICAN | Oct. 01, 2019 02:29

Reply
How do I get to yanqing from Bazhou
Answers (1)
Answered by Benny from USA | Oct. 09, 2019 02:27

0

0

Reply
I can't find any public transportation between them. Maybe you need to hire a car. The distance is not far.
Asked by Tarun Mehta from SINGAPORE | May. 02, 2019 17:50

Reply
Name of a 5 star hotel close to the Beijing horticultural expo site?
Answers (1)
Answered by Emma from NETHERLANDS | May. 06, 2019 02:52

0

0

Reply
The newly open hotel, Hyatt Regency Shiyuan, is located in Building 1, Yard 1, Fukang South Road, Yanqing District. It is very close to the Expo.