Longqing Gorge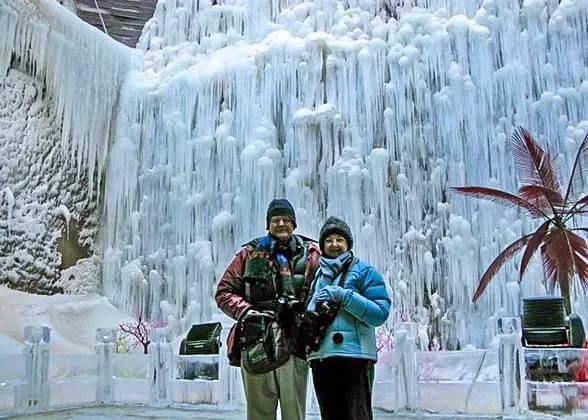 Winter in Longqing Gorge
Longqing Gorge is located at the mouth of the Yanqing Old City River, in the northeast of Yanqing County. It is 53 miles (85 kilometers) from Beijing City. The scenic spot is famous for its gorge. Visitors compare the scenery of the gorge to the Three Gorges of the Yangtze River, but its mountains are much steeper than those along the Yangtze. The scenery also resembles the Li River in Guilin, but the water here is much clearer.

When you arrive at Longqing Gorge, the first thing you will see is the Longqing Dam. The 230-foot-high (70-meter-high) dam is inset between hills. Looking to the north side from the dam, the picturesque scenery of hills and white clouds reflected in deep green water can be appreciated.

But how do you get onto the dam? Use the elevator inside the body of an artificial dragon. The elevator is hidden in the majestic dragon. It is 846 feet (258 meters) long and can take people to a height of 295 feet (90 meters).

Getting down from the dam, you have to enjoy the river and hills by cruise. Every turn around a hill in the river will surprise you because of the new view. The scenery here combines the charm of rivers in southern China and the magnificence of mountains in northern China, which will give you a deep impression. Along the river you will see the heavily forested steep cliffs and the bare limestone in different fantastic shapes, eroded by the natural power of water. To some extent, it is much like Li River. Many of these rocks and hills have their own names, such as: Comb Hill, Immortal Taoist Temple, Flowers Cave and Jingang Temple.

The most important spot that you must have a look is the Comb Hill, also known as Solitary Beauty Peak, which is 230 feet (about 70 meters) high and surrounded by water. It is the landmark in Longqing Gorge.

Flowers Cave is another must-see spot of Longqing Gorge, which covers 0.74 acre (3,000 square meters). There are more than 1,650 kinds of artificial trees and flowers decorated with birds and other animals in the cave. The flowers in the cave are divided into several themes like: Blooming Flowers and Northern Scenery, which will, of course, leave a deep impression for visitors.

After enjoying the beautiful natural scenery on cruise, there are many other activities. Bungee jumping from a hill, taking cableway to appreciate the blue sky and the clean water, or boating by yourself on the river are some good choices. However, these items are charged independently for different prices.

In addition, Longqing Gorge is special for its ice lantern show in winter from January to February. Although every year the lantern show has its own theme, the spectacular icefall against the dam wall is always the highlight. If you are keen to see the marvelous combination of natural wonder and human creativity, you can go there during the winter.
Ways to get there:
1. Take bus 919 or 919 Express from
Deshengmen Bus Station
to Yanqing Dongguan Station. Then transfer to bus Y15 and get off at Longqingxia (Longqing Gorge) Station. From Yanqing Dongguan, tourists can also transfer to bus Y40 and get off at Longqingxia Lukou Station.
2. Take bus 919 or 919 Express from Deshengmen Bus Station to Guishui Beijie Nan Station. Then take bus 875 and get off at Longqingxia Station.
After getting off the bus, visitors can walk for 15 minutes or take the shuttle bus which costs CNY 5 for a single trip to the entrance.
Opening Hours
April 15 to November 15: 08:00 ~ 16:30
January 15 to the end of February (Ice Lantern Festival): 09:30 ~ 21:30
Ticket Price
| | | |
| --- | --- | --- |
| 1 | Through Ticket | CNY 150 |
| 2 | Entrance Ticket | CNY 40 |
| 3 | Round-trip Cruise | CNY 100 |
| 4 | Flowers Cave | CNY 10 |
| 5 | Immortal Taoist Temple | CNY 50 (including round-trip cable car fee) |
| 6 | Bungee Jumping | CNY 150 |
| 7 | Slideway | CNY 20 |
| 8 | Ice Lantern Festival | CNY 100 |

Note:
1. Children under 3.9 feet (1.2m) enjoys free entry to the scenic area and Ice Lantern Festival.
2. 1 covers 2, 3, 4, 5.
3. During the Ice Lantern Festival, only the Ice Lantern Area and the Flowers Cave are open. 3, 5, 6, and 7 are out of service.
4. If you want to try the bungee jumping, be sure you are healthy and fit enough.
5. The hills are very steep in places. Take great care especially when traveling with the elderly or children.



Recommended Nearby Attractions:


Yudu Mountain


Mt. Songshan Nature Reserve


Guyaju Caves


Kangxi Grassland


Badaling Great Wall


China Great Wall Museum


Yongning Ancient City



Further Reading:
Top 10 Things to Do in Beijing in Winter
15 Wonderful Places to See Snow in Beijing
12 Best Places to Visit near Beijing
- Last updated on Oct. 25, 2021 -
Questions & Answers on Longqing Gorge
Asked by David Isaiah Sr from USA | Nov. 19, 2019 12:46

Reply
Can you Bungee Jump in Longqing Gorge during the winter?
Just wondering If you can bungee Jump in the winter. during Feb 23- Feb 26 2020
Answers (1)
Answered by Veronica from GERMANY | Nov. 20, 2019 22:49

0

0

Reply
I heard that tourists cannot Bungee Jump in winter. In order to be sure, you are suggested to consult the scenic area staff when you arriving there.
Asked by Radi from UNITED KINGDOM | Aug. 02, 2019 13:03

Reply
Longqing Gorge to Guyaju Caves
What's the best way to travel from the gorge to the nearby caves and then return back to Beijing inner city?
How long would it take?
Is it easier to go to the caves first and then to the gorge?
Answers (1)
Answered by Kate from USA | Aug. 05, 2019 20:04

0

0

Reply
1. You can hire a car or take public transport: Take bus No.y15 from Yanqing Old City Station to Jingzhang Road Station, and transfer to expo line 2 to Expo bh3 Station, and transfer to expo line 3 to Guyaju Station. It takes around 2 hours with CNY39. You can still take public transport back to the city center.
2. Yes, you can go to the caves first.
Asked by Jogena Ong from SINGAPORE | Jun. 13, 2019 01:19

Reply
Is Longqing Gorge open in December period?
Answers (1)
Answered by Dylan from USA | Jun. 13, 2019 20:02

0

0

Reply
Yes, you can admire beautiful winter scene and ice light show.
Asked by Hannah from UNITED KINGDOM | May. 14, 2019 01:23

Reply
Hi! Do you need to bring your passport with you to do any of the activities in Longqing Gorge?
Answers (1)
Answered by Jessica from USA | May. 14, 2019 19:37

0

0

Reply
No, you don't have to.