Fangshan Travel Guide
Brief Intro: Fangshan, one of the four 'satellite cities' of Beijing, is a town of architecture, mineral resources, trees and fruits as well as tourism spots in suburban Beijing.
Location: southwest of Beijing
Geography: mountains, highlands and plains
Area: 2,019 sq km (about 780 sq mi)
Population: 870,000
Administrative Division:
8 Municipal Streets (Chengguan, Xinzhen, Xiangyang, Dongfeng, Yingfeng, Xingcheng, Gongchen, Xilu)
3 Municipal Districts (Liangxiang, Zhoukoudian, Liulihe),
Postal Code: 102400
Dialing Code: 010
Local Highlights: profound history and amazing scenic spots
Local Products: Mopan persimmon (a kind of fruit in the shape of millstone), white marble
Attractions
Cultural and Historical Sites:
Peking Man Site at Zhoukoudian
,
Temple of Cloud Dwelling
(Yunju Temple), Yan Capital Site of Western Zhou Dynasty (11 century BC- 711 BC), Zhangfang Ancient Plank Road, 107 ancient pagodas of many dynasties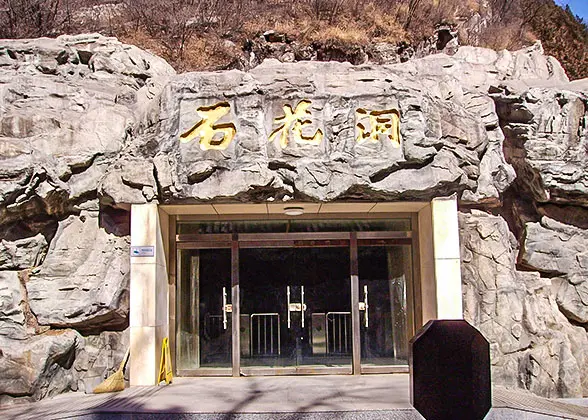 Stone Flower Cave
Karst Caves:
Stone Flower Cave (Shihua Cave), Yinhu Cave, Xianqi Cave, Tangren Cave, Longxian Cave, Yunshui Cave

Amusement Resorts:
Juma Paradise, Jinghui Golf, Yaoshang Countryside Golf, Haotian Amusement Park, Tianlong Hunting Center, Bofeng Green Island Ecological Garden

Rural Folk Custom Villages:
Hancunhe, Tangshang, Qidu, Xihe, Xizhuang, Baoshui, Zhangfang, Simatai, Jiudu, Banbidian, Dongganchi, Beiganchi, Sishangmin, Mujiakou, Shangshibu, Changyang Grape Orchard, Dashiwo Chinese Dates Orchard, Liulihe Pear Orchard

Scenic Areas:
Ten Ferries (Shidu), Mt. Shangfang National Forest Park, Mt. Holy Lotus (Mt. Shenglian), Qinglong Lake

Mt. Shangfang National Forest Park, 65 kilometers (about 40.4 mi) from the city center, is an ideal destination for amusement and traveling. People say scenery here is as beautiful as that in Suzhou and Hangzhou. There are 9 caves, 12 peaks and 72 small temples presenting a distinctively natural feature together with the elegant mountain, very tall trees as well as nice flowers. A large number of trees in the park can help tourists breathe fresh air and experience the harmony with nature. Besides, the Karst landform of different shapes here shows various lifelike landscapes. This park is also a famous Buddhist mountain with 72 temples and temple sites. Therefore, arriving at Mt. Shangfang National Forest Park, you seem to appreciate a vivid Buddhist historical picture.

Mt. Holy Lotus is considered as the first strange mountain of Beijing due to the holy water and holy rice as well as the miracle geological landscape. There are 28 heavenly ladders, temples in the south and north, lying Buddha and others. Flat Peach Palace is the representative buildings as a famous Taoist temple. In the west of Flat Peach Palace, a vertical cliff as a half peak and four small peaks on the both sides form a Lotus Holy Seat (Shenglian Baozuo). It is because of the special view that the mountain is named Mt. Holy Lotus. And on the waist of the cliff, the 4-meter (about 13 ft) statue of a goddess is well preserved.

Qinglong Lake, originally Chongqing reservoir, was developed to a resort in 1995. Covering 4.94 square kilometers (about 1.9 sq mi), it has very broad waters. Being only 37 km (about 23 mi) from Tiananmen Square, the scenic area is a good choice for relaxation. There are limpid lake, picturesque scenery and attractive beach. Here you can experience not only water motor and dragon boat, but also relax yourself by fishing at the lake.


Useful Numbers
Tourist Consultation: 010-89352764
Consumer Complaint: 010-69367937
Tips
This district has the most tourism spots in Beijing's suburban areas. For visitors' convenience, it has quite fast transportation to the city center, including city buses 917, 922, 616, 971 and tourism special trains No.7/8. Highways are extended to most countryside, making the rural tour more convenient. Hotels range from one star to three stars, but staying in the villagers' traditional houses may be more interesting to most travelers.
- Last updated on May. 22, 2019 -
Questions & Answers on Fangshan District of Beijing
Asked by Phoebe from UNITED KINGDOM | May. 22, 2019 09:52

Reply
Staying in Fangshan for most part during my trip but I really want to get Beijing once in a while.
What is the cheapest way to get there and what is the fastest way? Normally how much would it cost and how much time does it take?
Thanks in advance!
Answers (1)
Answered by Hailey from CANADA | May. 22, 2019 19:40

0

0

Reply
You can take Bus line 616 from Liangxiang Beiguan North Station to Beijing West Railway Station and then transfer to Metro Line 7 to the downtown area. It takes about 2 hours and the fare is around CNY10-15.
Asked by jim from USA | Jul. 05, 2018 23:00

Reply
how about taking a taxi from the end of the fangsha subway line to shidu?
Answers (1)
Answered by George | Jul. 06, 2018 00:59

0

0

Reply
Do you mean Suzhuang or Guogongzhuang? If you mean Suzhuang, the fare is about CNY 230.
Asked by Eddie from AUSTRALIA | May. 19, 2015 07:08

Reply
What is the nearest airport to fangshan
I want to fly from Perth , western Australia to fangshan . Can someone advise please
Answers (1)
Answered by Wendy from INDIA | May. 19, 2015 21:29

0

1

Reply
Nanyuan airport is the nearest, but it operates a few international flights, so the capital airport is suggested. But Fangshan covers a large area, so I can just tell u the general way:
Take the airport Express line to Sanyuanqiao Station, where you can transfer to Line 10 to Liuliqiao Station. Then transfer to line 9 to Guogongzhuang Station. There you can take the connecting Fangshan Line to your destination.
Or just tell me your destination, so I can find the best transportation from PEK.
Asked by stephen from AUSTRALIA | Aug. 24, 2012 22:39

Reply
Beijing Jinghui Golf Club Fangshan District
are you sure there there is no train to fangshan. there is the Beijing Subway Fangshan line which opened on December 30, 2010 which is 24.8km long and takes haif an hour from Fangshan to Beijing . I wish to travel to Beijing Jinghui Golf Club in the Fangshan District which station do i get off thank you
Answers (1)
Answered by Jimmy | Aug. 25, 2012 01:43

2

1

Reply
Yes, you are right. You can take the subway Fangshan Line to get to Fangshan area. Just get off at its final stop--Suzhuang Station, then you can take a taxi to Jinghui Golf Club.
Asked by stephen from AUSTRALIA | Aug. 23, 2012 05:59

Reply
where do i catch the 7/8 special tourist train from so i can go to Fangshan
Answers (1)
Answered by Linda | Aug. 23, 2012 22:40

2

1

Reply
You can catch the tourist train 7/8 at Beijing South Railway Station.