Stone Flower Cave (Shihua Cave)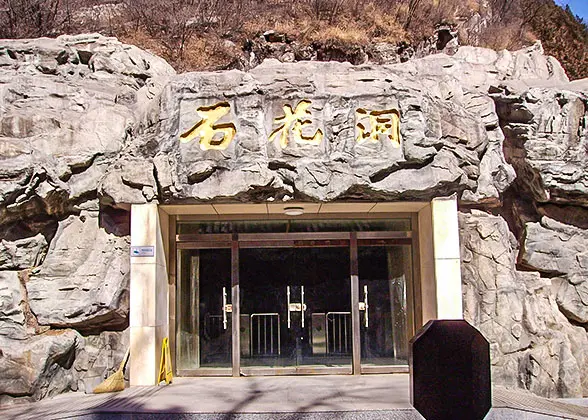 Stone Flower Cave
Located in Fangshan District, Stone Flower Cave, also known as Shihua Cave or Shihuadong Cave, is a national famous scenic spot and geological park which is noted for the unique Karst cave sightseeing and a valuable informational bank on geological research.

Originally it was called Qianzhen or Shifo Cave, names given it by the wanderer monk Yuan Guang during the Ming Dynasty (1368 - 1644). Stone Flower Cave thus became famous from then on. Covering an area of about 1.8 Hectares, it is a multilayer Karst cave with seven clearly distributed layers. The first to the sixth layers are the scenery area and the seventh layer is the underground river. There are twelve huge "halls" which are interconnected with countless narrow passages, sixteen 'chambers' and 71 'branch caves' in many sizes and shapes.

The inside is a fairyland on earth. You will be amazed at nature's creativity. All of the features are made of stone: fantastic stalactites, stalagmites, curtains and, flowers. Everywhere is full of the sound of water dripping "Di Di Da" which is composed into delightful music. Stalactites and stalagmites are growing until one day they meet. The milk white stone 'Yue Nai Shi' is a wonder in it and a national treasure. It comes in many shapes such as stone lotus and mushroom.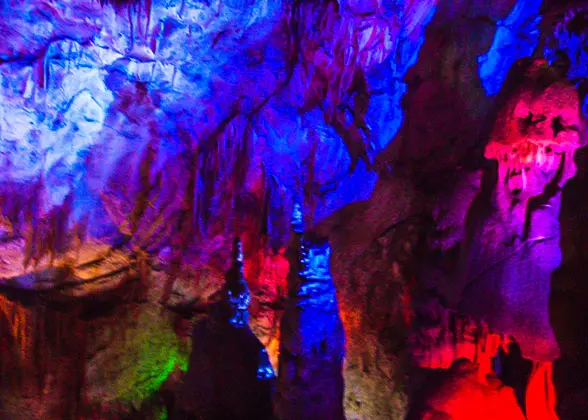 What's more, the Silver Fox Cave is worth visiting. It was discovered and developed in 1991. Composed of eight halls and over 40 scenic sights, it is an amazing gallery presenting changeable scenery. There is a rare stone regarded as national treasure. It is in the shape of snow leopard's head and silver fox's body. The whole body of it 'grows' snow-white sharp hairs, crystal clear and glittering. The miniature landscapes in it are full of variety.

It keeps a constant 55.4F temperature in all four seasons. The cool and gentle breeze in it bring fresh air to visitors. It is a great place for sightseeing and refreshing the mind.
How to get to Stone Flower Cave
1. Take Subway Line 9 and transfer to Fnagshan Line at Guogongzhuang, and then get off at Liangxiang Nanguan. After leaving from Exit A1, walk west for 3 minutes and turn north. Walk for 2 more minutes to Liangxiang Nanguan Xi Bus Stop. Then take Bus Fang 43 to Shihuadong (Stone Flower Cave).
2. Take bus 836/917 from Tianqiao Bus Station to Yancun and then change to Bus Fang 43.
Beijing Bus / Subway Search
| | |
| --- | --- |
| Admission Fee | CNY 70 |
| Opening Hours | 8:30-17:00 |

Other attractions in Fangshan District:


Shidu Nature Park


Yunju Temple


Peking Man Site at Zhoukoudian



Recommended Itineraries:
One Day Visit: Peking Man Site - Lugou Bridge - Stone Flower Cave
More Beijing Tours