Yunju Temple
Also named Temple of Cloud Dwelling, Yunju Temple is located in Fangshan District in the southwest of Beijing, and is about 70 kilometers (43 miles) away from the center of the city. It faces east, taking an area of 7 hectares is famous for the stone sutras it houses.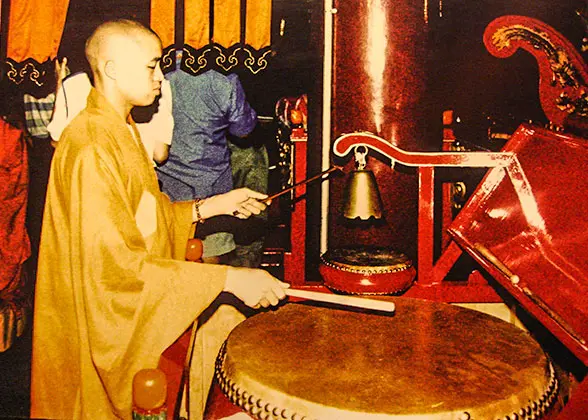 Buddhist Activities
The construction was started from 605. Having been reconstructed and enlarged several times, Yunju Temple became an architectural complex including five courtyards and six main halls. During the Sino-Japanese War, it suffered great damage, particularly in 1942. After 1949, it was restored to its original glory.

Now it has become a world-famous Buddhist temple, where religious activities are conducted. The eighth day of the fourth lunar month is the birth date of Sakyamuni Buddha. Every year, Yunju Temple will hold tremendous fairs at that time. Enjoying a history of over 1,000 years, the temple fairs attract a lot of visitors and pilgrims.

Tourist Sights
This temple, grottoes of Buddhist Texts in the Shijing Mountain (Stone Sutras Mountain), together with towers built in Tang (618-907) and Liao (916-1125) dynasties present the splendid Buddhist culture to visitors.

Stone Sutras, Paper Sutras, Wooden Sutras
Yunju Temple has an extensive collection of Buddhist Texts, in which the best known ones are stone sutras, paper sutras and wooden sutras.
Stone Buddhist Tripitaka buried underground fortunately escaped from being damaged while the temple was destroyed during Sino-Japan War. In 605, the stone sutras began to be engraved by the monk Jing Wan. After Jing Wan's death, his students carried forward the work. Some 1122 books and 3,572 volumes of Buddhist sutras were inscribed on 14,278 stone tablets. Those tablets originally were hidden in the nine grottoes in the Shijing Mountain. In 1999, it brought 10,082 tablets back to the underground closet for safe keeping. Visitors can see these tablets through the windows of the closet.
Paper Buddhist sutras in it reach a number of over 22,000 volumes. These sutras were printed or handwritten in Ming Dynasty (1368-1644), of which sutras written by Bhiksu Zu Hui in his tongue blood were most precious.
Wooden sutras named Long Zang (Dragon Tripitakas) were carved from 1733 to 1738. Now over 77,000 wood tablets are well preserved.

Towers
In the north and south of the Yunju Temple, once stood two towers built in Liao Dynasty. The southern tower was ruined in the war; and only the northern tower remains today. The stupa with a height of 30 meters (98 feet) was built of bricks between 1111 and 1120. Its architectural style is very rare to see among the towers of Liao Dynasty. Four small towers of 3 meters (9.8 feet) high built between 711 and 727 in Tang Dynasty (618-907) stand around the northern stupa. All the four seven-floor towers are engraved with images of Buddha. There are other over ten ancient towers built in it and the surrounding mountains. The tower dedicated to Jing Yuan who started the work of stone sutras is the most famous.

Buddha's Relics
Besides sutras and towers, Buddha's relics here also attract worldwide attention. They were discovered under the earth in Leiyin Grotto in Shijing Mountain in 1981 and are the only ones of their kind treasured in the cave but not in the pagoda.

Grottoes of Buddhist Texts in the Shijing Mountain
Nine grottoes of Buddhist Texts are located on the hillside of the Shijing Mountain, among which Leiyin Grotto is open to the public. Stone tablets embedded in the wall of the cave are mostly carved by the monk Jing Yuan. Four stone pillars in the grotto are carved with 1,056 images of Buddha, earning them the name "Thousand-Buddha Pillars". In all, 4,196 stone tablets inscribed with Buddhist sutras are preserved here.
Lots of historical relics are in the Shijing Mountain. Now tourists can choose the funicular to visit the mountain.
Activities
Various activities are held in Yunju Temple. Visitors can have a go at using the traditional Chinese millstone to crush grains and beans and learn how to print the sutras in the old way. Besides, it is also a wonderful place where you can copy the stone inscriptions. Various souvenirs are also available in it.
| | |
| --- | --- |
| Admission Fee: | CNY 40 (for Temple of Cloud Dwelling); CNY 15 (for Shijing Mountain) |
| Opening Hours: | 9:00 - 16:00; tickets selling stops at 15:30. |
How to get to Yunju Temple
1. Take
Subway Line 9
and transfer to
Fangshan Line
at Guogongzhuang, and then get off at Suzhuang Station. Leave from Exit B and walk east for 3 minutes to take Bus Fang 31 to Yunjusi (Yunju Temple).
2. From Tianqiao Bus Station, take Bus 917/ 917 Express to Yunjusi Lukou and transfer to Bus Fang 18/ Fang 31, get off at Yunjusi.
Beijing Bus / Subway Search

Other attractions in Fangshan District

Stone Flower Cave

Shidu Nature Park

Peking Man Site at Zhoukoudian

Suggested Itinerary:
Yunju Temple and Shidu
: One day visit to Yunju Temple (Temple of Cloud Dwelling ) and Shidu (Ten Ferries )
More
Beijing Tours
- Last updated on Oct. 29, 2018 -