Top Beijing Attractions
More Things to Do
Top 10 City Tours
BJ01-11: Outskirts Beijing Day Tour
Peking Man Site - Lugou Bridge - Stone Flower Cave
Free Cancellation

24-hour Before

In the morning, your tour guide and driver will pick you up at your hotel in downtown Beijing at the appointed time. Then we will start this day trip from Beijing to Peking Man Site directly. It takes about 1.5 hours to drive there. The Peking Man Site at Zhoukoudian is the most systematic and informative hominid site from the early Paleolithic Age with most abundant relics. It has been unearthed since 1927, and was listed on World Cultural Heritage.
Then, we will continue this day trip from Beijing to Marco Polo Bridge. Also known as Lugou Bridge, it is the existing oldest stone arch bridge in Beijing with a history of more than 800 years. You can watch numerous different stone lions on the bridge railings. The restaurants nearby the tourist attractions are of low quality, so we do not include lunch today. It is suggested that you take some snacks or have a fast food for lunch with the help of your guide.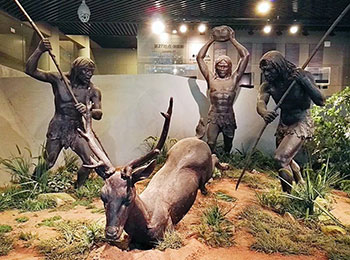 Zhoukoudian Peking Man Site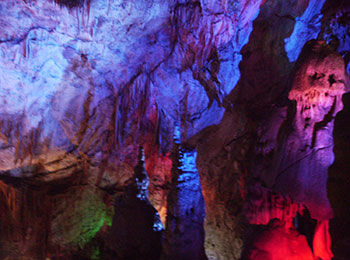 Stone Flower Cave
Finally, we will visit Stone Flower Cave, the first geological park in China themed on natural underground karst caves. It is also one of the most wonderful karst caves in China with colorful lights and a plenty of stalactites look like flowers.
When your day trip from Beijing to Marco Polo Bridge, Peking Man Site, and Stone Flower Cave comes to a successful close, your guide and driver will escort you back to your hotel in downtown. We wish you have had a great time with us. If you are interested in visiting other scenic spots in Beijing or China, please feel free to contact us any time and we will be very glad to serve for your smiles!
Peking Man Site
Zhoukoudian Peking Man Site is very important in the research of hominid in Paleolithic Age. This world heritage has 27 spots of various types, including more than 200 hominid fossils, more than 100,000 stone tools, hundreds of animal fossils and a great number of traces left by fire, which make the Peking Man Site a world-renowned treasure house of human fossils.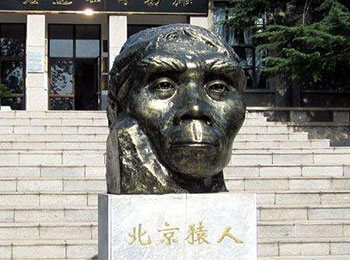 Peking Man Site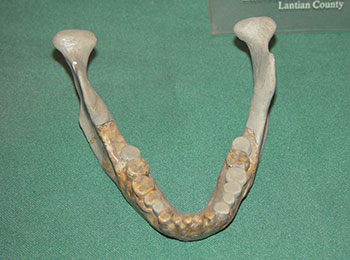 Fossils of the Skull of the Peking Men
Marco Polo Bridge
Marco Polo Bridge is 266.5 meters (291 yards) in length and 7.5 meters (8.2 yards) in width, with many beautifully carved stone lions in various shapes on both sides of the bridge railings. In addition to the stone lions, it is also known as the site of July 7th Incident in 1937, since when the Sino-Japanese War broke out throughout the whole China. Marco Polo Bridge is also a great place to appreciate the moon with reed weedy river too, which is honored as one of eight famous scenes in Beijing; the best time to appreciate this scene is around Mid-Autumn Festival, usually from middle September to early October.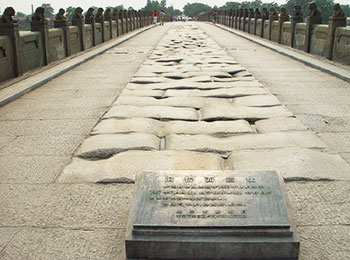 Marco Polo Bridge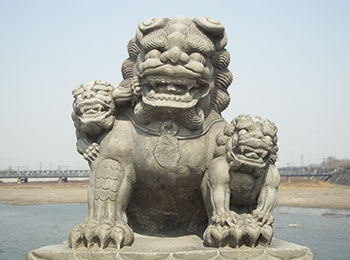 The carved stone lions in various shapes
Stone Flower Cave
Stone Flower Cave is a seven-floor underground karst cave, which is partly opened with a 2,500-meter (2,734-yard) long visiting route. The temperature inside is 13℃ (55℉) all year round, making it a good place to avoid summer heat in Beijing. The stalactite stone flowers of various shapes in the cave, together with diverse stalagmites and colorful lights make Stone Flower Cave fantastic and magnificent.
Prices (US$ Per Person)
1 person

$305

2 persons

$174

3 persons

$142

4 persons

$113

5 persons

$104

6 persons

$87

7 persons

$85

8 persons

$80

9 persons

$76

10+

$70

Price Includes
Private English-speaking guide
Private driver & air-conditioned vehicle
Entrance fees to tourist sites
Price Excludes
Hotel accommodation with breakfasts
Lunches and dinners
Tips or gratuities for guide and driver
Itineraries you may also like:
The above routes do not meet your requirements? Please click
Tailor My Trip