Tianmo Desert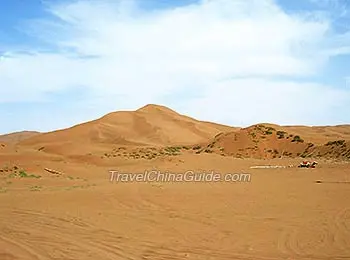 Tianmo Desert
Tianmo Desert is located to the south of Guanting Reservoir in Xiaonanxinpu Township, Huailai County, Zhangjiakou, Hebei Province, and 56 miles (90 kilometers) to the northwest of central
Beijing
. The area is comprised of mountains, deserts, lakes, and historical relics, with a total area of 214 acres (87 hectares). The golden desert, which is surrounded by farmland, rises and falls among beautiful mountains and glistening streams. It has become one of the best shooting locations of domestic and foreign films owing to its unique, charming, and diverse landscapes.
Mystery of Formation
Although Tianmo Desert has existed for a long time, how it came into being remains a mystery. Some sand in the east of the desert has been transported away. The exposed land is composed of coarse dark purple sand, which is totally different from the fine golden sand of the desert, proving that the sand of the Tianmo Desert comes from somewhere else. There are various hypotheses about the origin of the sand. The most common presumption is that the sand was blown from the Inner Mongolian Plateau by a strong air current and fell down here on account of the obstruction of the Jundu Mountains to the south.
Beautiful Landscapes
"Tianmo" means "Heavenly Desert" in English. The desert is made up of two parts. The eastern part and the western part measure 328 yards (300 meters) and 1,094 yards (1,000 meters) in length respectively. Both have a width of more than 109 yards (100 meters), and a height of over 98 feet (30 meters). Blown by wind, the desert ripples gently. It looks very spectacular!
Standing on the desert, people can see fascinating scenery. The vast Guanting Reservoir is to the north of the desert, while the magnificent Jundu Mountain lies south. There are a great number of historical relics around too, including the beacon towers of the Great Wall, the site of the Shanggu Prefecture, and the ancient fortresses of the Yan State in the
Eastern Zhou Dynasty
(770-256 BC). The high mountains, boundless deserts, winding streams, green grassland, fruitful orchards, and ancient relics are arranged in perfect harmony. There is no hustle and bustle of urban life, but peace and tranquility.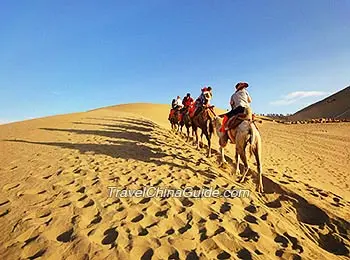 Riding Camels in the Desert
What to Do
Tourists can have a lot of fun in Tianmo Desert; go sand boarding, take a sand bath, make sand sculptures, ride horses and camels, or swim in the pool. They can also take a 4X4 Dune Buggy, and experience the jolts and thrills of this expansive desert. In addition, they can make a bonfire, set off fireworks, and enjoy delicious local food at night. That is very interesting!
How to Get to Tianmen Desert

From Beijing:

By Bus:
Take bus line 880 at Deshengmen Station, and get off at Tianmo Station. The bus leaves at 7:00, 9:00, 11:00, 13:00, 15:00, and 16:00. The duration is about 2 hours, and full ticket fare is CNY 28 for a single trip. Its terminal is Shacheng Passenger Station.
The bus leaves Shacheng Passenger Station for Deshengmen at 6:00, 8:00, 10:00, 14:00, and 15:30. It also has a stop at Tianmo for passengers' convenience.

From Zhangjiakou:

By Long-distance Bus:
Take a long-distance bus to Shacheng at the Zhangjiakou Bus Station, transfer to bus line 880, and get off at the site. Long-distance buses are available from 6:10 to 16:50 at the price of CNY 29 or CNY 31.

By Train:
Take a train to Shacheng at Zhangjiakou South Railway Station. Upon arrival, walk north to Huailaixian Dishuiju Station, and take bus line 880 to the site. The train leaves Zhangjiakou for Shacheng at 15:05, 15:49, 16:17, 16:36, 17:17, 19:09, and 22:54. The hard seat price is CNY 12.5, and the hard sleeper price is CNY 58.5. Duration is about 60 to 80 minutes.
Prices
Admission Fee
CNY 30
Children less than 3.9 feet (1.2 meters) in height are free of charge.
Taking the Two-rider Cross County Car
CNY 30
Riding Horses
CNY 120 per hour
Swimming or Making Sand Sculptures
CNY 15
Sand Boarding
CNY 30 per hour
Opening Hours
8:00- 18:00
Recommended Nearby Attractions
1.
Kangxi Grassland
2.
Jiming Post House (Jimingyi)
3. Guanting Reservoir
4. Woniu Mountain

Further Reading:
12 Best Places to Visit near Beijing
- Last updated on Apr. 01, 2021 -
Questions & Answers on Tianmo Desert
Asked by Nana from PHILIPPINES | Aug. 25, 2017 13:51

Reply
Hi. How do you get from Tianmo Desert to the Guyaju Caves? Thank you.
Answers (1)
Answered by Amenda from UNITED KINGDOM | Aug. 28, 2017 21:50

1

0

Reply
Since it's not a long distance from the desert to Guyaju, you can take a taxi or charter a local car, which may take CNY100-150 for a round trip.