Zhangjiakou Travel Guide
Zhangjiakou Facts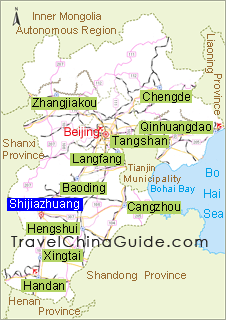 Chinese Name: 张家口 (zhāng jiā kǒu)
Population: 4,500,000
Area: 36,873 square kilometers (14,237 square miles)
Nationalities: Han, Hui, Man, Mongol
Administrative Division: 7 districts; 13 counties

Useful Telephone Numbers:
Tourist Complaints: 0313-8039708
Weather Forecast: 121
Zip Code Inquiry: 184
Bank of China: 0312-8041880



Zhangjiakou is honored to co-host the 2022 Winter Olympic Games with Beijing. By now, many ski resorts have been opened in Chongli County and all skiing facilities are well improved.



Location: Located in the northwest of Hebei Province, the city is adjacent to Beijing, Shanxi and Inner Mongolia with a distance of 118 kilometers (73 miles) and 180 kilometers (112 miles) from Beijing and Datong in Shanxi Province.



History: Zhangjiakou is a time-honored city north of the Great Wall inhabited by many ethnic minorities. In Spring and Autumn Period (770BC-476BC), its north part was inhabited by the Huns, while the South part was the territory of the Yan Kingdom. It had been divided into two shires in Sui Dynasty (581-618) and has brought into the domain of the central regime of China.



Physical Features: The city slopes downwards from the northwest to southeast. The Yinshan Mountains traverse the center of the city and naturally separate it into two parts. The north part is located in the south edge of Mongolian Plateau, and the south part is in the transition area between the North China Plain and Mongolian Plateau with hills as its main topography. The prairies provide good conditions for the development of cash crops and stock raising.
They are mainly scattered in Chongli County. Therefore, speaking of Chongli, ski resort comes first. At present, six popular ones are in service, including Wanlong Ski Resort, Genting Resort Secret Garden, Dolomiti Mountain Resort, Changchengling Skiing Field, Fulong Snow Park and Thaiwoo Ski Resort.

It is regarded as the No. 1 Gate of the Great Wall. Located in north of the city, it has been a must-go spot. It actually is one of the four important passes of China Great Wall.

Bashang Prairie
Bashang Prairie in Zhangbei County was a hunting ground of the emperors in Qing Dynasty, which is a well preserved resort for appreciating the beautiful prairie landscape.

It is a comprehensive tourist destination boasting forest parks, gorges, crags, peaks, caves, and strange stones that worth of exploring.

Other scenic spots: Tianmo Desert, Zhangbei Grassland, Jimingyi Post House, Nuanquan Ancient Town, Qingyuan Tower, Yunquan Temple, Woniu Mountain Scenic Area, Water Villa
| | |
| --- | --- |
| Qingyuan Tower, Xuanhua | Old City Wall |
Visitors can shuttle between Zhangjiakou South Railway Station and Beijing, Datong within about four and five hours by train. Also, there are many buses dispatched every 30 minutes from Zhangjiakou to other cities in Hebei or around. This city has a developed transport system consisting of flights, trains, long-distance buses, city buses and taxis. Currently, the Beijing-Zhangjiakou High Speed Railway is under construction. When finished in 2019, the rail travel time between Beijing North Station and Zhangjiakou South Railway Station will be greatly shortened to 50 minutes or so.
-
Zhangjiakou has a continental monsoon climate with the heat and rain arriving in the same season. The weather is cool in summer and cold in winter. Boasting enough sunshine it is also endowed with abundant wind energy resources.



When to Go: Zhangjiakou has several summer resorts for visitors, and the blue high sky and the light clouds in the prairies make the autumn a perfect tourist destination, either.



Tips: Due to the great daily temperature differences in spring and autumn, visitors should wrap up warm at night.

Dining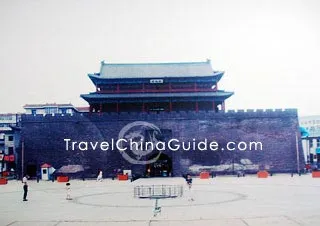 Gate Tower of Xuanhua Old Town
Chaigoubu Bacon, Youmian Noodles and Huai'an Bean Curd Sheets are fantastic snacks. Besides, you can also taste the Eight Big Bowls of Yuxian County (Ba Da Wan) and Roasted Whole Lamb.



Shopping
Local products of Milk Grapes, Great Wall Wine, and Yuxian Paper-cuts are recommended. For comprehensive shopping, large shopping centers like Dida and Parkson, and supermarkets like Yonghui and Tesco will meet your demand.


Nightlife
The city's nightlife is not very bustling, but you still have some good places to go, such as the night markets, bars, and cinemas.

Other Travel Tips: Area code, zip code, useful numbers, banks, post offices, hospitals and universities.
- Last modified on Nov. 19, 2018 -
Questions & Answers on Zhangjiakou Travel
Asked by anon | Nov. 17, 2018 03:21

Reply
when does skiing season start in Hebei zhangjiakou?
Answers (1)
Answered by Tabitha from USA | Nov. 18, 2018 23:15

0

0

Reply
In general, the ski resorts will open in December. Some ski resorts has been started, such as Taiwu Ski Resort. Great Wall Ski Resort is planned to be opened in December.
Asked by Sunny from PAKISTAN | Mar. 28, 2018 09:41

Reply
How do i go to xuanhua from zhangjiakou? please answer
Answers (1)
Answered by Eglise from ITALY | Mar. 28, 2018 21:22

0

0

Reply
Go to ZJK General Bus Station and take a bus to Xuanhua. The buses depart at 6:40 and 10:30 in the morning, and the fare is 9yuan.
Asked by Kath from MALAYSIA | May. 26, 2017 01:13

Reply
How to travel from beijing (which station) to Zhangjiakou (which station)?
From the station how to get to genting skii resort secret garden and how long does it take?
Answers (1)
Answered by Mike from USA | May. 31, 2017 01:41

1

0

Reply
You can either take the train at Beijing Railway Station or West Railway Station to ZJK South Railway Station. The duration is about 3.5 hours.
Upon arrival, you can take bus no.10 to ZJK Long-Distance Bus Stop. Then you can catch a shuttle bus to Chongli County. The ticket fare is CNY15/person. Afterwards, you can take a taxi to the destination directly. This trip will take 2-3 hours.
Asked by Cyril from NIGERIA | Jun. 15, 2016 19:56

Reply
I am traveling to Zhangjiakou for college at Hebei North University.
I just want to know if there are any recreational centers around the school and good barbing saloons too.
Answers (1)
Answered by Alin from AUSTRALIA | Jun. 16, 2016 04:28

0

0

Reply
You can go to Citizen Square (Shimin Square). Walk south for about 500 yards, and turn left. Walk east for about 400 yards to it. There are some saloons around the square, but I am not sure whether there are some barbing saloons or not. Maybe, you can explore the area by yourself. :)
Asked by David zulu from ZAMBIA | Apr. 04, 2015 07:39

Reply
I'm traveling to zhangjiakou soon for university at hebei north.
The hostels in the school are full so I want to arrange an apartment before I travel. Any suggestions?
Answers (1)
Answered by Helen from CANADA | Apr. 08, 2015 03:43

1

0

Reply
You must refer to the campus on South Zuanshi Road? If so, I only know a budget hotel instead of

I have no idea of an apartment nearby. Is a budget hotel ok? If yes, I know there is a Ruyi Express Hotel around 350yd in the north of the university. Its exact location is no. 11, South Zuanshi Road, Gaoxin District.