Zhangbei Grassland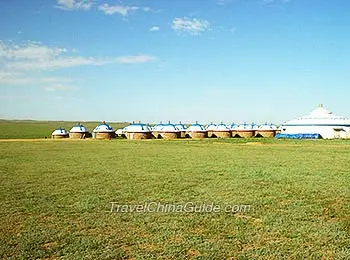 Zhangbei Grassland
Zhangbei Grassland is located in Zhangbei County, Zhangjiakou, Hebei Province, 155 miles (250 kilometers) to the northwest of central
Beijing
. It is comprised of the Zhongdu Grassland and Anguli Grassland. The grassland covers a total area of more than 77 square miles (200 square kilometers), with an altitude of 4,593 feet (1,400 meters) above the sea level. The annual average temperature is 63

F (17

C). Summer is the best season to visit, when the soft green grass is dotted with wild flowers and white clouds float in the blue sky. Tourists can enjoy intoxicating scenery, shoot arrows, ride horses and camels, and watch various performances, like horsemanship, wrestling, singing and dancing.
Zhongdu Grassland
As part of the Xilingol Grassland, Zhongdu Grassland is the best-preserved virgin one in China, within the lowest latitude. Emperor Wuzong of the
Yuan Dynasty
(1271-1368) established the auxiliary capital Zhongdu on it in 1307, where the royal family spent hot summer days and had a lot of fun.
Presently, tourists can experience authentic Mongolian customs here. Women of
Mongolian nationality
in colorful dresses hold silver bowls and propose a toast to tourists. Also, they respectfully present Hada, a strip of raw silk, to tourists to express their best wishes. Tourists can also lie on the boundless grassland and appreciate the pure blue sky, while listening to the moos of cattle, bleats of sheep, and jingles of camel bells. Moreover, they can spend a night in the Mongolian yurts, and taste authentic Mongolia food, like the milky tea, mutton soup, and steamed bread. It is an unforgettable and wonderful experience!
Music Festival
The famous Zhangbei Grassland Music Festival is held on the Zhongdu Grassland in late July for three days every year. Many types of music are performed during the festival, including rock music, pop, folk, metal, and rap. The music festival is very appealing to music lovers of all ages.
Anguli Grassland
Anguli Grassland is the nearest one to Beijing, covering a gross area of 59 square miles (153 square kilometers). "Anguli" means "swan goose" in English, and Anguli Lake inside the scenic area, is the largest high altitude inland lake in the north of China, with a total area of more than 26 square miles (67 square kilometers). In summer, many kinds of wild flowers are in full bloom, making the vast grassland a picturesque place. Various birds fly over the limpid water, chirping and warbling. The beautiful scenery will leave visitors with a deep impression of serenity, and peace with nature.
Furthermore, tourists can take part in various activities. They can ride horses, discharge arrows, take part in wrestling, fly kites, go fishing, play football and volleyball, and drive motorbikes, karts, and jeeps. They can also taste delicious local food, participate in bonfire parties and the Nadam Fair of the Mongolian People, and spend an unforgettable night in the Mongolian yurts. Additionally, they can watch the traditional Qiangmu Dance which is peculiar to the Anguli Grassland. With horns blaring, the dancers wearing colorful dresses and special masks present to tourists the essence of
Tibetan Buddhism
through their movements and postures. It is quite exciting!
| | |
| --- | --- |
| Mongolian Dance Performance | Mongolian Wrestling |
Transportation

By Long-distance Bus:
Take a long-distance bus to Zhangbei County from the Beijing Liuliqiao Long-distance Passenger Station, or from the Northern Suburban Long-distance Bus Station, and then take a taxi to the site at the price of about CNY 35.
The long-distance bus is available from 6:10 to 16:40 at a price of CNY 85 to CNY 100. The duration is about 3 hours.

By Train:
First take a train to Zhangjiakou South Railway Station from
Beijing Railway Station
,
Beijing West Railway Station
, or
Beijing North Railway Station
; next, walk northward to Zhangjiakou South Passenger Station and take a long-distance bus to Zhangbei County; and then take a taxi to the site at a price of about CNY 35.
The long-distance bus leaves Zhangjiakou for Zhangbei at 17:20 at a price of CNY 14, and the duration is about 50 minutes.

Click to check the real-time China Train Schedule
Ticket Price
Zhongdu Grassland
CNY 100
Including Mongolian sacrificial ceremony at 10:30; horsemanship and wrestling performances at 15:30; Mongolian dances, wonderful local performances, and bonfire party at 20:30.
Children less than 3.9 feet (1.2 meters) in height are admitted free of charge.
Music Festival in late July
CNY 240 for one day
CNY 500 for three days
Children less than 3.9 feet (1.2 meters) are not allowed in.
Anguli Grassland
CNY 50
Recommended Nearby Attractions
1. Huanggainao Reservoir
2. Anguli Lake
- Last updated on Jun. 18, 2023 -
Questions & Answers on Zhangbei Grassland
Asked by Abrar khan | Jun. 16, 2023 07:11

Reply
How much is Bashang grassland entry fees
Answers (1)
Answered by Bella | Jun. 18, 2023 20:01

0

0

Reply
Bashang is very large. Which specific grassland or scenic spot are you asking?
Asked by Aish from CHINA | Apr. 17, 2019 06:46

Reply
Is Zhangbei Grassland open now? And are there horse ridings now?
Answers (5)
Answered by Alan from AUSTRALIA | Apr. 17, 2019 20:20

0

0

Reply
Yes, it is open now and there is horse riding always.
Answered by Aisha from CHINA | Apr. 18, 2019 11:20

0

0

Reply
What are the othere activities happening now and what are the timmings And days to visit
Answered by Alan from AUSTRALIA | Apr. 18, 2019 18:16

0

0

Reply
It opens every day and these performances and activities are mostly in Zhangbei Zhongdu Grassland.
Answered by Aisha from CHINA | Apr. 19, 2019 03:05

0

0

Reply
Timings and how much to pay per person?
Answered by Ryan from CANADA | Apr. 22, 2019 18:35

0

0

Reply
The Zhongdu Grassland opens from May 1 to October 7 and the entrance fee is CNY100, which including the performance and horse race. Other activities will charge separately. I'm not very clear about the specific times and prices.
Asked by Chip from USA | Sep. 10, 2017 01:56

Reply
river in grassland close to zhangbei county?
i would like to see a grassland near zhangbei county we can access by taxi after we get off the bus that has rivers that wind through the grassland. ive seen pictures online of those kinds of places but just dont know the name of the spots within the county. do you have any recommended spots that I could tell the taxi driver to take us to and possibly hike the rest? if so, can i fish in those rivers?
Answers (1)
Answered by Hinda | Sep. 13, 2017 02:47

0

0

Reply
Oh, you can ask the driver to take you to Bashang Grassland, where there is river in grassland. You will enjoy it.
Asked by Clementi from THAILAND | Jul. 04, 2017 07:42

Reply
Is Zhangbei Grassland open in late December - and if yes, will there be performances?
Thank you.
Answers (1)
Answered by Tiana from AUSTRALIA | Jul. 09, 2017 22:17

0

0

Reply
Yes, it will be open in late Dec. However, performances may be stopped. In spite of that, you may enjoy other entertainment items. As some areas can be dangerous due to heavy snow, it is highly recommended to hire a tour guide.