Hebei Travel Guide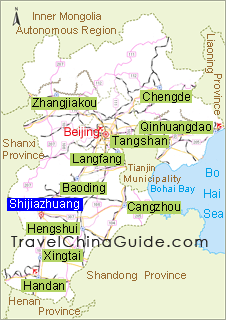 Hebei Province, with its beautiful Capital, Shijiazhuang, is located to the north of the Yellow River, and to the east of the Taihang Mountains. The province is somewhat overshadowed by its neighbors, Beijing and Tianjin, whose vastness covers an area of 190,000 square kilometers (about 73,363 square miles), and its vibrant population is estimated to be at 67,440,000. Its long and proud history can be traced back to the Spring and Autumn Period (770 BC - 476 BC), which dates from 770 BC to 476 BC. At that time it was called 'The Land of Yan and Zhao', because its northern area was dominated by the Kingdom of Yan, while its southern area was occupied by the Kingdom of Zhao. Today, that same area is home to more than 50 minority ethnic groups, such as Han, Hui, Manchu, Mongolian and Korean.

Since December 28th, 2017, the 144-hour visa-free transit has been implemented in Shijiazhuang Zhengding International Airport and Qinhuangdao Port.


Cities
When to Go
Hebei is also known for its moderate climate. The four seasons are felt and enjoyed. In spring it is arid and windy, hot and rainy in summer, balmy and fine in autumn and dry and cold in winter. The annual rainfall averages between 300 - 800 millimeters and its corresponding temperature ranges from 0

C to 13

C. So the best time to travel to there is during autumn, when you can enjoy the clear and crisp climate.
| | |
| --- | --- |
| First Pass Under Heaven, Shanhaiguan | Mountain Resort, Chengde |
What to See
The visitor to the province has the unequalled opportunity to view many relics that can be found in this beautiful province. The very famous
Mountain Resort of Chengde
used to be the largest royal summer resort of the Qing Dynasty (1644-1911). Outside the surrounding wall of the Mountain Resort, the visitor will find a display of several brilliant and glistening temples. They are called '
Eight Outer Temples
' and are the largest imperial temples in all of China. The Mulan Paddock in Hebei Province was used as the hunting place for the emperors of the Qing Dynasty. At the present time, it is one of the few natural grassland
resorts and a very popular destination for those visitors who are after a bit of fresh air and peaceful countryside.
Shanhaiguan Pass
, also called 'The First Pass Under Heaven', is the easternmost end of the Great Wall, which winds its way through the north of the province. All these beautiful highlights will make the tourist feel excited about the scenery, history and natural beauty which is in the Hebei Province.
| | |
| --- | --- |
| Puning Temple, Chengde | Putuo Zongcheng Temple, Chengde |
In the tour to Hebei Province, tourists can not only have a long look at all the historical relics, but they also see all the beautiful natural landscapes that you can only dream of. In summer, tourists can enjoy the sunshine, beaches, and all the fresh air that blows in from the Bohai Gulf in the Beidaihe and Nandaihe Scenic Spots; In spring tourists can ride on the vast and magnificent grassland; In autumn, they can explore the fascinating Yesanpo Scenic Area in Baoding City. And in winter, another spectacular destination in Baoding City is the Baiyang Lake. The Baiyang Lake will be a very special attraction, because tourists can see very unique scenery of reeds and snows.
Besides, do not miss the
Wuqiao Acrobatics World
, located at Wuqiao county, Cangzhou city. Wuqiao county has first bred Chinese acrobatics. The Acrobatics World in Wuqiao is known as the only acrobatics themed park in the world where you can see various acrobatics performed by people and even animals. Here you also learn the old long history in acrobatics museum. It is a wonderful place that won't let you down.

China Tour Packages
- Last modified on Sep. 20, 2018 -
Questions & Answers on Hebei Travel
Asked by terry from USA | Jun. 11, 2018 13:46

Reply
zip code for 1301 Hongtai Building in Yucai Road, Taocheng District Hebei Province
Answers (1)
Answered by Claire from CANADA | Jun. 11, 2018 22:06

0

0

Reply
It should be 053000.
Asked by Staats from NETHERLANDS | Mar. 17, 2018 00:18

Reply
Looking for the New Glass bridge Shijiazhuang
I am looking for the newly opened glass bridge. It should be somewhere in the Hongyagu scenic area. Just want to know how to get there from Shijiazhuang. It should be openend. Thanks
Answers (3)
Answered by Cliff from CHINA | Mar. 18, 2018 06:43

2

1

Reply
I am trying to find out the same answer, will keep looking.

Answered by Selina from FRANCE | Mar. 18, 2018 20:57

0

0

Reply
I happen to know the bus from SJZ North Train Station to the scenic area, and they depart at 7:50, 10:10, 13:35, and 15:30.
Answered by Staats from NETHERLANDS | Mar. 20, 2018 03:26

0

0

Reply
Found it! It is in Pisang county. We grabbed a taxi from shijiazhuang and showed a foto of the bridge. From there pretty easy. Just make sure your cab will wait for you there.
Asked by Memo from CHINA | Feb. 19, 2018 01:54

Reply
Am in baoding and am looking for scenic places to visit any recommendations
Answers (1)
Answered by Haylee from NORWAY | Feb. 22, 2018 20:59

0

0

Reply
Baili Canyon and Baiyang Lake are recommended!
Asked by CAMERAD1971 | Jul. 06, 2017 02:31

Reply
Walking at Glass skywalk on Mount Langya
I will be in Baoding on August. And want to go to Glass Skywalk on Mount Langya. How I can go there. What transportation is available? and what time this glass skywalk open ?
Answers (1)
Answered by Amely from DENMARK | Jul. 06, 2017 03:10

2

1

Reply
Could I know your departure place? The opening hours of Mount Langya are from 6:00 to 17:00.