Cangzhou Travel Guide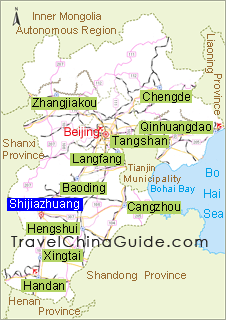 Cangzhou Facts
Chinese Name: 沧州 (cāng zhōu)
Population: 7,544,300
Area: 14,304.26 square kilometers (5,522.91 square miles)
Location: in the southeast of Hebei Province, north China
Administrative Division: 2 districts (Xinhua, Yunhe); 4 county-level cities (Botou, Renqiu, Huanghua, Hejian); 10 counties (Cangxian, Qingxian, Dongguang, Haixing, Yanshan, Suning, Nanpi, Wuqiao, Xi'an, Mengcun Hui Autonomous County); Cangzhou Bohai New District; Cangzhou Economic Development Zone; Cangzhou High and New Tech Development Zone
Area Code: 0317
Zip Code: 061000
GDP (2019): CNY 358.8 billion (USD 52.01 billion)
Located in the southeast part of Hebei Province, Cangzhou neighbors Bohai Sea to the east, Beijing and Langfang to the north, Baoding and Hengshui to the west and southwest, and faces Binzhou and Dezhou of Shandong Province across the Zhangweixin River to the south. It is 240 kilometers (149 miles) south of Beijing and 120 kilometers (75 miles) south of Tianjin. As it is near to the Bohai Sea, the Huanghua Port in Cangzhou has become China's second largest coal export port as well as a multi-functional international port.

Cangzhou is famous as the hometown of Chinese Kung Fu and acrobatics. More than 52 schools of Chinese boxing are originated from Cangzhou, accounting for 40 % of the whole country. Cangzhou martial arts are strong, powerful and aggressive with the unique skills of pushing, deflecting and catching. In ancient times, acrobatics, as a form of entertainment, was also a means for many folk artists to make a living. In Wuqiao of Cangzhou, many acrobatics used to perform at temple fairs such as rotating a huge vat by using legs, animal performances, puppet shows, splitting bricks by hand and climbing a ladder made by knives. Now the performances can be enjoyed at the Wuqiao Acrobatics World.
Cangzhou Attractions - Things to Do
Botou Mosque
As the Hui ethnic minority make up nearly thirty-five percent of Cangzhou's population, Botou Mosque will provide a good insight into the lifestyle of many of the local people.

Located in Botou City which is 25 miles southwest of Cangzhou City, Botou Mosque is one of the most famous mosques in China. It is a large ancient architectural complex built in the Ming Dynasty (1368-1644). The main gate faces east and is built in the exact style of the Meridian Gate (Wumen) in Beijing Forbidden City. There are three yards in the mosque. The front yard houses Wangyue Tower which is a two-story building measuring 66 feet tall. The north and south attached halls are located in the middle yard. The beautiful and elegant Huadian Pavilion stands in the middle, and greatly reflects the wooden architectural style of the Ming Dynasty. The grand Prayer Hall is situated in the middle of the back yard. Covering an area of 2,332 square yards, it is a dignified and solemn hall with upturned eaves, presenting an awesome and captivating atmosphere.

The mosque is designed symmetrically in a complete layout and under good protection. It is a precious cultural relic of the Chinese nation.

Cangzhou Iron Lion
In the ancient times, this city was a seaport and it experienced severe tidal floodings and tsunamis. In order to avert the floods, in 953 the local people collected money and invited the famous blacksmith Li Yun to cast an iron lion to confront the sea spirits. The Iron Lion was given the grand-sounding name "Zhen Hai Hou", meaning "the Roar to Calm the Sea". It was regarded as the symbol of this ancient city.

This Iron Lion measures 5.3m (17.3 feet) tall, 6.5m (7.1 yards) long and 3m (3.3 yards) wide. Its body seems to be composed of several hundreds pieces of 30 centimeters square cast iron, but was actually cast in one piece using the traditional Chinese "piece-moulding" method. Its estimated weight is 50 metric tonnes.

The lion, facing north, opens its huge mouth widely and stares angrily into the distance. Rising up its proud head, it appears in great dignity indicative of the three characters "Shizi Wang" (The Lion King) cast on its head. It bears on its back a huge lotus seat which is said to be the throne of Wenshu Bodhisattva.

This scenic spot is the largest iron cast cultural relic in existence in China. It is evidence of the high achievement of casting technique in ancient China. However, because of its exposure to the elements over a long period of time, the lion is severely rusted and has cracks on its limbs. Restoration work has stabilizes the deterioration, and the effort of a team of international experts is making great strides to save this national treasure. We hope that by their hard work, the Iron Lion could regain its past stately appearance.

Wuqiao is the birthplace of Chinese acrobatics. In the Wuqiao Acrobatics World, tourists will watch all kinds of wonderful acrobatics, including the performances by Skillfully Handed Wang Baofu and funny animals, the evening show, maigc performances and Circus Performances, that make it a worthwhile trip here.

How to get to Cangzhou
There are several buses running daily to this city from Beijing, Shijiazhuang, Tangshan, and Jinan, each taking about three hours to get there. Trains are also available between the city and many other cities like Beijing, Shanghai, Tianjin, Guangzhou, and Shenzhen, etc.

See Beijing - Cangzhou Train
Weather
-
Enjoying a warm-temperate continental monsoon climate, Cangzhou has well-defined seasons with moderate temperatures. It has an annual rainfall of 634 millimeters (25 inches) most of which falls in summer.

When to Go
: Autumn is the best season to visit that city, as the winters are dry and chilly and the summers hot and wet.
Cangzhou Travel Tips

History: Cangzhou gained its name from its close proximity to the Bohai Sea. It was said to be one of main sources of the ancient legend that Pangu separated the sky from earth. Historically, successive dynasties had set up counties in this area. The famous Grand Canal zigzagged 220 kilometers (137 miles) through the territory of this city. These associations have left the city an abundance of culture and a large number of historical relics.



Physical Features: It lies in eastern Jizhong Plain. Its fertile soil makes it rich in agricultural resources. It also has two large oil fields, and the nearby sea yields an abundance of marine foods.



Local Highlights: martial arts, acrobatics of Wuqiao County



Special Local Products: golden thread small jujube, pear of Botou City, preserved winter vegetables
- Last updated on Jun. 07, 2022 -
Questions & Answers on Cangzhou Travel
Asked by kerry from SOUTH AFRICA | Aug. 14, 2017 03:18

Reply
how to get from linyi city to cangzhou?
Answers (1)
Answered by Danny from CANADA | Aug. 14, 2017 04:31

0

0

Reply
As I know, you can take a direct coach from Linyi Bus Station to CZ and the ticket fare is CNY121/person. This bus departs at 09:20.
Asked by LENA from SPAIN | May. 13, 2016 16:11

Reply
How can I travel from Cangzhou to Shenyang?
Answers (1)
Answered by Dick from UKRAINE | May. 14, 2016 01:29

0

0

Reply
Well, I remember that there is only one direct long-distance bus between these two places. But I cannot find the schedule. And the coach will spend a long time on the way.
So you are suggested to take a bullet train from West Railway Station and get to Beijing South Railway Station first. It takes around an hour on the way. The ticket fare of second class seat is CNY94.5 and first class seat is CNY164.5.
After that, also transfer to the high-speed train to Shenyang. The duration is 4 -5 hours. Second class seat costs CNY296 and first class seat costs CNY441.5.
Asked by c.vAMNATH from INDIA | Aug. 30, 2015 12:59

Reply
How to travel TO CANGZHOU FROM BEIJING INTERNATIONAL AIRPORT.
Answers (1)
Answered by David from INDONESIA | Aug. 31, 2015 03:44

0

0

Reply
In the airport, there are direct buses going to Cangzhou, and the buses are scheduled at 10:45, 14:45 and 17:45. The bus fare is CNY100, and the travel time is about 3.5 hours.
Asked by eaa bldrs from PHILIPPINES | Jul. 21, 2015 22:49

Reply
I plan to visit botuo city, hebei, is visa still needed in this province?
Answers (1)
Answered by Terry from USA | Jul. 22, 2015 00:48

0

1

Reply
Oh, you must refer to Botou City, right?
Yes, you need to have Mainland Visa.
Asked by DILIP+SHETH | Feb. 17, 2015 04:37

Reply
Dear Friend, Kindly guide me is there any fast train from Beijing AirPort to Cangzhou City of Hebei?
If there are no fast trains then any train to go there & how much time will it take to reach ?

Regards & Thanks.
Dilip
Answers (1)
Answered by Linda from RUSSIA | Feb. 24, 2015 19:52

2

1

Reply
No fast train from the capital airport to your destination is available. To travel by train, you can take shuttle bus line 10 to Beijing South Railway Station. There you can easily catch a train and it takes around 1h to arrive.

Besides, there are direct buses from PEK to your destination and it takes 3.5h.