Shijiazhuang Travel Guide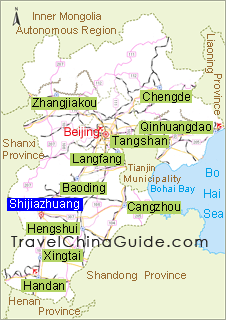 Shijiazhuang Facts
Chinese Name: 石家庄 (shí jiā zhuāng)
Population: 10,951,600
Area: 14,464 square kilometers (5584 square miles)
Location: in the south-central of Hebei Province, north China
Administrative Division: 8 districts (Chang'an, Qiaoxi, Xinhua, Yuhua, Jingxing Mining, Gaocheng, Luquan, Luancheng);11 counties (Jingjing, Zhengding, Hangtang, Lingshou, Gaoyi, Shenze, Zanhuang, Wuji, Pingshan, Yuanshi, Zhaoxian); 2 city-level counties (Jinzhou, Xinle)
Area Code: 0311
Zip Code: 050000
GDP (2019): CNY 580.99 billion (USD 84.21 billion)
Key Transportation Hub of China's Railways
Located in the vicinity of the North China Plain, Shijiazhuang is the capital of Hebei Province, neighboring Beijing and Tianjin to the north. It also borders the Bohai Sea to the east and lies against the continuous Taihang Mountain to the west. This city is often referred to as being lucky in recent Chinese history. Once a small village, it developed under modern railway construction.

A century ago, when the Lu-Han Railway stretched to the former Shijiazhuang Village, it brought new opportunities, opening an industrial chapter in this city. Now, it is a city where the Beijing-Guangzhou Railway, Shijiazhuang-Taiyuan Railway, Shijiazhuang-Dezhou Railway and Shuozhou-Huanghua Railway meet. Among them, Beijing-Guangzhou Railway is important to Chinese and foreign exchanges, and Shijiazhuang-Taiyuan Railway is the main channel for Shanxi coal transportation. All of those make it one of China's main railway transport hubs.

As the economic, political, cultural and scientific center of Hebei Province, Shijiazhuang is becoming more and more beautiful with recent urban development. A jade-like moat embraces the city gently, bordered by 20 charming parks. This beautiful city is filled with culture and development, attracting visitors with new features daily.

See more: China Population by City: List of 50 Most Populated Cities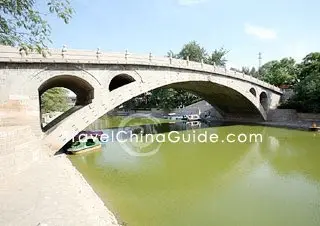 Zhaozhou Bridge
Though it is a relatively young city, it is located on fertile land that boasts splendid cultural history. As such, the city is home to many significant cultural relics, such as the oldest stone-arch bridge in China, Zhaozhou Bridge, and one of China's three hanging temples Qiaoloudian Hall (Bridge-Tower Hall). Moreover, the grand Taihang Mountain, which lies to the west, provide charming natural scenery. Mt. Cangyan Scenic Area and Zhangshiyan Scenic Area also attract visitors from all over China and the world.

Famous Attractions:
Anji Bridge (Zhaozhou Bridge)
From December 28th, 2017, citizens of some countries and regions such as USA, UK, Australia, Canada, France, Germany, Italy, Denmark, and Netherlands are granted a visa-free stay of not more than 144 hours when making an international transfer via Zhengding Airport.
Shijiazhuang Travel Tips

Emergency Numbers:
Fire: 119
Police: 110
Ambulance: 120
Traffic Accident Call: 122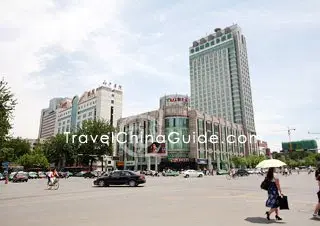 Local Modern Buildings and Malls

Useful Numbers:
Time Inquiries: 117
Telephone Number Inquiries: 114
Weather Forecast: 121
City-bus Inquiries: 87218888
City-bus Service: 86012572
Taxi Complaints: 83622882
Tourist Complaints: 86061719; 86061715
Consumer Complaints: 12315
China Mobile Service Tel: 10086
China Union Service Tel: 10010; 10011
China Telecom Service Tel: 10000



Banking Services:
A foreign exchange service is available at the Bank of China. Below are listed some of the major branches in this city:
Provincial Branch: No.80, Xinhua Road
Zhongshan Road (West) Branch: No.691, Zhongshan Road (West)

Meiji Street Branch: No.413, Yuhua Road (East)
Tinan Branch: No.265, Tiyu Dajie (South)
Yucai Branch: No.180, Yucai Street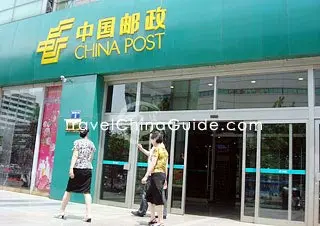 Branch Office of China Pos

Post Offices:
Fanxi Road Branch: No.3, Fanxi Road
Jiangshenan Branch: No.23, Jianshe Dajie (South)
Yuhua Road (West) Branch: No.243, Yuhua Road (West)

Hospitals:
Peace Hospital (Bethune International Peace Hospital)
Address: No.398, Zhongshan Road (West)
Bus routes: 1, 15, 38

The First Hospital of Shijiazhuang City
Address: No.36, Fanxi Road
Bus routes: 10, 30, 26, 6

Internet Bars:
Stratagem Fiend
Flagship Branch
Address: No.225, Jianshe Dajie (North)
Bus routes: 2, 31, 41, 112
Zhonghua Branch:
Address: No.265, Zhonghua Dajie (North)
Bus routes: 8, 17, 23, 118

Book Stores:
Book Building
Address: No.166, Zhongshan Road (East)
- Last modified on Nov. 26, 2020 -
Questions & Answers on Shijiazhuang Travel
Asked by Jones from PAKISTAN | Nov. 12, 2019 21:18

Reply
Hongyagu Glass Bridge open?
About two years ago, the longest glass bridge in the world opened in Pingshan County in Shiijiazhuang, part of Hongyagu Scenic Area. The Chinese name is 红崖谷景区. Last year, I wanted to go but heard it was closed. This year I would like to try again. Do you know if the glass bridge is open? I know the scenic area is open but I really only care about the glass bridge! Thank you so much!!
Answers (1)
Answered by Allison from CANADA | Nov. 15, 2019 00:15

0

0

Reply
Yes, as I know, the glass bridge opens nowadays.
Asked by Pg from AUSTRALIA | Sep. 08, 2019 16:13

Reply
How'd I i travel from Beijing airport to Shijiazhuang city?
Answers (1)
Answered by Devin from USA | Sep. 09, 2019 20:38

0

0

Reply
You can take shuttle bus line 7 to Beijing West Railway station, and then take high speed train from there to the destination.
Asked by Ranjith from INDIA | Jul. 24, 2019 05:02

Reply
Is the hongyagu glass bridge is open now? And how much is the cost ??
Answers (1)
Answered by Brett from USA | Jul. 28, 2019 23:35

0

0

Reply
Yes, it is. The entry fee is CNY80 and the combo ticket include glass bridge is CNY170.
Asked by AIMEY | Jul. 02, 2019 19:59

Reply
how can I go to Agricultural resource research center, institute of genetics
And developmental biology Shijiazhuang Hebei, from Beijing?
Answers (1)
Answered by Oscar from AUSTRALIA | Jul. 05, 2019 00:31

0

0

Reply
Take high speed train from Beijing West Railway Station to Shijiazhuang Railway Station first. It costs CNY128.5 to CNY407.5 and the duration is about 1.5 hours.

From there to the research center, you can take Bus Line 67 from East Square to Provincial Seismological Bureau. Get off the bus, walk south about 50m, you can see the center.
Asked by Rita from VIETNAM | Jun. 15, 2019 21:03

Reply
from Shijiazhuang Zhengding International Airport to the nearest metro station
Hello,
1. May you advise me the Metro station which is nearest to Zhengding International Airport?
2. Any Metro line connects the Metro system with Zhengding International Airport?
3. We will visit Shanghai and then visit the city, which Railway Station should we chose in Shanghai and Shijiazhuang? We have planned to stay at hotel near The Bund ̣(Shanghai) and Xinbai Plaza (Shijiazhuang).
Thank you so much in advance.
Answers (1)
Answered by Karma from USA | Jun. 16, 2019 22:39

0

0

Reply
1. As I know, there is no metro station near the airport.

2. At present, there is no metro line to the airport.

3. Shanghai Railway Station and Shijiazhuang North Railway station are more recommended.