Shijiazhuang Travel Guide
Basic Facts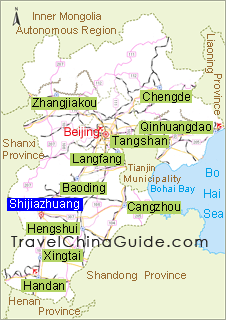 Area: 15,800 square kilometers (6100.4 square miles)
Population: 9,395,000
Area Code: 0311
Zip Code: 050000

Located in the vicinity of the North China Plain, Shijiazhuang, the capital of Hebei Province, neighbors Beijing and Tianjin in the north, Bohai Sea in the east, and lies against the continuous Taihang Mountain in the west. Covering an area of 15.8 thousand square kilometers (6100.4 square miles), it has 6 districts, 12 counties, 5 county-level cities and 1 national-level new and high-tech development zone under its prefecture. This city has a population of 9.395 million, 2.313 million of whom live in the urban area.

This city is often referred to as being lucky in recent Chinese history. Once a small village, it developed under modern railway construction. A century ago, when the Lu-Han Railway stretched to the former Shijiazhuang Village, it brought with it new opportunities, opening an industrial chapter in this city. No one could have predicted that this small, unknown village would have developed rapidly into the modern capital city of Hebei Province.

As the economic, political, cultural and scientific center of Hebei Province, Shijiazhuang is becoming more and more beautiful with recent urban development. A jade-like moat embraces the city gently, bordered by 20 charming parks. This beautiful city is filled with culture and development, attracting visitors with new features daily.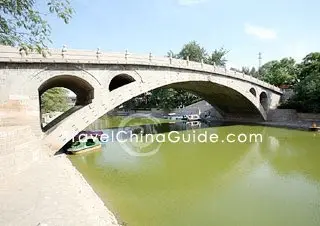 Zhaozhou Bridge
Though it is a relatively young city, it is located on fertile land that boasts splendid cultural history. As such, the city is home to many significant cultural relics, such as the oldest stone-arch bridge in China, Zhaozhou Bridge, and one of China's three hanging temples Qiaoloudian Hall (Bridge-Tower Hall). Moreover, the grand Taihang Mountain, which lies to the west, provide charming natural scenery. Mt. Cangyan Scenic Area and Zhangshiyan Scenic Area also attract visitors from all over China and the world.

Famous Attractions:
Anji Bridge (Zhaozhou Bridge)
From December 28th, 2017, citizens of some countries and regions such as USA, UK, Australia, Canada, France, Germany, Italy, Denmark, and Netherlands are granted a visa-free stay of not more than 144 hours when making an international transfer via Zhengding Airport.
Shijiazhuang Travel Tips

Emergency Numbers:
Fire: 119
Police: 110
Ambulance: 120
Traffic Accident Call: 122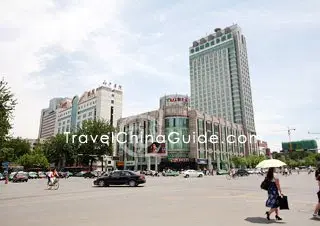 Local Modern Buildings and Malls

Useful Numbers:
Time Inquiries: 117
Telephone Number Inquiries: 114
Weather Forecast: 121
City-bus Inquiries: 87218888
City-bus Service: 86012572
Taxi Complaints: 83622882
Tourist Complaints: 86061719; 86061715
Consumer Complaints: 12315
China Mobile Service Tel: 10086
China Union Service Tel: 10010; 10011
China Telecom Service Tel: 10000



Banking Services:
A foreign exchange service is available at the Bank of China. Below are listed some of the major branches in this city:
Provincial Branch: No.80, Xinhua Road
Zhongshan Road (West) Branch: No.691, Zhongshan Road (West)

Meiji Street Branch: No.413, Yuhua Road (East)
Tinan Branch: No.265, Tiyu Dajie (South)
Yucai Branch: No.180, Yucai Street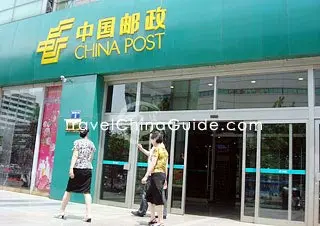 Branch Office of China Pos

Post Offices:
Fanxi Road Branch: No.3, Fanxi Road
Jiangshenan Branch: No.23, Jianshe Dajie (South)
Yuhua Road (West) Branch: No.243, Yuhua Road (West)

Hospitals:
Peace Hospital (Bethune International Peace Hospital)
Address: No.398, Zhongshan Road (West)
Bus routes: 1, 15, 38

The First Hospital of Shijiazhuang City
Address: No.36, Fanxi Road
Bus routes: 10, 30, 26, 6

Internet Bars:
Stratagem Fiend
Flagship Branch
Address: No.225, Jianshe Dajie (North)
Bus routes: 2, 31, 41, 112
Zhonghua Branch:
Address: No.265, Zhonghua Dajie (North)
Bus routes: 8, 17, 23, 118

Book Stores:
Book Building
Address: No.166, Zhongshan Road (East)
- Last modified on Apr. 29, 2019 -
Questions & Answers on Shijiazhuang Travel
Asked by AIMEY | Jul. 02, 2019 19:59

Reply
how can I go to Agricultural resource research center, institute of genetics
And developmental biology Shijiazhuang Hebei, from Beijing?
Answers (1)
Answered by Oscar from AUSTRALIA | Jul. 05, 2019 00:31

0

0

Reply
Take high speed train from Beijing West Railway Station to Shijiazhuang Railway Station first. It costs CNY128.5 to CNY407.5 and the duration is about 1.5 hours.

From there to the research center, you can take Bus Line 67 from East Square to Provincial Seismological Bureau. Get off the bus, walk south about 50m, you can see the center.
Asked by Rita from VIETNAM | Jun. 15, 2019 21:03

Reply
from Shijiazhuang Zhengding International Airport to the nearest metro station
Hello,
1. May you advise me the Metro station which is nearest to Zhengding International Airport?
2. Any Metro line connects the Metro system with Zhengding International Airport?
3. We will visit Shanghai and then visit the city, which Railway Station should we chose in Shanghai and Shijiazhuang? We have planned to stay at hotel near The Bund ̣(Shanghai) and Xinbai Plaza (Shijiazhuang).
Thank you so much in advance.
Answers (1)
Answered by Karma from USA | Jun. 16, 2019 22:39

0

0

Reply
1. As I know, there is no metro station near the airport.

2. At present, there is no metro line to the airport.

3. Shanghai Railway Station and Shijiazhuang North Railway station are more recommended.
Asked by loki from SAUDI ARABIA | Apr. 29, 2019 09:13

Reply
What bus can I take from shijiazhuang to white deer -Pingshan County?
Answers (1)
Answered by Dean from AUSTRALIA | Apr. 29, 2019 19:00

0

0

Reply
Can you give a more detailed address? I cannot find the place.
Asked by Susi from INDONESIA | Mar. 07, 2019 06:49

Reply
Is anyone know how to go to shijiazhuang glass bridge from Beijing?
And is it a one way bridge or should we walk back to the starting point after we cross the bridge?
If is it an one-way walking, how can we go back to Beijing after crossing the bridge
Is it possible to do that in oneday from beijing?

Thanks in advance

Answers (5)
Answered by Layla from UNITED KINGDOM | Mar. 11, 2019 01:12

0

0

Reply
Do you refer to Hongyagu Glass Bridge?
If yes, take a bullet train from Beijing West Railway Station to Shijiazhuang Railway Station first. Take a taxi to the General Bus Station. There are several direct coaches to Hongyagu Glass Bridge. I am afraid that one day is a little bit tight. You are suggested to stay one night in SJZ city.
Answered by susi from INDONESIA | Mar. 11, 2019 02:12

0

0

Reply
Dear Ms Layla

Thanks for your info. did you happen to know how can i go back to the shijiazhuang city after crossing the glass bridge?

Thank you

Regards
Susi
Answered by Layla | Mar. 11, 2019 18:28

0

0

Reply
Don't worry. After crossing the glass bridge, there is a way to go back to the entrance of the scenic area.
Answered by Steve from USA | Mar. 21, 2019 13:46

0

0

Reply
Hi how far is the glass bridge from shijiazhuang
Staying in shijiazhuang...is it possible to see both the glass bridge and cangyan mountain in the same day ?
Thanks for any help
Steve
Answered by Layla | Mar. 21, 2019 18:50

0

0

Reply
The distance is around 77km away from downtown area. I am afraid that the time is not enough for you to tour around these two places in one day.
Asked by Sarawut from THAILAND | Dec. 02, 2018 01:22

Reply
Would The glass bridge in Hongyagu Scenic Area be opened in March 2019?
Answers (1)
Answered by Qahira from USA | Dec. 03, 2018 18:25

0

0

Reply
Yes, it would.