Shijiazhuang Attractions - Things to Do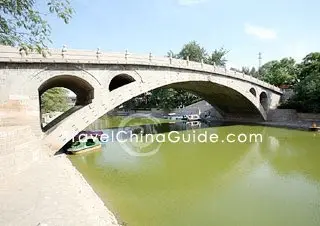 Zhaozhou Bridge
The city of Shijiazhuang is filled with grand historical relics as well as charming natural beauty.
Top Things to Do
Another provincial-level historical and cultural attraction is Zhao County, which boasts the famous Zhaozhou Bridge. This 1400 year-old stone bridge is located 45 kilometers (28 miles) southeast of the urban area of Shijiazhuang. It is quite an outstanding work in the history of China, and even world, bridge construction.
It is a small village in Pingshan County, which got the name Xibaipo, literally a slope with cypresses, from verdant cypresses on a hillside behind the village. It once served as the headquaters of the Central Committee of the Chinese Communist Party, Central Working Committee and Chinese People's Liberation Army. 80 kilometers (49.7 miles) west of the downtown area, it echoes the splendid history of China's revolutionary movement. The residences and relics here enable visitors to get in touch with this aspect of China's history.
Zhengding County
Zhengding, a national-level historical and cultural county, is located 15 kilometers (9.3 miles) north of Shijiazhuang. In this two-thousand-year-old county, one must visit the majestic Longxing Temple, which houses the largest copper figure of the thousand-armed Avalokitesvara Bodhisattva in China and the elaborately designed statue of Vairocana Buddha. Moreover, the four pagodas (Mu Pagoda, Qing Pagoda, Hua Pagoda and Zhuan Pagoda) are also worth a visit for their various architecture styles.

Mt. Cangyan Scenic Area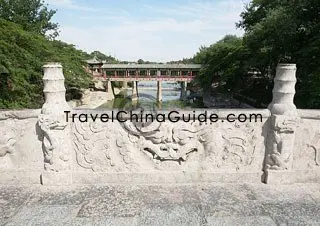 Gazing from afar on Bridge
Located about 70 kilometers (43 miles) from Shijiazhuang, Mt. Cangyan Scenic Area is a national AAAA tourist attraction in China. With an altitude of 1,000 meters (3,281 feet) high, the scenic area covers an area of 180 square kilometers (69 square miles).
Mt. Cangyan Scenic Area is renowned for its natural landscape and some cultural and historical attractions. It has verdant forests, magnificent waterfalls, crystal streams and springs, steep cliffs and queer peaks. Visitors should not miss the white sandalwood trees growing beside the mountain streams and about 2,000 to 3,000 years old cypresses on the cliffs.
Many temples, pavilions, terraces and other buildings are constructed on the cliffs or in the valley. Built in the Western Jin period (265-316), the Fuqing Temple is the most celebrated complex. Legend has it that Princess Nanyang once became a nun and practiced Buddhism there. She was the daughter of Yang Guang, an emperor of the Sui Dynasty (581-618).
The Fuqing Temple consists of the Dafo Hall, the Yuanjue Hall, the Lingguan Temple, the Guandi Temple, the Cangyan Tower, the Princess Memorial Hall, the Qiaolou and other structures. The Qiaolou (a hall built on the bridge) is the main structure of the Fuqing Temple. It is constructed on a single arch stone bridge which is about 15 meters (49 feet) long and nine meters (30 feet) wide. On the arch of the bridge are carved life size images of beasts, horses and human beings. The Qiaolou is a two storied building built in the Sui Dynasty and houses the statues of Sakyamuni and eighteen arhats and some murals.
The Princess Memorial Hall is situated to the north of the Qiaolou. In the hall stand the statue of Princess Nanyang with her two sisters attending to her. On the walls are painted some murals recording the stories of Princess Nanyang. Behind the hall is a cave which is said to be the princess' bedroom.

Getting there
Catch a bus at the Xiwang Bus Station in Shijiazhuang to the Mt. Cangyan Scenic Area.
| | |
| --- | --- |
| Admission Fee: | CNY 50 |
| Opening Hours: | 09:00 to 16:00 |
Zhangshiyan Scenic Area
100 kilometers (62.1 miles) southeast of the downtown district, it portrays images of the four seasons as well as the area's grand cliffs and remarkable landscape. It is truly a great place to visit during summer months.
- Last updated on Apr. 13, 2021 -
Questions & Answers on Shijiazhuang Attractions
Asked by Fiona from AUSTRALIA | Jul. 07, 2018 07:14

Reply
I'm thinking of visiting Mt Cangyan Scenic area on the weekend of Friday 20th to Sunday 22nd.
Do you think this is a good time to visit (ie will it be green... or dry?). Do you think this time will have too many tourists? I'm also desperate to see a waterfall (I live and work in Tangshan... not very much nature!), is this a good time to go?

Thanks for your help

Fiona
Answers (1)
Answered by Pierre from FRANCE | Jul. 09, 2018 01:54

0

0

Reply
The best time to visit Mt Cangyan Scenic area is from April to June and September to November.
Asked by Jan from NEDERLAND | Apr. 18, 2018 12:39

Reply
Want to go the new glass bridge this summer but can't find any English information on the internet!
How far is it from Shijiazhuang? How do I get there? How long does it take? What is the admission fee? Do you have to book in advance? Or will there be masses of people waiting for hours?
Thank you,
Jan
Answers (1)
Answered by Chole from SWEDEN | Apr. 18, 2018 23:00

1

0

Reply
It's about 70km northwest of SJZ City, you can take a bus from SJZ North Railway Station straight to the scenic area. The ticket fare is 80RMB, and you can book it from local travel agencies or some websites.
Asked by Ankur from INDIA | Feb. 17, 2018 10:41

Reply
For shijiazhuang hongya glass bridge
Dear : sir I am traveling to China with my family , 7 night I am in Shanghai, I have to plan for shijiazhuang pingshan hongya valley glass bridge . Ken u tell me how to buy the online tickets for that glass bridge pls my train ticket was conforms from Shanghai to shijiazhuang and shijiazhuang to Shanghai ,
Answers (1)
Answered by Tom from SINGAPORE | Feb. 22, 2018 02:33

0

0

Reply
As I know, the tickets of the glass bridge can be bought in many Chinese websites, so you need to find help from your Chinese friends. As for the train tickets, this travel agency can book that for you, contact them with e-mails: booking

travelchinaguide.com
Have a good time!
Asked by eagle from THAILAND | Oct. 09, 2017 03:24

Reply
How to go to LongXing temple from Hebei provincial museum
hello
I'd like to visit LongXing temple in ZhengDing county after a short visit at HeBei provincial museum so how to go there in detail if we want to use the public transportation.
Thank you in advance.
Answers (1)
Answered by Gloria from CANADA | Oct. 09, 2017 22:32

1

0

Reply
Well, you can take bus 130 to Longsheng Huafu Station, and then walk west for about 5 minutes, you will see the temple. It takes about 30 minutes and CNY1.
Asked by Adrien from CANADA | Sep. 03, 2017 13:52

Reply
Transportation to Mt Cangyan Scenic Area
Is the bus the best way to get to Mt Cangyan area? And does the bus run on Sunday? We are going mid September. There are 3 of us so I'm wondering if taxi might be better choice for cost and time as we don't want to feel rushed. I've heard the bus returns at 3 which may be a little early. Thanks.
Answers (3)
Answered by Mindy from GERMANY | Sep. 04, 2017 03:15

2

0

Reply
I'd recommend train instead. You may take a train from Shijiazhuang North Railway Station to Jingxing within an hour. Then take a taxi or hire a private car to reach the scenic area with the fare of CNY100-150 for a round trip. After visiting, you can still take a train back to the city and the last one leaves at 19:50.
Answered by Adrien from CANADA | Sep. 04, 2017 11:55

1

0

Reply
Thanks! I guess no need to get advance train ticket? How long would you say total trip would be each way by train/taxi combination? Thanks again.
Answered by Mindy from GERMANY | Sep. 04, 2017 20:44

2

0

Reply
Yes, you don't have to book the ticket in advance, since it's not the peak season, and the train leaves at 7:08, 8:23, 14:02, and 14:58. The trains takes about 50 minutes to get there, as for the local car or taxi, it may take 1 hour.