Shijiazhuang Transportation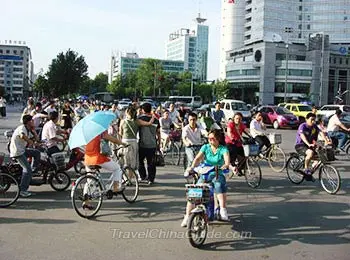 Main Street of the City
Before the early 1900s, Shijiazhuang was only a small, unknown village in north China. However, in 1902 and 1903, the finishing of Lu-Han Railway (Beijing-Hankou Railway today) and Zheng-Tai Railway (Shijiahzuang-Taiyaun Railway today) here started a new stage of the city. Relying on the two railways, industry in this city grew quickly. Then, during the latter hundred years, the rapidly developing economy was responsible for promoting further development of the transportation infrastructure.
Almost since the mid-age of 20th century, the city has been the goods and capital distributing center of Shanxi and Hebei provinces. Transportation by road in this area then kept developing at high-speed to satisfy the
requirement of trade. So far, 4 expressways, 4 national highways, 2 provincial highways, and 42 county highways forms a huge network in a total length of 6375 kilometers (3963.7 miles), which makes places in and around the city easily reachable.
Air
Airport Code: SJW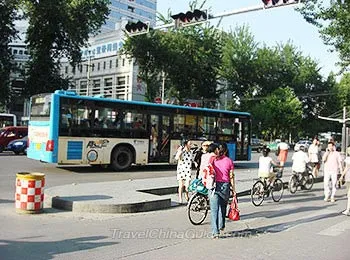 Street View
Location: Shijiazhuang Zhengding International Airport is at Zhengding County, about 21 miles (34 kilometers) northeast to the city center.

Brief Intro: It was put into service in 1995 as the largest civil airport in Hebei Province. Zhengding International now serves many air routes to more than 70 domestic and international cities.
Airport Transportation: downtown shuttle buses, high-speed train, and long-distance buses to nearby cities.

Train
Shijiazhuang Railway Station
is situated in the cross of Zhanqian Street and Zhongshan Road. 29 bus routes such as Bus No.1, 3, 5, 8 and 14, service the railway station. Trains from this station connect the city with more than 50 destinations in China, such as Beijing, Shanghai, Taiyuan, Xi'an, Guangzhou, Lhasa, Kunming, Guilin and Hong Kong.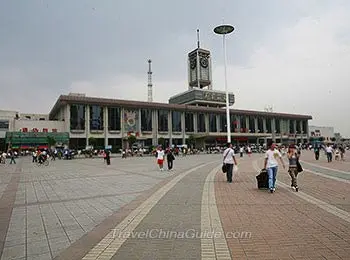 Railway Station
Only one train starting from this city is bound for Shanghai, and it takes about 18 hours. From there to Beijing is quite convenient for there are four pairs of intercity multiple unit trains between these two places: D565/D566, D570/D571, D572/D573, and D574/D575 (Trains on the left of the '/' are leaving for Beijing and on the right leaving from Beijing). The fastest one only takes 2 hours to run a single trip. It charges CNY103 or CNY86 according the class of the train. Besides, the other two pairs T576/T575, T578/T577 are also available but they are a bit slower for the single trip and take over 2.5 hours.
Zhengding Airport High Speed Railway Station is within 10min driving distance from the airport and offers great convenience for passengers who want to transfer between flight and train.
East Railway Station
has come into use since December 28th, 2017 along with the opening of Shijiazhuang – Jinan High Speed Railway. High speed trains to/from many domestic cities such as Jinan, Nanjing, Hefei, Shanghai, Fuzhou, and Beijing are operated here.

Major Rail Lines from Shijiazhuang to:
Long-distance Bus
There are over ten long-distance bus stations scattered over this city. Here are the main two and their details information:
Shijiazhuang Passenger Transport Station lies in No.81 Zhanqian Street, which stands to the south of the Railway Station. Here, buses connect this city with other cities inside Hebei Province, such as Baoding and Qinhuangdao as well as cities outsides Hebei like Shanghai and Beijing. The station can be reached by city bus No. 3, 16, and 33.
Tips: Tickets here can be purchased 1 day prior to your departure.
North Passenger Transport Station is situated in No.257 Shizhuang Road. It can be reached by City-bus No.40. Coaches heading for Shanxi, Shaanxi, Ningxia and places within this city are available here. Moreover, tourism lines to Mt. Wutai and Xibaipo etc. can be found in this station. There are some tourist lines within the city. Buses to Lingshou, Pingshan counties, Tiangui Mountain, Xipaipom Tuoliang and Juguiyuan are all available there.

Currently, Shijiazhuang metro line 1, metro line 2 and metro line 3 are in operation. Line 1 connects Xiaohedadao and Xiwang with the length of around 24 kilometers (15 miles). Line 2, passing Yuhua, Qiaoxi, Chang'an Districts, serves between Liuxinzhuang and Jiahua Road. It covers distance of around 15.5 kilometers (10 miles). Line 3 runs between Shi'erzhong and Shijiazhuang Railway Station. According to long-term plan, this city will operate 6 metro lines totally.


Metro Map


City-bus
Over 90 bus routes in the urban area and 7 in the suburban area form a large network, which make transport in this city very convenient. Among the urban routes, there are four tourism lines: Tour 1, Tour 5, Tour 6 and Tour 7. Except the tourism lines, most buses are self-service with a fixed fare of CNY1 per person. Buses in the suburban area include Bus No.201, No.202, No.203, No.204, No.206, No.209 and No.211. They charge in a range of CNY2~7 per person. Bus No.201 can take you to Zhengding County.
Note:
1. You just need to slip the right fare into the cash box inside the front gate of the bus when you get on it. Charges of the Tourism Lines:
2. Tour 1, Tour 5, Tour 7: CNY2 for the whole routes
Tour 6: CNY1
3. Tour 5 can take you to the Baoduzhai Scenic Area, the Zoo and the Martyr's Cemetery;
Tour 1 can take you to the Botanical Garden;
Tour 6 can take you to the Zoo, Zhongshan Park, and Zhaotuo Park;
Tour 7 can take you to the Longquan Temple.
| | |
| --- | --- |
| Town Bus and Bus Station | Taxis Waiting on Road |
Taxi
There are over 7,000 taxies running around this city. The flag-down rate is CNY8 for the first 3km (1.9mi) and CNY1.6 for each additional kilometer (0.6mi). When the cab drives over 6km (3.7mi), additional 50% is charged for every extra kilometer.

If running during 23:00 – 05:00 the next day, additional CNY0.2 is to be charged per kilometer. Within 5 minutes' waiting, it is for free; for the exceeding time, CNY1.6 shall be charged for every 5 minutes.
- Last updated on Jun. 13, 2022 -
Questions & Answers on Shijiazhuang Transportation
Asked by Nataliia from UKRAINE | Oct. 14, 2019 12:04

Reply
Hi. Please help me. I need to get from the train station to the hotel Hebei Grand Anuye. Thank You.
Answers (1)
Answered by Sierra from NETHERLANDS | Oct. 15, 2019 00:17

0

0

Reply
Well, I didn't find the hotel on the map. Would you mind recheck the hotel name or provide detailed address?
Asked by Matt from NEW ZEALAND | Mar. 24, 2018 19:16

Reply
How can I go to the newly-open glass bridge i.e. Hongyagu Glass Bridge?
Since this is a new bridge there's not many info I can get in the internet. Can someone help me and others (in future) on how to go there? Thanks a lot!!
Answers (1)
Answered by Bryce from DENMARK | Mar. 26, 2018 01:41

1

0

Reply
I was told there is a tourist bus from SZJ North Bus Station to Hongyagu, and the buses depart at 7:50, 10:20, 12:35, and 15:30. You may go there and have a check!
Asked by Mansour from PHILIPPINES | Feb. 28, 2018 20:31

Reply
Shijiazhuang zhengding International Airport To Xiu Lan Hotel in Baoding
hi. Can Anyone help me how to travel the cheapest way? Thank you so much.
Answers (1)
Answered by Michelle from USA | Feb. 28, 2018 21:53

0

0

Reply
You can take a shuttle bus to Baoding and it takes about 1.5h, CNY45. After arrival, take a taxi to the hotel and it takes about 20mins, CNY 20-30.
Asked by Arnold from PHILIPPINES | Sep. 28, 2017 01:19

Reply
What is the travel time from Zhengding Airport to Zhengding High Speed Railway Station?
Thanks.
Answers (1)
Answered by Alice from NEW ZEALAND | Sep. 28, 2017 03:25

0

0

Reply
Free shuttle buses can take you from the airport to the railway station within 5min.
Asked by eagle from THAILAND | Sep. 21, 2017 21:27

Reply
How to go to Shijiazhuang Railway Station from North Railway Station?
So how to go there and how long, in terms of public transportation?
Thank you for ur help in advance.
:)
Answers (3)
Answered by Hellen from CANADA | Sep. 24, 2017 20:15

2

0

Reply
Well, you can take bus 20 directly there, and it takes about 30 minutes, CNY1.
Answered by Eagle from THAILAND | Sep. 25, 2017 04:29

1

0

Reply
Thanks for ur reply.
And, could u help me more: how to go to HeBei provincial museum from SJZ north railway station via bus or subway?
Sorry for asking a lot because I can't find info. about notth railway station.
Thanks for ur help again.
I am really appreciated.
Answered by Helen from CANADA | Sep. 25, 2017 20:43

2

0

Reply
Glad to do a help! You can take bus 5 directly to the Museum, and the station you get off is Bowuyuan. It takes about 20 minutes and CNY1. Have a nice trip!