Shijiazhuang City Pictures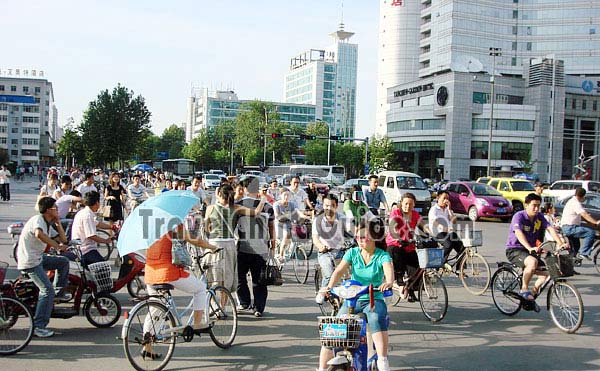 Many people in this city ride bicycles
Shijiazhuang, a newly industrialized city, is situated on the edge of the North China Plain. It was not until the early 20th century that the city started to develop from a small village to a city. The building of Beijing-Hankou Railway in 1902 and Shijiazhuang-Taiyuan Railway in 1903 makes the city a central hub of transportation. Then this rural village began its development of the urbanization. Attraction Intro:
Shijiazhuang City
- Last modified on Dec. 03, 2017 -
Questions & Answers on Shijiazhuang City Pictures
Asked by Mr.Che from RUSSIA | Mar. 14, 2010 14:42

Reply
Are these correct about Shijiazhuang:
1. Trains from Taiyuan come to the NORTH Railway Station
2. bus No. 201 leaves to Zhengding from MAIN Railway Station in the center
3. a bus to Jinan leaves from Shijiazhuang Passenger Transport Terminal, close to MAIN Railway Station
Answers (1)
Answered by Mr.Sandy | Mar. 21, 2010 20:28

6

0

Reply
1. Yes, exactly! Only one train (K520) arrive in that Station.
2. yes
3. yes
Asked by Mr.mark_RN from PHILIPHINES | Sep. 11, 2009 15:12

Reply
hi,
im planning to go in shijiazhuang to marry my chinese girlfriend,im planning to stay their also and find a job,im a registered nurse and im working here in KSA after i finished my contract i will go their and marry her,is it possible i can live their and find a good job related to my profession?please help me?thanks...
Answers (2)
Answered by Mr.JOHNESTALLO from PHILIPPINES | Jan. 21, 2010 20:07

3

0

Reply
Hi Mr. Mark, Kababayan, I'll be going to there next month, would you mind if we can meet up. Iom new to the place, I'll be going there from Beijing West. Here's my e-mail:
yahoo.com|johnestallo
. Salamat!
Answered by Mr.Wilson from CHINA | Jan. 29, 2010 07:25

0

0

Reply
Yes I am still enjoying my time in this city, have infact extended visa.Neither my wife or her family have heard of greemind but this is no indication of the surety of their promises or offers.
I don't know your situation but I would take a chance on them, there are plenty of language schools here that are looking for teachers.
whatever happens you will have had a great experience,seen some amazing sights and walk away with many memories.
Best of luck.