Shijiazhuang Railway Station
As an important traffic hub of China's
Four North-South & Four East-West High Speed Railway Network
, Shijiazhuang Railway Station serves
Beijing-Guangzhou
, Shijiazhuang-Taiyuan,
Shijiazhuang-Beijing
, and Shijiazhuang-Jinan High Speed Railways and several ordinary railroads. This station is about 5 miles (8 km) from the North Railway Station, 18 kilometers (11 miles) from
East Railway Station
, 4 miles (7 km) from People's Square (city center) and 30 miles (50 km) from Zhengding International Airport.
Address: At the junction of West Jingguang Street and South Xinshi Road in Qiaoxi Distrcit

Schedule and Ticket Booking
The station operates both bullet and ordinary trains to Beijing, Guangzhou, Shanghai, Shenzhen, Hangzhou etc.
(Last Update on July 16, 2018)



lines from the Station to:
High Speed Train Schedule
(Last Update on Apr 25, 2023)
To
Trains
Duration
Ticket Fare (CNY)
First/ Second Class Seat

Beijing West

G6704, G6706, G6708, G6712...
110 departures from 06:02 to 22:30
1h00m - 2h44m
CNY 159/ 99
USD 23/ 15

Hong Kong

G79, G305 at 11:02 and 12:47
7h29m - 8h57m
CNY 1,732/ 1,083
USD 255/ 159

Guangzhou South

G77, G335, G79, G337...
8 departures from 09:03 to 15:03
6h36m - 9h12m
CNY 1,324/ 828
USD 195/ 122

Chongqing North

G51, G1831, G371, G371...
9 departures from 07:57 to 16:08
5h43m - 10h32m
CNY 1,128/ 705
USD 166/ 104

Shenzhen North

G335, G79, G305, G305...
5 departures from 09:15 to 15:03
7h8m - 8h49m
CNY 1,432/ 909.5
USD 211/ 134
Normal Speed Train Timetable
(Last Update on Apr 25, 2023)
To
Trains
Duration
Ticket Fare (CNY)
Soft/ Hard Sleeper

Beijing West

K610, K118, K270, K158...
51 departures from 00:43 to 20:26
2h31m - 4h48m
CNY 138.5/ 95.5
USD 20/ 14

Shanghai

K1808, K233, K371, Z198...
5 departures from 06:43 to 22:52
11h50m - 21h17m
CNY 440.5/ 288.5
USD 65/ 42

Hangzhou

K1808, K1263, K894, K1398 from 06:43 to 23:40
18h7m - 23h45m
CNY 468.5/ 307.5
USD 69/ 45

Chongqing North

K507, T9, Z3, Z95 from 10:54 to 20:34
15h57m - 22h36m
CNY 552/ 361
USD 81/ 53

The above schedule is for reference only. For real-time schedule and ticket booking, please click the arrival stations.
See detailed
Shijiazhuang Train Schedule
Station Plan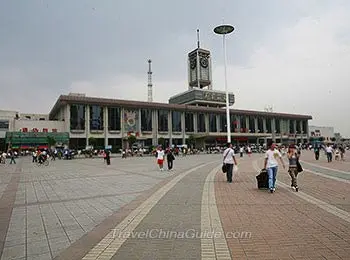 Shijiazhuang Railway Station
The station is made up of the east and west terminal buildings, which are connected with each other inside. There are two squares located separately in front of the two terminal buildings, the east and west squares; they are also connected with each other by an underground passage on -2F.

Terminal Building:

2F: elevated waiting area, toilet, ticket check, drinking water, shops, inquiry, elevators, escalators, Staff Duty Office

1F: platforms, ticket offices, entrances, drinking water, toilets, stairs, escalators

-1F: arrival hall, exits, toilets, drinking water

-2F: metro, transfer hall

West Square:

Ground Floor: bus stop (drop-off)

-1F: bus stop (pick-up)

-2F: taxi stands (pick-up), parking lots for private cars, metro station

-3F: metro platform

East Square:

Ground Floor: bus stop (drop-off)

-1F: bus stop (pick-up), parking lots for private cars, commercial area

-2F: metro station, taxi stands (pick-up), parking lots for private cars

-3F: metro platform
As for the drop-off areas of taxi stands, they are located at the north and south sides of the elevated bridge outside the terminal.
How to get to the train station from downtown Shijiazhuang?

Arrival by metro:
Passengers can take
metro line 2
or
metro line 3
and get off at Shijiazhuang Railway Station.

Arrival by bus:
At West Square:
West Square Bus Stop: 9, 20, 25, 62, 72, 92, 215, Airport Shuttle Bus Line 2
Gongdianju Bus Stop: Ring Line 1 of First Ring, Ring Line 2 of First Ring, 8, 13, 11, 36, 59, 319, 320, 339
Railway Station West Bus Stop: 8, 13, 14, 15, 25, 46, 59, 319, 320, 339, 344
At East Square
East Square Bus Stop: 33, 42, 55, 67, 71, 148, 516
Arriving by city buses, passengers will get to the west or east square of the station. For those with a ticket in hand, enter the station directly and go to the correct waiting room by reading the ticket carefully. For those without, the ticket office is located to the north side of the east terminal building and the south side of the west terminal building. Go to the nearest one and purchase the ticket. Afterwards, go to the waiting area to wait for the departure.

Arrival by taxi:
Passengers arriving by taxi will get off at the north/south side of the elevated drop-off area on 2F of the terminal building.
From
Duration (Minutes)
Cost (CNY)
North Railway Station
25
20
People's Square
25
20
Zhengding International Airport
55
110
Ticket Check and Boarding
Before ticket checking, passengers should read their tickets and LED screens inside the waiting hall to know exactly where to have the tickets checked and where to get onboard. After checking in, follow the direction boards to the correct platforms to board. Passengers need to note that red tickets should be checked manually, while blue ones can be handled at the automatic checking machines. Another thing needs your attention is that the platforms are not accessible from each other, so be sure to go to the right one and not to miss your train.
How to exit and leave the station?
Upon arrival, passengers will be led to -1F to exit. When getting out, passengers can follow the sign boards to find buses, or taxis to leave the station.

Leave by bus:
Bus stops are located on -1F of the west and east squares. Please confirm which route you are going to catch and then go there following direction boards.

Leave by taxi:
Passengers can find taxi stands on -2F of the east and west squares.

Transportation to other places:

North Railway Station:
Take bus line 20 to get there.

People's Sqaure:
1. Take bus line 36 and get off at the City General Hospital bus stop. Afterwards, walk 400 yards (350 meters) northward to get there.
2. Take bus line 42 and get off at Museum bus station, and then walk about 800 yards (750 meters) westward to the square.

Zhengding International Airport:
1. Take a bullet train to get there. There are 13 departures per day from 07:25 to 20:49. The travel time is about 14 minutes. It costs CNY26.5/ CNY 17.5 for a first class and CNY16.5/ CNY 10.5 for a second class.
2. Take airport shuttle bus line 2 to the destination. The bus is available between 05:00 and 21:00 every 30 minutes. The travel time is about an hour and the ticket fare is CNY20 per person.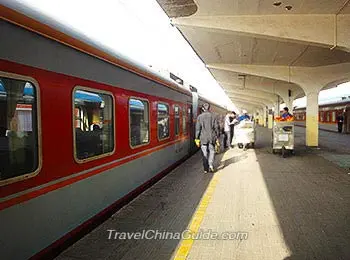 Platform
Facilities and Services

Ticket Office:
There are two ticket offices in the station, both located on the first floor. No.1 Ticket Office is situated to the north of east entrance, equipped with 18 ticket windows. Among them, No.1 ticket window is especially set for the old, weak, sick, disabled, and pregnant; No.13-14 for ticket change, No.15-16 for ticket refund, and No.17 for handling ticket loss and other special services. No.2 Ticket Office is located to the south of west entrance, also equipped with 18 ticket windows. Among them, No.1 ticket window is considerately lowed for the disabled; No.12 window is for ticket change; No.13 for ticket refund; and No.14 & 15 are multiple-functional windows.

Waiting Hall:
Located on the second floor, it can be reached by escalators or elevators from both sides of entrance halls on the first floor. From here, passengers can go down to platforms also by escalators or elevators. There are dining areas on north and south two sides of this floor, serving western and Chinese food; passengers can also purchase special local products there. On north and south sides of this floor, there are also toilets and hot drinking water for passengers' convenience. Besides, free WiFi is available, which is named AirStation-FreeWiFi.

Inquiry Center:
There is an inquiry center inside the waiting hall. It distributes the free guidebook about how to take buses and provides services including searching departure or arrival time and directing the way.

Xinqiao Service Center:
In the south side of the waiting hall, one can find Xinqiao Service Center, where resting area, reception area, medical treatment area and nursery room for the elder, sick, disabled or pregnant are provided.
Print

- Last updated on Apr. 25, 2023 -
Questions & Answers on Shijiazhuang Railway Station
Asked by Lance from FRANCE | Jun. 10, 2020 19:53

Reply
My train will leave from Shijiazhuang east station, can I collect my ticket at Shijiazhuang station?
I will pass by it tomorrow afternoon.
Answers (1)
Answered by Celina | Jun. 14, 2020 18:36

0

0

Reply
Yes sure. The tickets can be collected at any of a train station in mainland China. Feel free to collect it if your time permit. Actually, it is not crowded at the station now and it's also OK if you get it before your departure.
Asked by Healy from GREECE | Aug. 02, 2019 02:39

Reply
Earliest train to Shijiazhuang airport
When is the earliest train from Shijiazhuang Station to the airport?
Answers (1)
Answered by Layne from USA | Aug. 04, 2019 17:11

0

0

Reply
The earliest train G8954 departs from Shijiazhuang Station at 6:46am and arrives at 7am. As it is an early morning trip, it is better to collect your paper tickets out before travel day in case there is any delay.
Asked by Kris from SINGAPORE | Apr. 30, 2019 09:54

Reply
What amount of time should be allocated for a train connection at Shijiazhuang?
Will 20 minutes be sufficient for transit between two G trains?
Answers (1)
Answered by Jose | May. 06, 2019 00:46

0

0

Reply
20min is possible if you already have paper tickets in hand already. However, if you are a first time travelers, it maybe a little risky as it may take you some time to find out the way back to waiting hall. If possible, maybe 30min would be a little safer. If no other suitable trains, you can try with that 20min connection. When you are about to reach Shijiazhuang Station, you can ask the train staff about the nearest door to the "transfer" passage and wait there in advance. Once you reach the station, you can hold the ticket for second trip and back to waiting hall.
Asked by Vackav from CZECH REPUBLIC | Jun. 28, 2018 06:33

Reply
Night transportation from airport
Is there any other way to get to the station from the international airport at cca 02:00 apart from taxi?

Thank you
Answers (1)
Answered by Nash from ITALY | Jun. 29, 2018 02:47

0

0

Reply
You can try the airport shuttle bus line 3. The airport says the time for shuttle bus would match the flight schedule. So if you have a flight which will land at the airport around 2am, there should be able to find a bus to the railway station.
Asked by Subasree Mohan from SHENZHEN | Jun. 18, 2017 11:27

Reply
Is there any chance to keep luggage in the station.
Answers (1)
Answered by Melanie from CANADA | Jun. 19, 2017 00:57

1

0

Reply
There is left luggage office on both 1F and 2F.