Tangshan Travel Guide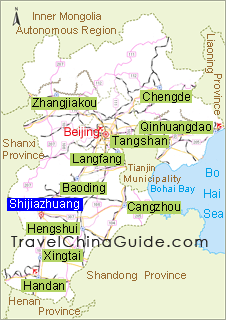 Tangshan Facts
Chinese Name: 唐山 (táng shān)
Population: 7,935,800
Area: 13,472 square kilometers (5,201 square miles)
Location: in the east of Hebei Province, north China
Administrative Division: 7 districts (Caofeidian. Lunan, Lubei, Kaiping, Guzhi, Fengnan, Fengrun); 4 counties (Qianxi, Yutian, Luannan, Leting); 3 county-level cities (Zunhua, Qian'an, Luanzhou); 4 development zones (Haigang Economic Development Zone, New and High-tech Industrial Development Zone, Lutai Economic and Technological Development Zone, Hangu Management Zone)
Area Code: 0315
Zip Code: 063000
GDP (2019): CNY 689 billion (USD 99.87 billion)
Cradle of China's Industrialization
Tangshan city is located in the east of Hebei Province, bordering the Bohai Sea to the south, Yanshan Mountain to the north, Beijing and Tianjin to the west. It is about 154 kilometers (96 miles) from Beijing. Although Tangshan was damaged by the Tangshan Earthquake in 1976, turning into ruins in a flash, it is now one of the most modern Chinese cities after reconstruction and development. Here is also the place where China's first mechanized coal mine, standard gauge railway, steam locomotive and barrel of machine-made cement were born, which gave birth to China's rich industrial civilization. Tangshan is also the birthplace of China's Ping Opera. Besides, visitors can find many historical and cultural relics here, such as the Eastern Qing Mausoleum and the Great Wall under Water (Xifengkou and Panjiakou Great Wall).
Tangshan Attractions - Things to Do

Eastern Qing Mausoleum: the most magnificent and well preserved architectural complex of Imperial Tombs of Ming and Qing Emperor with 15 catacombs



Jingzhong Mountain: a religious mountain well-known for its combination of Buddhist, Taoist, and Confucian buildings since Qing Dynasty (1644-1911).



The Great Wall under Water (Xifengkou and Panjiakou Great Wall): a part of the Great Wall constructed in Ming Dynasty (1368-1644) in northern Tangshan City with several passes submerged under the water of Xifeng Lake

Other tourist attractions:
Islets: Puti, Jinsha, Yuetuo
Mountains: Lingshan Mountain, Jiufeng Mountain
How to get to Tangshan
Tangshan Sannühe Airport is about 20km (12mi) to downtown. It operates direct flights to/from 14 doemstic cities, including Shanghai, Guangzhou, Hangzhou, Shenzhen, Xi'an, etc. Shuttle bus, city bus and taxi are all available in the airport.

Tangshan Railway Station and North Railway Station serve the public. Trains to Beijing, Tianjin, Harbin, Qinhuangdao and other major domestic cities operate now.
How to get to Tangshan from Beijing/Tianjin
The transport from Tangshan to Beijing and Tianjin is convenient. There are many buses and trains a day to Beijing and Tianjing from the local West Bus Station taking about 2 to 3 hours.

See detailed Tangshan to Beijing Train
Weather
-
Enjoying a warm-temperate monsoon climate, Tangshan is dry in spring, hot and rainy in summer, and chilly in winter. The average annual temperature is near 11

C (51.8

F), and its average yearly rainfall reaches 760 millimeters (30 inches).

When to Go
: Summer and autumn are the beat seasons to visit - with the calm sea in summer, cool and pleasant weather in autumn.
Tangshan Travel Tips

Dining: The local dishes have typical salty flavor of North China. Sea cucumber with pork joint, sliced fish with sauce and braised turtle rim are the specialties while the local honey sesame candy and Chinese chessman shaped pancake are the favorite snacks of locals.



Physical Features: Situated at the bottom of Yanshan Mountain's southern slope, the north of the city occupies mountainous areas, the central plain and the coastline of 199.3 kilometers (124 miles) to the south. Coal, iron, petroleum, natural gas, and salt make up the main natural resources.



History: According to archaeological discoveries, it was validated that this area was inhabited as far back as 45,000 years ago. It became a shire in Han dynasties (206BC-220AD) and obtained its name 'Tangshan' by the Dachengshan Mountain which was vouchsafed by the emperor in Tang Dynasty (618-907). Since Qing Dynasty (1644-1911), it has been an industrial center and was officially founded as a city in 1938.



Local Highlights: Ping Opera and Leting Drums Song (the most characteristic local operas); Tangshan Shadow Puppetry Play.



Special Local Products:
Handicrafts: shadow puppetry, willow knitting crafts
Foods: Jingdong chestnuts, Gushu golden thread small Jujube
- Last updated on Apr. 15, 2020 -
Questions & Answers on Tangshan Travel
Asked by Roshan Lepcha from INDIA | May. 30, 2019 00:04

Reply
Where should I stay in Yue Tuo Island?
I am planning to visit to Yue Tuo Island tomorrow for one night stay. I wish to enjoy the sea beach. Which hotel is recommended?
Answers (1)
Answered by Kelly from UNITED KINGDOM | May. 30, 2019 19:20

0

0

Reply
It is recommended to book Leting Sanbei pier blue seaview apartment. It is so close to Sanbei pier and is highly prasied by customers.
Asked by Ali from CHINA | Jul. 04, 2018 00:26

Reply
Yuetuo Island (Leting County, Hebei Province)
Hi. I will be staying in Tianjin, this September for three days. What is the best way to reach Yuetuo Island (Leting County, Hebei Province) from Tianjin?
Answers (1)
Answered by Jim from CANADA | Jul. 05, 2018 18:33

0

0

Reply
Hi. You can take a high speed train from TJ to Tangshan and it takes about 40 minutes. Then take a tourism bus line 5 to TS West Bus Station to take a bus to Leting Bus Station. Then take a bus from there to Laoyujian Wharf.
Asked by Sario from PHILIPPINES | May. 30, 2017 15:36

Reply
Where can I go to play bowling in Tangshan city?
Answers (3)
Answered by Carl from UK | Jun. 04, 2017 22:55

0

0

Reply
As I know, you can play bowling on the 8th floor of TS Hotel, which is loctaed at no.25, North Jianshe Road, Lubei District.
Answered by Sario from PHILIPPINES | Apr. 07, 2018 04:57

0

0

Reply
TS Hotel has been demolished since 2013. Could there be another bowling alley in the city?
Answered by Carl from UK | Apr. 07, 2018 21:31

0

0

Reply
No, it's not demolished! I've lived there last year. Anyway, you can also play bawling in Yutian Hotel Bowling Room in 2995 West Wuji Street, Yutian County.
Asked by Paulo Rebelo from BRAZIL | Sep. 09, 2016 19:14

Reply
Computers and Gadgets in Tangshan
Hi, this will be my first visit to China. Would you know if there any good place for visiting/buying gadgets? Digital and electronic gadgets. Thank you so much. --Rebelo.
Answers (2)
Answered by Hank | Sep. 10, 2016 03:26

2

0

Reply
For small quantity of personal use, you may go to Ruide Digital City at No.90, South Jianshe Road in that city. For large quantity, you may consider Guangzhou, there are many wholesale markets for the staff there.
Answered by Paulo Rebelo from BRAZIL | Sep. 11, 2016 14:21

0

0

Reply
Thank you so much! I'll see if I can make it to Guangzhou, but it's just for personal use. Thanks!
Asked by kevin from USA | Dec. 22, 2015 17:39

Reply
Is there fast train from Tangshan to Beijing now? Cost, time?
Answers (2)
Answered by Li Ming from CHINA | Dec. 22, 2015 20:28

5

1

Reply
Yes! There are fast trains between the two cities. The duration is about 1.5 hours.

For a D train, it costs CNY 44.5 or 52 for a second-class seat, and CNY 52.5 or 62 for a first-class seat. For a G train, you need to pay CNY 110.5 for a second-class seat, CNY 184 for a firs-class seat, and CNY 349.5 for a business class.
Answered by Kevin from USA | Dec. 23, 2015 06:51

0

1

Reply
Thank you