Eastern Qing Tombs
Being a sacred burial ground near Beijing, Eastern Qing Tombs are one of the two tomb areas devoted to the emperors, empresses and imperial concubines of the Qing Dynasty (1644-1911, the last feudal empire in China).The other is the
Western Qing Tombs
.
Among the finest, best-preserved and largest of the extant tomb complexes in China, the Eastern Qing Tombs are located along Changrui Mountain in the west of Malanyu Town, Zunhua County, Hebei Province. Along the south side of Changrui Mountain, the tombs of five emperors, four empresses, five imperial concubines, and one princess are arrayed based on the traditional concept of placing the most senior and most distinguished in the center.
Xiaoling, the tomb of Emperor Shunzhi (1638-1661, the first Qing emperor to rule China), is aligned with the axis of the main apex of Changrui Mountain, which indicates that the person buried there is the most exalted in the group. Other emperors' tombs lie on both sides of Xiaoling in a fan pattern from east to west according to the position each person occupied in the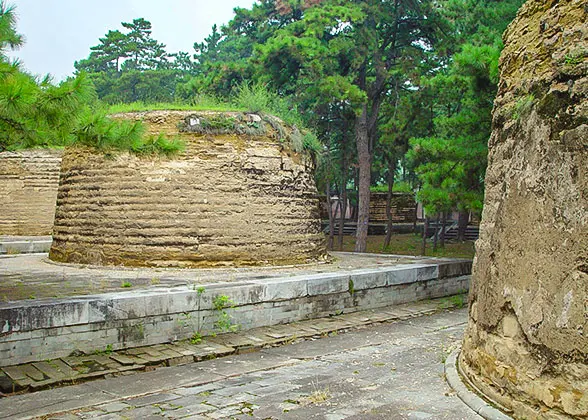 family hierarchy. The tombs of empresses and concubines are placed alongside those of their husbands, clearly showing the master-subject relationship that they had in life. Sacred ways connect the tombs of the women with those of their husbands, and the sacred ways of the tombs of the other emperors connect with that of Xiaoling. Thus a branch-like system is formed, showing clearly the relationship of the rulers to their heirs.
Of all, Xiaoling is the biggest and most elaborate, standing as the focal point of the entire Eastern Qing Tombs. The grandeur of this tomb may be attributed to its having been the first sepulcher constructed for a member of the royal family of the Qing Dynasty, so the builders hoped to set the tone for a prosperous future. Crossing through the Great Red Gate, you can see buildings of different sizes, all with roofs of yellow glazed tile, connected by the brick paths or 'sacred ways' that converge in the area of Xiaoling.
An example of the most exquisite architecture of Eastern Qing Tombs is Dingdongling, the tomb of
Empress Dowager Cixi
.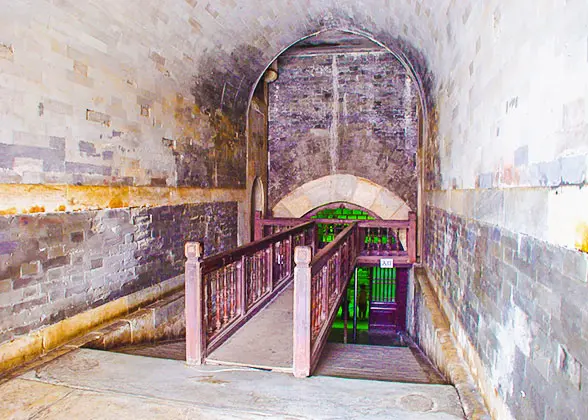 Although she handled affairs of state for more than 45 years, she never ascended the throne. Elaborate and highly refined decorations and carvings inside Dingdongling make it unique among those of the Qing Dynasty. The main material used in the tomb, which took six years to build, was gold, the symbol of royal family.
Around the Gate of Eminent Favor (Long'enmen) of Dingdongling, elaborate carvings of dragons and phoenixes, drifting water and flowing clouds adorn the white marble balustrades. In front of the hall, on a colorful stone, we find examples of extraordinary techniques and unconventional design in additional intricate images of lively dragons and phoenixes.
Many of the minor tombs are also worth visiting. You can learn about Chinese culture while enjoying the beauty of the area.
How to Get to Eastern Qing Tombs:
From Beijing:

Take a coach to Zunhua at Sihui Long-Distance Bus Station, which is opposite to the Exit A of Sihui Station of
Subway Line 1
. The bus leaves at 06:25, 07:05, 07:45, 08:20, 09:05 and the ticket fare is CNY 55. Get off at Shimen Toll Station on the way, and then take a taxi to the scenic area.

On weekends and holidays from April 7 to October 15, tour buses for Eastern Qing Tombs can be found near the Exit B1 of Xuanwumen Subway Station. Departure time: 07:30-08:30.
Beijing Bus / Subway Search
From Tangshan:
Take a bus from Tangshan West Coach Station to Zunhua at the fare of CNY 23. Then take a bus or taxi from Zunhua Bus Station to the scenic area.
From Tianjin

Take a bus from Tongsha Long Distance Bus Station to Zunhua at 09:30 or 11:30. The fare is CNY 54. Then take a bus or taxi to the mausoleums.

From mid-March to mid-November, there are tour buses running from Tianjin City to
Huangyaguan Great Wall
and Eastern Qing Tombs on weekends and holidays. Departure time: 06:30-07:00.
Apr. - Oct.
Nov. - Mar.
Admission Fee
CNY 108
CNY 80
Free for children under 3.9 feet (1.2m).
Sightseeing Battery Car
CNY 30
Sacrificial Ceremony
CNY 10 (09:30-10:00, 10:30-11:00, 14:00-14:30, 15:30-16:00)
Opening Hours
08:00-17:00
08:50-16:00
Recommended Time for a Visit
It may take 2-3 hours or so on the way from downtown Beijing, single way. So prepare one day for the whole place.
Print

- Last modified on Feb. 20, 2019 -
Questions & Answers on Eastern Qing Tombs
Asked by Jew from THAILAND | Feb. 19, 2019 18:00

Reply
1. Just want to know that the bus go eastern Qing still operate right
2. The bus will be direct reach there right no need to connect another bus.
3. How often leave ( every 15 min or full and leave)
Answers (1)
Answered by Addington from CANADA | Feb. 20, 2019 17:52

0

0

Reply
Yes, the buses still operate. But they just arrive at the place nearby the scenic area. You need to take a taxi to the destination. As I know, the bus is full and leave.
Asked by Rohey from GAMBIA | Feb. 18, 2019 09:21

Reply
Transport from Tangshan train station to the site
I am a student in Tianjin and I plan on visiting this site in May/June. I will be using the high speed train from Tianjin station to Tangshan train station. How long will the bus trip be from the train station to the site? Also can I return to Tianjin on the same day?
Answers (1)
Answered by Clara from FINLAND | Feb. 18, 2019 19:33

0

0

Reply
Generally speaking, it takes around 3 hours on the way. And the suggested sightseeing time is 4 hours. Thus I am afraid that the time is tight.
Asked by Nola from USA | May. 18, 2018 00:52

Reply
Is photography allowed at the Qing tombs?
Answers (1)
Answered by Bonnie from FRANCE | May. 18, 2018 01:54

0

0

Reply
Yes, it is! Nice trip!
Asked by P AKERS from CANADA | Feb. 11, 2017 12:06

Reply
Eastern Qing Tombs vs Ming Tombs
if I can get to only one of these, which is preferable? I plan on going to Mutianyu Great Wall; so which of the 2 tomb sites could I combine with Mutianyu Great Wall? and could I see them in 1 day?
Answers (1)
Answered by Echo from SWAZILAND | Feb. 12, 2017 01:16

1

0

Reply
Hey, I'd recommend the Ming Tombs to you, which is famous for the underground palace and you will learn a lot by visiting it. If you plan to visit a tomb and a section of Great Wall in a day, Badaling can be a better choice. It is much closer from Ming Tombs than Mutianyu. And public bus no. 879 connects it directly.
Asked by Edward Ben Woo from USA | Aug. 14, 2016 20:51

Reply
Eastern Qing Tombs using Tourist bus Information
1. Tourist bus: In weekends and holidays, special buses can be found in Xuanwumen Church and Qianmen Xi Dajie (tourism hub) in weekends and holidays between April and October. Time: 6:30-8:30.

What is the cost for 2 adults? Do the tour guides speak English? Will the bus take us to the Sacred Way and at least one tomb? What time does the bus return to Beijing? Is it available Oct 22-23, 2016?
Answers (3)
Answered by Dave from USA | Aug. 15, 2016 04:16

0

0

Reply
The bus fare is CNY 70 per person for a round trip. It doesn't go to Sacred Way or the tombs. It returns at 15:30. The buses are available from April 7 to October 15, so you cannot take it on October 22 or 23.

Tour guide service is avaiable there. It costs CNY 150 for the group of 1 to 10 people. Probably you can find English tour guide there. :)
Answered by Edward Ben Woo from USA | Aug. 15, 2016 20:22

0

0

Reply
If the buses don't go to the Sacred Way or the tombs, where do the buses go in the Eastern Qing Tombs? How do we see the Sacred Way or the tombs, if the buses don't take us?

There may or may not be English tour guides available to hire, right?

The tour guide cost CNY 150 for the group of 1 to 10 people. Is that CNY 150 each person or for the whole group?
Answered by Dave | Aug. 16, 2016 03:28

0

0

Reply
Dear Edward, Eastern Qing Tombs is located in Zunhua County, Hebei Province. You can see the tombs of Qing emperors and their royal family. You can reach there by the tourist bus.

Yes, there may or may not be English tour guides available. You can consult the staff upon arrival. Besides, the cost of CNY150 is for the whole group.

Differently, Ming Tombs are located to the northwest of downtown Beijing, where Sacred Way and tombs of Ming emperors are located. To get there, you can take bus line 872 from Deshengmen to Dingling Tomb. After visiting, you can take bus line 314 to Changling Tomb or Nanxin Viilage (Sacred Way).