Hengshui Travel Guide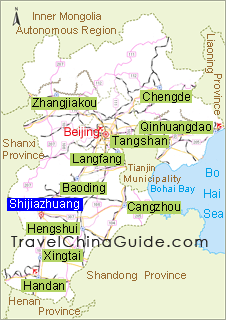 Hengshui Facts
Chinese Name: 衡水 (héng shuǐ)
Population: 4,472,000
Area: 8,815 square kilometers (1,332 square miles)
Location: in the southeast of Hebei Province, north China
Administrative Division: 2 districts (Taocheng, Jizhou); 8 counties (Zaoqiang Wuyi, Wuqiang, Raoyang, Anping, Guchen, Jingxian, Fucheng); 1 city-level county (Shenzhou)
Area Code: 0318
Zip Code: 053000
GDP (2019): CNY 150.49 billion (USD 27.81 billion)
Hometown of Chinese Woodblock New Year Pictures
Situated in the southeast of Hebei Province, Hengshui City neighbors Xingtai, Handan, Cangzhou and Baoding within the province and is bordered by Shandong Province to the southeast. It is about 119 kilometers (74 miles) away Shijiazhuang and 250 kilometers (155 miles) from Beijing. Hengshui is titled as the hometown of Chinese woodblock New Year pictures. The New Year picture is a kind of unique painting genre and one of the common folk crafts. It is mostly posted on the door for celebrating the Chinese New Year and blessing the good luck. New Year picture produced in Wuqiang County of Hengshui is regarded as one of the most outstanding pictures for the rich composition, rough lines, bright colors and exaggerated decoration. Many fine New Year pictures are displayed in Wuqiang New Year pictures Museum.
Hengshui Attractions - Things to Do
Hengshui Lake, the second largest freshwater lake in North China Plain, covers a total area of 75 square kilometers (29 square miles) in the outskirt 10 kilometers (6.2 miles) south of city downtown area. In the vast reed marsh inhabit many birds, including red-crowned cranes, swans, pelicans, wild gooses and gulls. Nowadays, wetland nature reserve for birds has been set up. In the rear of the reserve is the far-reaching blue lake and azure sky.

Zhulin Temple is a noted temple in the ancient city of Jizhou. It is surrounded by water in three sides, and there is the Zhenhai Tower built in the northeast of the temple. Its tower foundation is ingeniously contrived to be a labyrinth.

Wuqiang New Year Picture Museum is the largest professional New Year picture museum in China built in 1985. It has nine exhibition halls and two galleries displaying more than 4,000 ancient Chinese New Year pictures and more than 6,000 and drawings. Visitors can also learn about the development, genres and characteristics of Wuqiang New Year pictures here. There are also shops selling New Year pictures in the museum, where you can choose your favorite works.

Other Scenic Spots: Baoyun Temple
How to get to/around Hengshui
This city do not have its own airport, visitors should have the aid of Shijiazhuang Zhengding International Airport. Hengshui is a traffic hub at the intersection of Shijiazhuang-Dezhou Railway and Beijing-Kowloon Railway. Furthermore, its local central bus station is situated in No.106, Zhanqian Road (East). It has two bus stations both of which are facing each other in the same street, Zhanqian Road (East). The south station mainly operates long distance bus lines.
Weather
-
Hengshui enjoys a temperate and semi-arid continental monsoon climate. The weather features distinct four seasons and notable changes in temperature and air moisture. Spring and winter are arid and the rain usually falls in summer. Autumn is cool but overcast and rainy.

When to Go
: in autumn
Hengshui Travel Tips

History: In remote ages, there were several principalities in present Hengshui. During the Spring and Autumn Period (770BC-476BC), it mostly belonged to the Jin Kingdom, while in the Warring States Period (476BC-221BC), it was a part of the territory of Yan and Zhao kingdoms. It was put into the Julu Shire after the First Emperor of Qin unified China in 221BC. Most domain of present Hengshui took shape in the Han Dynasty (206BC-220AD).



Physical Features: The city is located in alluvial plain area in North China, with its terrain gently sloping downward from southwest to northeast. Gentle slopes and depressions constitute the main types of the city's landform. It is crisscrossed by a net work of rivers. The Hengshui Lake is the big waterfilled depressions in North China Plain (Huabei Plain) only second to the Baiyangdian Lake in Baoding City.



Special Local Products: New Year's Painting of Wuqiang County, ornamental goldfish, inside painting snuff bottle, Houdian writing brush, Lao Nai Gan Liquor
- Last updated on Apr. 15, 2020 -
Questions & Answers on Hengshui Travel
Asked by Imran Yasin from PAKISTAN | Jul. 31, 2016 08:43

Reply
Is Halal food easily available in Hengshui?
I need to know about details of restaurants or hotels where or near to those halal food easily available.
Answers (2)
Answered by Pepe from SPAIN | Aug. 01, 2016 04:26

1

0

Reply
Yes, there are some halal restaurants in the city. For instance, the Whole Lamb Restaurant (Quan Yang Guan) at the crossroad of Eat Xinhua Road and Baoshe Street is a nice choice.

For accommodation, you can consider Hanting Hotel at No. 255, Central Street. It costs CNY 150-200 per night. Have a try! From the hotel, walk east along East Xinhua Road for about 200 yards, and turn right. Walk south along Baoshe Street for about 200 yards, and you can see Whole Lamb Restaurant.
Answered by Kamal from CANADA | Sep. 01, 2017 02:51

0

0

Reply
Ishunzai is a halal restaurant in downtown Hengshui.
Asked by Johanna from COLOMBIA | Sep. 21, 2014 01:24

Reply
Does Anping has a 5 stars hotel?
is Anping just industrial area or can find malls and tourist places
Answers (1)
Answered by Swan from USA | Sep. 21, 2014 05:03

2

2

Reply
the first and the only five star hotel in Anping is under construction now. It is named Hot Deway Hotel (Xinhai Intenational Hotel).
Asked by jim from NETHERLANDS | May. 15, 2014 03:35

Reply
What is closer to Anping Shijiazhuang or Beijing
Hi i Have to travel to Anping soon Kindly suggest me the Best Place to Stay whether Shijiazhuang or Beijing Have to Travel Daily Basis to Anping

jim
Answers (1)
Answered by Tom from KENYA | May. 15, 2014 03:59

3

3

Reply
Shijiazhuang is a better choice and it is around 125km from Anping!
Asked by George griffith from USA | Mar. 11, 2014 19:47

Reply
Is Facebook available on the mainland china mostly the city of hengshui. Thank hou
Answers (2)
Answered by Green from UNITED KINGDOM | Mar. 11, 2014 20:02

1

1

Reply
It is not availabel on mainland China, but you can try to use some web based proxy software to help you to connect to Facebook.

Good luck with you.
Answered by Kamal from CANADA | Sep. 01, 2017 02:49

0

0

Reply
If you have express VPN apps, you can have Facebook, YouTube, Google etc.