Chengde Travel Guide
Fast Facts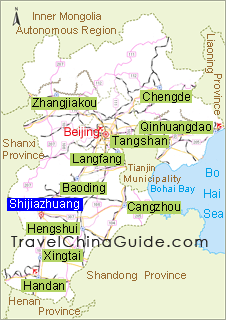 Population: 3,610,000
Area Code: 0314
Postal code: 067000
City flower: rose
Main minority ethnic groups: Manchu and Mongolian

Chengde, lying in the northeast of Hebei Province, is close to Beijing, about 230 kilometers (140 miles) away, Tianjin, Tangshan and Qinhuangdao. The topography of this city is mainly divided into plateau and mountainous regions, including Yanshan, Yinshan and Qilaotushan mountains, as well as the Luanhe, Liaohe, Chaobaihe and Jiyunhe rivers flowing through the city.

Chengde, originally called Rehe was once the summer resort capital of the Qing Dynasty (1644-1911). It holds rich culture related to this history as well as many historic relics dating as far back as the Neolithic Age in this city. Ethnic groups such as Xiongnu, Xianbei, Qidan, Nvzhen, and Mongolian once led a nomadic existence in this region from the Qin (221BC-206) to the Ming Dynasty (1368-1644).
As one of the first famous historic and cultural cities of the nation, Chengde City has plenty of sceneries, with some of them being renowned both at home and abroad. The Mountain Resort and Eight Outer Temples are listed as the world cultural heritage sites, which have contributed towards the city being one of famous cities in the world.

Recommended Tour: 6 Days Private Beijing Chengde Tour
Both the internal and the external transportation of Chengde City are very well developed and although there is only a small-scale airport, chartered flights flying between there and Beijing will provide you more choices for your journey. In addition, railway and road links can connect you to many cities, such as Tianjin, Shenyang, Baotou, Ulanhot, Liaoning, and Inner Mongolia, etc. City buses provide a fine and integrated transport service; taxis are also a good choice due to their convenience and inexpensiveness.
| | |
| --- | --- |
| Mountain Resort of Chengde | |
Chengde Travel Tips
Local Feast Days
Forest and Grassland Festival of Mulan Imperial Hunting Park: June 29th to the end of February next year
It is mainly to display the unique scenery of forest and grassland and to promote ecotourism.
Contest of Dragon Boat of Mountain Resort: June every year
It is a joyous and exciting festival that draws local people's attention. In addition to the dragon boat contest, there are gliding acts, water performances, as well as gong and drum performance, etc.
Useful numbers:
Fire alarm: 119
Police: 110
Ambulance: 120
Consumer complaint: 12315
Tourist complaint: 0314-2024548
Address of some institutions
Bank of China
Xinhua branch: No. 1, Building A, Xinhuayuan

Hospital
Central Hospital: No. 22, Xi Dajie, Shuangqiao District

Post office
Nanyingzi branch: No. 27, Nanyingzi Dajie, Shuangqiao District