Chengde Travel Guide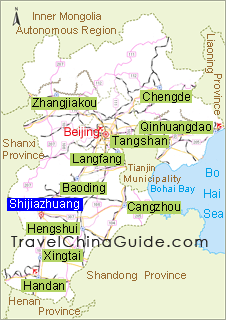 Chengde Facts
Chinese Name: 承德 (chéng dé)
Population: 3,528,700
Area: 39,500 square kilometers (15,251 square miles)
Location: in the northeast of Hebei Province, north China
Administrative Division: 3 districts (Shuangqiao, Shuangluan, Yingshouyingzi Mining); 1 county-level (Pingquan); 3 autonomous counties ( Weichang Man and Mongolian, Fengning Man, Kuancheng Man); 4 counties (Longhua, Luanping, Chengde, Xinglong);1 Development Zone
Area Code: 0314
Zip Code: 067000
GDP (2019): CNY 147.1 billion (USD 21.3 billion)
Nationalities: Han, Man, Mongolian
Famous for Royal Mountain Resort and Eight Outer Temples
Chengde, lying in the northeast of Hebei Province, is about 225 kilometers (140 miles) away from Beijing, neighboring Tianjin to the south, Tangshan and Qinhuangdao to the east and southeast and Zhangjiakou to the west. After Emperor Kangxi decided to build a summer resort here in 1703, Chengde became the second political center of the Qing Dynasty (1636 - 1912). It was also the place where the emperors received foreign guests, avoided summer heat and hunted, so many royal buildings had been preserved. There are exquisite royal gardens at the Mountain Resort and Eight Outer Temples, the essence parts of Chengde tourism. Apart from the numerous historical relics, many visitors are attracted by the beautiful grasslands and fantastic entertainment activities. Besides, with the construction of Beijing-Chengde intercity railway and expressways, the transportation time from Chengde to Beijing and Tianjin will be shortened to two hours.
As one of the first famous historic and cultural cities of the nation, Chengde City has plenty of sceneries, with some of them being renowned both at home and abroad. The Mountain Resort and Eight Outer Temples are listed as the world cultural heritage sites, which have contributed towards the city being one of famous cities in the world.

Recommended Tour: 6 Days Private Beijing Chengde Tour
Both the internal and the external transportation of Chengde City are very well developed and although there is only a small-scale airport, chartered flights flying between there and Beijing will provide you more choices for your journey. In addition, railway and road links can connect you to many cities, such as Tianjin, Shenyang, Baotou, Ulanhot, Liaoning, and Inner Mongolia, etc. City buses provide a fine and integrated transport service; taxis are also a good choice due to their convenience and inexpensiveness.
See more Chengde Railway Station
| | |
| --- | --- |
| Mountain Resort of Chengde | |
Chengde Travel Tips
Local Feast Days
Forest and Grassland Festival of Mulan Imperial Hunting Park: June 29th to the end of February next year
It is mainly to display the unique scenery of forest and grassland and to promote ecotourism.
Contest of Dragon Boat of Mountain Resort: June every year
It is a joyous and exciting festival that draws local people's attention. In addition to the dragon boat contest, there are gliding acts, water performances, as well as gong and drum performance, etc.
Useful numbers:
Fire alarm: 119
Police: 110
Ambulance: 120
Consumer complaint: 12315
Tourist complaint: 0314-2024548
Address of some institutions
Bank of China
Xinhua branch: No. 1, Building A, Xinhuayuan

Hospital
Central Hospital: No. 22, Xi Dajie, Shuangqiao District

Post office
Nanyingzi branch: No. 27, Nanyingzi Dajie, Shuangqiao District
- Last updated on Apr. 15, 2021 -
Questions & Answers on Chengde Travel
Asked by David Chee from MALAYSIA | Dec. 11, 2019 23:34

Reply
Public Transport (Bus/Taxi) from Chengde to Gubei Water Town
Hello...is there any direct public transport from Chengde to Gubei Water Town without having to go through Beijing? If not, would appreciate it if someone can advise the fastest route to get there from Chengde. Thanks.
Answers (1)
Answered by Liz from SINGAPORE | Dec. 12, 2019 19:52

0

0

Reply
Hi, there is no public bus you can take. Generally speaking, people will self-drive or carpool to there.
Asked by bg from SINGAPORE | Nov. 06, 2018 06:53

Reply
hire driver in Chengde
hello, may know how much does it cost to hire a taxi to go to the summer resort and the 8 outer temples? thanks!
Answers (1)
Answered by Nana from JAPAN | Nov. 07, 2018 01:49

0

0

Reply
It depends on where you set out for the summer resort and eight outer temples. The taxi fare from summer resort to the temples is just about CNY15.
Asked by Wayne Tsang from UNITED KINGDOM | May. 12, 2018 02:01

Reply
Hi, is someone able to advise me a way of travelling from Chengde to Qinhuangdao, please?
I have checked trains as an option but it seems there are no rail services between these two places.

Maybe there is a long distance bus someone can direct me to?

Thank you very much
Answers (2)
Answered by Alison from USA | May. 16, 2018 21:38

0

0

Reply
Usually, there are pairs of long-distance buses in CD Long-distance Bus Station in service between the two cities, departing from 7:00 to 17:00 and taking about 5 hours.
Answered by Wayne from UNITED KINGDOM | May. 17, 2018 08:08

0

0

Reply
Thank you kindly Alison, that's what I'll do then :)
Asked by Weibao from CZECH REPUBLIC | Feb. 01, 2018 18:23

Reply
Hi, is there a way how to get from you Chengde to Gubeikou ?
Answers (2)
Answered by Phebe from DENMARK | Feb. 01, 2018 19:23

0

0

Reply
Well, you must go to Beijing first. Then, take bus 980 express to Muyun Shaoniangong and then take bus Mi25 to Gubeikou.
Answered by weibaocz from CZECH REPUBLIC | Feb. 02, 2018 02:37

0

0

Reply
We asked today on the train station. Apparently you have to take the bus to Beijing from Chengde East Bus Station 承德汽车东站 and tell the driver to drop you off on the way close to the Gubeikou. Tomorrow we will go this way, so we will report you tomorrow :-)
Asked by Mushi Jacob from TANZANIA | Dec. 26, 2017 06:52

Reply
What is the cheapest means of transport from Beijing to Chengde medical university
Answers (1)
Answered by Selina from USA | Dec. 26, 2017 20:26

0

0

Reply
You are suggested to take an intercity bus to CD from Liuliqiao Bus Station, which costs CNY60. After arrival, take a taxi to the school.