Qinhuangdao Travel Guide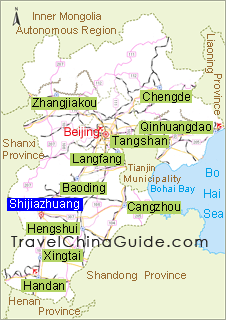 If comparing the Great Wall to a dragon then Qinhuangdao is located at the head facing the sea. This wonderful summer resort is laurelled as the back garden of Beijing and Tianjin, boasting a beautiful coastline and perfect ecological environment.

Qinhuangdao is a time-honored city named after the first emperor in Chinese History Qin Shi Huang who once made his east inspection tour to this place and sent people to the sea to looking for the immortals. It is also an important harbor city in North China with the Port of Qinhuangdao having more than a hundred years of history. Located in the center of the economic region circling the Bohai Sea, it is also a new rising industrial city having the largest glass industrial base and bridge manufacturing group, most important aluminum processing base and gas turbine producing base, largest hub factory for vehicle wheel as well as a distinguished dry and red wine producing base in China. However, most people talk about it as a fascinating summer resort.

The city is located at the junction of northeastern and northern China, being an important influx of inland China into the sea. There is the only national economic and technological development zone of Hebei Province, large processing base for export and technological park zone based on universities. Not only a top tourist city in China, but also an attractive place favored by many foreign investors worldwide.
Famous for the beautiful coast and attractions relevant to the Great Wall, Qinhuangdao is a hot tourist city laden with history and endowed with refreshing air. Tourist resources are paralleled in two concentrated lines. In the coastal region, there are Laolongtou, Shanhaiguan Pass, Xin'ao Marine World and several theme parks. While most spots related to the Great Wall scatters around the hilly area in central and northern area of the city, such as the Longevity Mountain, Jiaoshan Hill (Hornberg Hill) and Yansai Lake. The first-class summer resort Beidaihe is also one of the four finest bird watching resorts in the world.
| | |
| --- | --- |
| Shanhaiguan, First Pass Under Heaven | Laolongtou Great Wall |
This passionate city is well equipped with sports and cultural facilities. Today, Qinhuangdao is striving to be a green, harmonious, vigorous and charming arena of the 2008 Beijing Olympics Games. There are well developed service facilities, good urban infrastructure and convenient traffic that greatly promote the further development of the city.
- Last modified on Mar. 22, 2019 -
Questions & Answers on Qinhuangdao Travel
Asked by Kayt from RUSSIA | Mar. 11, 2019 18:17

Reply
Which buses can I use from Olympic avenue Park, Beidaihe to Laolongtou?
Answers (1)
Answered by Thomas from UNITED KINGDOM | Mar. 18, 2019 01:34

0

0

Reply
Take public bus no.34 to Wildlife Park Bus Stop and then transfer to tourist bus no.501 to Shanhaiguan Laolongtou Bus Stop. After arriving, you can see the scenic area directly.
Asked by Renata from CZECH | Dec. 29, 2018 09:31

Reply
Shanhaiguan to Jiaoshan and further
Hi, how far is it possible to hike from Jiaoshan? We would like to enjoy some hiking and nice views. And then be able to catch a bus or taxi back to Shanhaiguan. Any tips?
Answers (1)
Answered by Alyssa from GERMANY | Jan. 07, 2019 22:59

0

0

Reply
Generally speaking, you need to use 4 hours to tour around Jiaoshan.
From Jiaoshan to Shanhaiguan Railway Station, you can take Special Bus Line 5. The operating hours of this bus line are from 08:20 to 16:30. The ticket fare is CNY2 per person.
Asked by 124855563

qq.com | Jun. 29, 2018 06:24

Reply
I want to have some seefood in Qinghuangdao,Is there someplace a good choice?
Thank you for you any answer
Answers (1)
Answered by James from USA | Jul. 01, 2018 21:58

0

0

Reply
There is a good chain restaurant called Seafood Residence. The address is at No. 342 Hebei Street, Haigang District.
Asked by Bisheswor Karki from NEPAL | Jun. 21, 2018 09:58

Reply
Can anybody please tell me the exact location for sea cruising place in beidaihe.
How can I go there from beidaihe railway station? Is any bus going there?
Answers (1)
Answered by Cecilia from FRANCE | Jun. 21, 2018 20:34

1

0

Reply
It's Dongshan Cruise Port in No. 8, Donghaitan Rd, Beidaihe Dis. You can take bus 5 to Beisi Lu and then transfer to bus 15 to Lvyou Matou to get there.
Asked by Wayne from UNITED KINGDOM | May. 18, 2018 09:01

Reply
Budget Accomodation Accepting Westerners
Hi, I would really like to pay a three day visit to Qinhuangdao but so far I haven't been able to find anywhere affordable that I can stay that also has the license to accept foreigners.

Can anybody recommend me any budget options for a short stay that will be able to accept foreign guests? My budget is anything less than ¥70 per night.
And I would like to find a place either in the city centre, Beidai area, or even the Shanhaiguan area is okay with me.

Thank you very much
Answers (4)
Answered by Tavia from CANADA | May. 21, 2018 03:47

1

0

Reply
I'm sorry to tell you it may be impossible to find such a cheap hotel to accept foreign guests. The lowest price I know is about CNY 100, a Super 8 which is located at 58 Lianfeng North Road, Beidaihe District, Qinhuangdao.

Answered by Wayne from UNITED KINGDOM | May. 22, 2018 22:40

0

0

Reply
Okay, not to worry. Thank you so much for giving me a hand Tavia.
Answered by Smartxiong from CHINA | Jun. 29, 2018 06:15

0

0

Reply
Maybe you can try the hotels near the college like Yanshan University,these hotels are much cheaper as for students.You can find that in app like Xiechen or Meituan.
Answered by Wayne from UNITED KINGDOM | Jul. 05, 2018 22:45

0

0

Reply
Thanks for the advice Smartxiong, much appreciated.