Beidaihe Scenic Area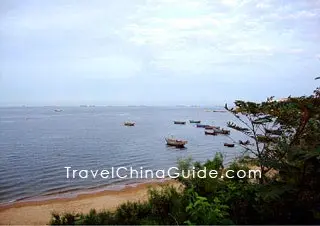 Beidaihe Scenic Area
Beidaihe Scenic Spot is a famous summer resort. It is located in the southwest of Qinhuangdao City. Its coastline, seaside attractions and convenient transportation all make it a popular destination for travelers. The region around Qinghuangdao has a temperate climate, with a monsoon cycle and four distinct seasons. It is neither too hot in the summer nor too cold in winter. On average, there are only about 8 days a year when temperatures reach 86F or higher. The lowest average temperatures rarely reach below 50F, even in the winter, thanks to the Bohai Sea currents. This makes Beidaihe convenient to visit year-round, although the best times to visit are from May to October.

It is estimated that there are about 6,600 hectares of forest and more than 9 acres of wetlands within the boundaries of the Scenic Spot. It also plays an important role in many species of birds' migratory patterns. Every spring and autumn, from mid-March to late May and early September to mid-November, flocks of birds migrating between Siberia and Southern China use Beidaihe as resting grounds. During those periods, tourists can experience the sight of hundreds of red-crowned cranes and white storks flying through the sky. As a result, this area is considered to be China's bird-watching mecca.

Beidaihe's coastline is about 14 miles (22.5 kilometers) long, providing plenty of beach space for tourists to enjoy. Many beachside villas and public facilities have also been recently built in the area, providing visitors with the opportunity to taste local snacks and seafood, ride in a speedboat, or try out ballroom dancing. A stroll on the pebbled sands can allow for a quiet moment away from the crowds.

In the central area of the Scenic Spot is the notable Tiger Stone Park. The area is so named because of the many large rocks there, which are said to resemble a pack of tigers. Climbing among the rocks can give a visitor a good view of the area and a chance to enjoy the —the cool sea breeze brushing against your body, the rhythmic crash of the ocean's waves beating against the tiger stones, and the view of the ocean all might help you relax and get more in tune with nature.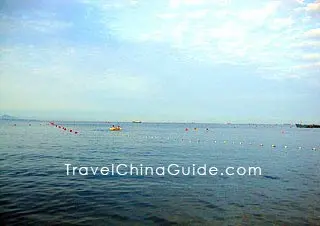 To the east lies another famous attraction, the Eagle Stone (Yingjiao Shi) – a 66-foot (20 meter)-high rock said to resemble an eagle perched on a cliff. Because groups of doves nest in the cracks there, it is also called
Dove Nest Park
. The Eagle Pavilion Pavilion on the top of the Stone is renowned as a great place to watch the sunrise.
The pine-covered
Lianfeng Mountain
behind Beidaihe's beaches comprises three peaks: the east, middle, and west peaks. Taking a secluded path will lead you to the Sea-view Pavilion (Wanghai Ting) at the top of the hill, which offers breathtaking views of the ocean and the surrounding mountains. At the foot of Lianfeng Mountain is the beautiful Lotus Stone Park (Lianhuashi Yuan), so named because of the many large lotus-shaped stones.
In addition to the numerous aforementioned parks, visitors can also take their children to the
Safari Park
, a large zoo that houses over 5,000 animals. Among them are rare animals such as African lions, black swans and Siberian tigers. Tourists can feed and take photos with the animals under the guidance of zoo staff.
With mountains to hike, parks to stroll through, and beaches to enjoy, this scenic area has a wide range of natural scenery to enjoy, and is sure to thrill anyone looking to get away from the hustle and bustle of daily life.
Transportation:
1. From
Beidaihe Railway Station
: Take public bus no.5 or 22, and get off at Haibin Bus Station.
2. From
Qinhuangdao Railway Station
: Take public bus no. 34 to get to Haibin Bus Station.

Beidaihe Community:

Travel Reviews

Photo Album

Further Reading:
12 Popular Beijing Activities to Beat the Summer Heat
12 Best Places to Visit near Beijing
- Last updated on Sep. 09, 2020 -
Questions & Answers on Beidaihe Scenic Area
Asked by Kimia from CHINA | Aug. 24, 2020 22:58

Reply
Is it possible to travel to Beidaihe or Qinhuangdao from Beijing due to the pandemic?
Is there any restriction to travel there due to the pandemic? Is it necessary to buy a ticket for landmarks inside the city days in advance?
please give me a guide. which one is better to travel from Beijing? Beidaihe or Qinhuangdao? which one is worth more and is more beautiful. I want to see European style architecture, as well as nature, green areas, and more important seaside.
Thanks in advance.
Answers (1)
Answered by Aria | Aug. 26, 2020 20:18

0

0

Reply
As I know, you need to show the Green Code and then you are allowed to enter the scenic area. In addition, you are suggested to book the tickets and hotels in advance.
Both Beidaihe Scenic Area and Qinhuangdao Scenic Area are worth to visit if you have enough time. And the public transportation is convenient from Beijing.
Asked by Daniel from SOUTH AFRICA | Sep. 03, 2019 01:56

Reply
Where exactly can one camp in Qinhuangdao Beidaihe? thank you
Answers (1)
Answered by Skyler from CANADA | Sep. 05, 2019 18:44

0

0

Reply
You can go to Pingshuiqiao Park, which is located at No.11, Xijing Road, Beidaihe District.
Asked by Muhammad Shahzaib from PAKISTAN | Jun. 21, 2018 02:21

Reply
Hi, I want to visit Beidaihe for 2 days and one night.
I am planning to reach there on morning of one day around 10 am and leave next day around 8 pm.
Please suggest me places I should visit. Also what is the feasible mode of transportation? Is there public transport available to visit different attractions? Also where should I stay for one night?(it will be helpful if someone can tell me name of a reasonable, not expensive, hotel at good location. I may also have some friends with me). And do anyone know if I can find Halal (Muslim) food there easily? Thanks
Answers (2)
Answered by Harvey from FINLAND | Jun. 21, 2018 21:53

1

0

Reply
You can visit Dove Nest and Tiger Stone Park, besides, a cruise Dongshan Cruise Port is also wonderful.
As for hotels and restaurants, you are suggested to stay near Tiger Stone Park, where many reasonable hotels are located, like Hanting Hotel, Home Inn, and Jinhai Hotel. As for halal food, I remember there is a Lanzhou Beef Noodles in No. 10-13 Haining Rd, Beidaihe Dis.
Answered by Muhammad Shahzaib from PAKISTAN | Jun. 22, 2018 01:55

0

0

Reply
Thanks a lot!
Asked by Sharfuddin from BANGLADESH | Apr. 16, 2018 23:19

Reply
I would like to visit Qinhuangdao and its surrounding.
Can you please suggest me which place is better to stay in terms of price and sea view facilities? if I plan for three days, what places should I explore?
Answers (2)
Answered by Amy from USA | Apr. 17, 2018 19:54

1

1

Reply
You are suggested to live near the seashore in Haigang District, the price is reasonable and the scenery is wonderful! Some hotels like Ali Nana Sea View Apartment in 20 Wenti Rd, Ruyi Shanhai Hotel in 61 Hebei Avenue, and Hanting Hotel in 2 Wenti Rd are good choices.
As for your itinerary, I'd like to give you a rough plan:
Day 1: find a hotel and wander around the seashore, enjoy some local foods.
Day 2 & 3: you are suggested to explore Beidaihe Scenic Area, including Tiger Stone Park, Dove Nest Park, and Lianfeng Mountain.
Answered by Sharfuddin from BANGLADESH | Apr. 18, 2018 01:20

0

0

Reply
thank you.
Asked by Mfai from GREECE | Mar. 19, 2018 15:06

Reply
Is the seashore library in Beidaihe still open?
How to get there from the railway station. Thanks..
Answers (5)
Answered by Clair from DENMARK | Mar. 19, 2018 21:33

1

0

Reply
Yes, it's open and you can take bus 802 to Shenglan Haiyang Gongyuan and then take a taxi to the library.
Answered by Mfai from GREECE | Mar. 20, 2018 04:42

0

0

Reply
Thank you. What is the name and address of library that I can give to taxi driver? I am really trying to find any info online.
Answered by Clair from DENMARK | Mar. 20, 2018 20:28

1

0

Reply
It's called Sanlian Library in New Binhai Avenue, Changli County, and just tell the driver that you would like to go to 最孤独图书馆(Zui Gu Du Tu Shu Guan), which means the loneliest library in the world. He will get it!
Answered by Stacy from UKRAINE | Aug. 30, 2018 02:55

0

0

Reply
Do you know by any chance if this library is opened to public every day? What are the working hours and if there is any entrance fee or something?
Answered by Clair from DENMARK | Aug. 30, 2018 19:02

0

0

Reply
No, it is opened at 9:00 - 17:30 from Tuesday to Friday. No entrance fee is needed but you need to make an appointment in advance in Wechat Account: aranya-library.