Safari Park (Wildlife Park)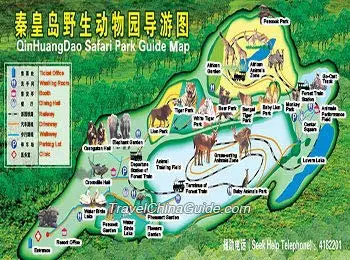 Qinhuangdao Safari Park Guide Map
(Click to enlarge)
Located in the Coastal National Forest Park of Beidaihe Scenic Area between Qinhuangdao and Beidaihe and covering an area of 825 acres (334 hectares), Qinhuangdao Safari Park (Wildlife Park) is a large city safari park with the highest forest coverage rate and one of the most beautiful environments in China. Nowadays, it has become a popular place in the Qinhuangdao Scenic Area and even been listed as a national 4A level scenic spot.
Taking advantage of particularly favorable local natural conditions, this park complies with the concept of "Harmonizing the Relationship between Humans and Nature" and adopts management methods of "Large-scale Captive, Small-scale Free-ranging". In this way, tourists can have a lot of fun by mixing closely with the animals. They can play with the tame ones, feed them and take photos with them; and watch the wild ones at close quarters.
The Safari Park is home to more than 5,000 animals. Among them, there are many rare kinds, such as Siberian tigers, African lions, giraffes, zebras, brown bears, and black swans. They live in 20 different areas, including the Lion Park, Bear Park, Tiger Park, White Tiger Park, Monkey Park, Peacock Park, Animal Training Field and the African Flavor Garden. The Animal Training & Performance Field shows visitors how beasts prey on their food. In the African Flavor Garden, besides the largest herbivorous animals, there are native Africans plants to give a genuine African flavor.
In addition, the park provides several entertainment facilities, such as Go-kart and horse riding, for tourists to fully enjoy themselves. Notably, Lovers Lake is also a popular site in this park, especially for couples who want to have a date.

Recommended visiting route:
Main entrance of the park – Rockery – Lion Park – Tiger Park – Bear Park – White Tiger Park – African Animals Park – Monkey Park – Entertainment Central Square – Herbivore Park – Flowers Garden – Birds Garden
Tips:
1. It is best to visit the Safari Park on sunny days. As it is covered by dense trees, it will not be hot even in summer. If it sprinkles, strolling with an umbrella is also a romantic ting to do.
2. Left Luggage facilities can be found at any booths inside the park. It brings great convenience for those who want to tour on foot. Please refer to the bulletins outside the booths for the service fee.
3. Inside the park, tourists can take small trains to tour around for free by showing the entry tickets. However, a seat in the front row costs CNY20.
4. Tourists can also drive their own cars to tour around the park. It costs CNY50 for a car with 8 or fewer seats and CNY 100 for one with more than 8 seats. If self-driving, keep the windows closed when approaching animals.
5. Food and drinks are allowed to be brought into the park. However, tourists are not allowed to feed the animals with their food. In addition, flammables and explosives are strictly prohibited in the park.
6. Feeding or taking photos with animals is charged additionally, from CNY 10 to CNY 30.
Transportation
Take Qinhuangdao bus no. 34 and get off at Safari Park Station. Then you can walk directly to the park.
Note: Bus no. 34 can be taken at
Qinhuangdao Railway Station
or Beidaihe Haibin Bus Station.
Admission Fee
CNY100 for adults;
CNY50 for children between 3.9 feet to 4.9 feet/1.2m to 1.5m;
Free for children below 3.9 feet (1.2m)
Opening Hours
July to August: 07:30 - 18:30 (No admission after 15:30)
September to next June: 08:30 – 17:00 (No admission after 15:30)
Animal Performances Schedule
09:50, 11:00, 14:30 and 15:40
Note: The performances may be suspended or canceled due to bad weather such as heavy rain and lighting.
Recommended Travel Duration
2.5 – 4 hours
Best Travel Season
May to October

Recommended Nearby Attractions:

Dove Nest Park

Lianfeng Mountain Park

Tiger Stone Park
- Last updated on Apr. 13, 2021 -