Qinhuangdao Attractions - Things to Do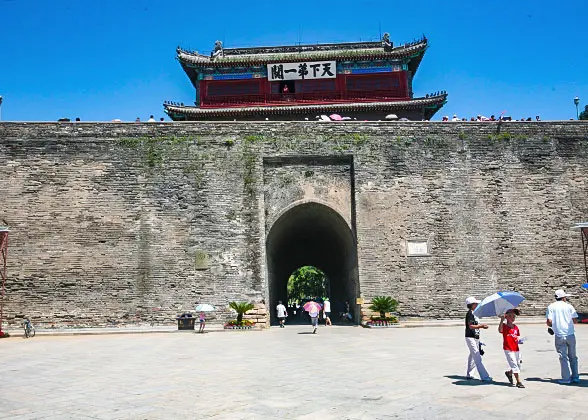 Shanhaiguan Pass
Qinhuangdao, a beautiful coastal resort in North China, has a great reputation for the perfect, natural, all-weather Port of Qinhuangdao, distinguished and historical Shanhaiguan Pass and the ever stunning summer holiday resort, Beidaihe. It has abundant tourist resources, including forests, rivers, lakes, springs, beaches, harbors, temples,gardens, villas, and ancient passes through its mountains. However, the Great Wall and the seashore must be the first temptations for most visitors to that city.

Along the seashore, stretching from the northeast to the southwest, there are five popular tourist zones: Shanhaiguan District, Haigang District (Harbor District), Beidaihe Scenic Area, Nandaihe Tourist Resort and the Golden Coast.

Top Things to Do in Shanhaiguan District
The most renowned scenic area in this district is Shanghaiguan Great Wall, one of the three most important passes of the Great Wall. Built in the Ming Dynasty (1368-1644), it protected the then northern frontier for nearly three hundred years. The famous " First Pass under Heaven" is its east gate. Inside the pass, it used to be a properous town with temples, shops, and folk houses etc, some of which can still be seen today.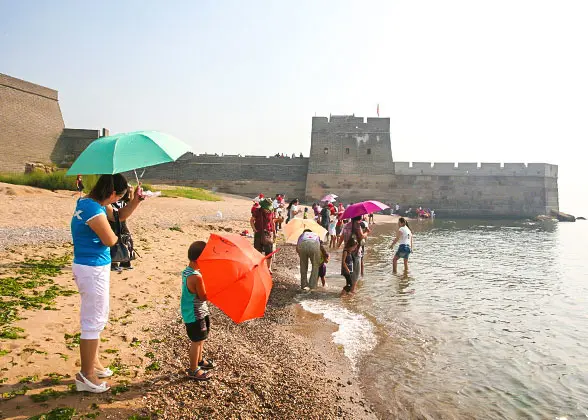 Laolongtou, Wall Like A Dragon's Head
Another famous site of this district is Laolongtou (Old Dragon's Head). Partially built in Bohai Sea, it has been considered as the east end of Great Wall.

1.2 miles (2 kilometres) west of Laolongtou, Ledao (Shanhaiguan Happy Ocean Park) has the largest shark aquarium in China and the largest diving club in North China. In addition, carnival activities are held at various times.

Longevity Mountain, around 5.6 miles (9 kilometres) northeast of the Shanhaiguan District, is an ideal destination combining natural scenery and human landscape. Attractions in the scenic area, such as Stone Gate, Fairy Cave, Heaven of Peace and Happiness, Grottoes of Highly Skilled Doctors, and Xuanyang Ancient Cave, fascinate many tourists.

Top Things to Do in Haigang District
Qinhuangdao is the only city in China named after the title of an emperor. Qinhuang refers to the Emperor Qin Shi Huang of the Qin Dynasty (221BC-206BC), the first emperor in Chinese history. The Tang River estuary, where the emperor searched for the Xi'an (Chinese "Immortals", who attained their immortal status by favor with the gods and possessed magical skills), is also a famous attraction in Qinhuangdao. It is recorded in 215 BC, during an imperial visit to Jieshi, both to the city proper and Changli County, that Qin Shi Huang made a grand obeisance to the sea. After that he sent two groups of people into the sea to look for the "Immortals" and beg for certain elixirs. At the site of his obeisance, he built a large viewing area with a sculpture of himself, standing at the seaside. This area neighbors present-day Dongshan Bath, a fascinating place for bathing in the sea and sun-bathing. For people who love sea-life in general, Xin'ao Marine World is undoubtedly a perfect choice.
| | |
| --- | --- |
| Walking on the Old City Wall | Road to the First Pass Under Heaven |
Dove Nest Park
,
Lianfeng Mountain
,
Safari Park
and
Tiger Stone Park
.
Nandaihe Tourist Resort
Nandaihe is connected by a bridge to the notable summer resort of Beidaihe in Funing County. Blue sea, soft sand, fresh air and plenty of sunshine make Nandaihe one of the country's top seaside resorts. The amusement park built on Xianluo Island has a cableway crossing over the sea, a sightseeing tower, sea-rafts, bungee-jumping and many other exciting activities. There are also Nandaihe Water Park on the south side of Huanhai Lu and Nandaihe International Recreation Center in a forested area of Nandaihe.
Golden Coast Scenic Spot
The Golden Coast covers an area of 145 square miles (376 square kilometers) in Changli County. During the 1980s, people built a sand-sliding area there. That was the first International Sand-skating Sports Center, which brought the Golden Coast quite a bit of fame in this new outdoor sport.
- Last modified on Apr. 15, 2021 -
Questions & Answers on Qinhuangdao Attractions
Asked by Chels from CHINA | Oct. 04, 2019 18:45

Reply
Where can I find personalised wooden carved key rings?
I went to a market in another place in China and saw that you can carve your name into a small rectangle piece of wood. Where can I find it in Qinhuangdao?
Answers (1)
Answered by Rosa from THAILAND | Oct. 11, 2019 19:55

0

0

Reply
Maybe you can go to some local temples to take the chance.
Asked by Fiona from AUSTRALIA | Jul. 06, 2018 08:17

Reply
Is it better to go to Shanhaiguan rather than Qinhuangdao to see Yansai lake?
I haven't seen any mention of Yansai Lake... is this near Longevity Mountain?

Thanks for your help
Answers (1)
Answered by John from CANADA | Jul. 09, 2018 02:03

0

0

Reply
It's located in Shanhaiguan district of Qinhuangdao City and yes, it is near the mountain.
Asked by juan pablo from COLOMBIA | Nov. 13, 2015 21:40

Reply
Hello Im in beijing and really want to go where the Great Wall ends
Can you give me information about it?I know there are trains going to Qinhuangdao. But when i arrive there, how do i get to the part where the wall ends, what would be the budget for a day or 2. And if it is possible without rushing to much to go there and back to Beijing in one day.

The more information you can give me its better, Thanks!
Answers (1)
Answered by Alex | Nov. 14, 2015 03:01

0

0

Reply
Hi there, you are advised to take the train for one stop further and get off at Shanghaiguan, which is closer to the Laolongtou (the east end of the Great Wall). From the railway station, you can take bus 25 to the scenic area directly; duration is about 40 minutes.

If you travel by bullet train, duration is about 2.5 hours, counting another 40 minutes on the city bus. Yes, you can go back to eijing the same day. But you need to depart early in the morning and return late. The earlies train is at 06;58 and the last one back is at 20:58.

For a budget visit (second class seat on a D train, a budget hotel, regular meals, admission fee) for two days, you need about CNY 650-700. If for only one day, you may need CNY 350-400.
Asked by Luisa from ITALY | Jul. 03, 2015 09:59

Reply
The place where the Emperor seeks the Immortality
Hi!
I'd like to know how to reach this place by bus from Qinhuangdao Kaifaqu!

Thanks for your help!
Answers (1)
Answered by Linda from THAILAND | Jul. 06, 2015 20:27

0

0

Reply
Oh, i understand. You must refer to Qinhuang Qiuxian Ruhaichu. There is no direct bus from your location to the shore. You are suggested to take a taxi to reach, and the fare is about CNY25 – 30.
Asked by CJT from CANADA | Aug. 05, 2014 16:58

Reply
If I have one full day and one afternoon in Qinhuangdao, should I spend my full day in 山海關 or 北戴河?
Answers (1)
Answered by Ema from INDONESIA | Aug. 05, 2014 20:42

2

0

Reply
The latter is better, worthy of your a full day's sightseeing.