Qinhuangdao Transportation -- Getting There
Beidaihe International Airport (Code: BPE)
Location: Situated at Longjiadian Town, Changling County, the airport is around 29mi (47km) from downtown Qinhuangdao, and 31mi (50km) from Beidaihe.



Brief Introduction: Put into service on Mar. 31, 2016, the airport replaced Shanhaiguan Airport, which served well the 2008 Beijing Olympic Games, and now is only for military use. Beidaihe Airport offers efficient conditions to receive different sizes' airplanes and hosts considerate domestic and international serving channels. It is expected to transport 500,000 passengers annually.

Currently, navigable air routes from/to Chengdu, Datong, Guangzhou, Harbin, Hangzhou, Nanjing, Shanghai, Songyuan, Shenzhen, Shijiazhuang, Xi'an, Yanji and Zhengzhou have been opened.



Lay-out:
1F: The arrival and departure lobbies for domestic and international passengers are accessible, with 3 domestic and 2 international check-in counters. There are 2 domestic and 2 international security check channels as well as one VIP channel.

2F: It serves as the waiting hall for both domestic and international airplanes, equipped with 4 boarding gates and 2 lounge bridges.



Transportation:
The airport shuttle bus is available at the Minghang Hote. A single trip takes about 1.5 hours and CNY 20 - 40.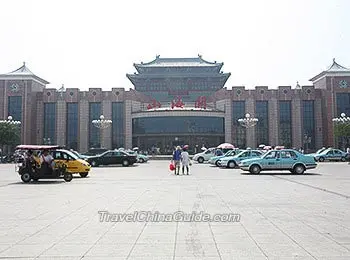 Shanhaiguan Railway Station
There are four railway stations in this city:
Qinhuangdao Railway Station
,
Beidaihe Railway Station
,
Shanhaiguan Railway Station
and Changli Railway Station. The last three railway stations are inclined to be built for tourist purposes.
Qinhuangdao Railway Station is situated in the Beihuan Lu, Haigang District. Buses Nos.2, 3, 4, 6, 7, 8, 9, 10, 18, 19 and 34 run directly to the station. Trains to North China all depart from this station, and all these trains pass through the Beidaihe Railway Station in Daihe Town of Beidaihe District. To get to Beidaihe Railway Station, one can take buses Nos.5, 6, 15 and 22.
Near the Lianhuahu Park and the south gate of Shanhaiguan, Shanhaiguan Railway Station is only 9 kilometers (5.6 miles) from Shanhaiguan Airport. Every day there are ten or so more trains passing through and it is an inevitable stop for trains from Beijing to Shenyang. Special tourist lines from Beijing and Tianjin to Beidaihe and Shanhaiguan will be open during the summer vacation (July and August). Use city-buses Nos. 13, 23, 24, 25 and 34.

Changli Railway Station is located in the downtown area of Changli County, from which buses to the Golden Coast scenic area can be easily found.



See more Qinhuangdao - Beijing Train, Shanghai - Qinhuangdao Train, Beijing - Shanhaiguan Train
Vessel Name
Shipping Schedule
Departure Time
Duration
Ticket Fare
Qinhuangdao
⇔ Inchon
Yujinxiang
(Tulip)
two ships
a week
from Qinhuangdao: 13:00 (Wed. / Sun.);
from Inchon: 12:00 (Mon. / Fri.)
23 hours
CNY900, CNY1400, CNY1950
Note:
Terminal Building of the local port is located at No.109, Donggang Lu, Haigang District
In the central urban area (Haigang District), there are two major bus stations. In addition, there are important tourist bus stations in the Shanhaiguan and Beidaihe Districts which greatly facilitate visitors getting to and around the main scenic areas of the city.
The Long-distance Bus Station (principal station) is 200 meters (218.7 yards) southwest of the local railway station, No.405, Beihuan Lu of Haigang District. Haiyanglu Station is in the middle of Haiyang Lu in the same district, and mainly operates buses to some small places in and around this city. Express buses are available in the principal station. Some details go as follows:
| Destination | Departure Time | Duration | Ticket Price |
| --- | --- | --- | --- |
| Beijing | 07:30-18:00 every 30 to 60 minutes | 3 hours | CNY75 |
| Tangshan | 07:30-18:45 every 45 to 60 minutes | 2 hours | CNY40 |
| Tianjin | 08:00 | 3 hours | CNY60 |
Furthermore, there are common coaches running to Baoding, Chengde, Handan and many other counties and towns around this city.
Beidaihe (Haibin) Long-Distance Bus Station is situated at No.1, Haining Lu in Beidaihe District, right 150 meters (164 yards) from the right side exit of Beidaihe Railway Station. Buses to Beijing, Tianjin Chengde, Shijiazhuang and Zhengzhou are also available from this station. Bus Nos. 5, 15, 21, 22, 25 and 34 take passengers to the station.
- Last modified on Dec. 11, 2019 -
Questions & Answers on Qinhuangdao Transportation -- Getting There
Asked by Bisheswor Karki from NEPAL | Jun. 20, 2018 09:18

Reply
How do I get bus from shijiazhuang to beidaihe?
Answers (1)
Answered by Jude from SWITZERLAND | Jun. 20, 2018 20:31

0

0

Reply
No bus is available and you can take a bullet train from Shijiazhuang station to Beidaihe, which takes about 3.5h.
Asked by Kashifa from CHINA | Jul. 31, 2017 08:22

Reply
How I can travel from qinhuangdao railway station to beidaihe east beach?
I want to visit east beach in beidaihe..can someone please guide which bus I should take from QHD railway station to get to east beach beidaihe? Or if I take taxi ..how much will it charge?
Answers (2)
Answered by David from AUSTRALIA | Jul. 31, 2017 21:12

0

0

Reply
You can take Bus 34 and get off at Liuzhuang, then take a taxi at CNY 5-10 there. Or you can take Bus 37 from Liuzhuang to Danzhuang, then walk east for about 1000 yards to your destination.
If you take a taxi there, it may take you CNY 45-55.

Answered by kashifa from PAKISTAN | Aug. 01, 2017 09:50

0

0

Reply
Thanks for your help..another thing i wanted to ask for was
i. please recommend any good beach around ... beidaihe east beach or dongdaihe?? which one is recommended?

Asked by Yogi from CHINA | Jul. 27, 2017 06:15

Reply
From where I can get the bus to Qinhuangdao in Beijing?
How much time it will take?
Answers (1)
Answered by Dick from GERMANY | Jul. 27, 2017 22:06

1

0

Reply
You can take a coach at Bawangfen Bus Station. This coach departs at 07:30, 08:30, 09:30, 10:00, 10:40, 12:00, 13:00, 14:00, 15:30, 16:00, 17:00, 18:00 and 19:00 with the duration of about 4 hours. The ticket fare is CNY106/person.
Asked by robert from THAILAND | Jun. 26, 2017 07:19

Reply
What is cost of a taxi from Qinhuangdao Airport to Dongli hotel for 1july and back on July 3rd?
And the address is No.4, North Section, Xingye Street, Dongdaihe.
1 traveller with little lugagge except 1 BICCLE in a box (to attend Triathon , Thank you for urgent reply Robert
Answers (1)
Answered by Marco from GREECE | Jun. 27, 2017 02:47

0

0

Reply
Hi, generally speaking, the taxi fee of a single trip is about CNY60.
Asked by Tania from CHINA | Apr. 30, 2016 07:51

Reply
Do you know if there is a place where i can store my case at Shanhaiguan railway station?
I am getting a train to Shanhaiguan, I intend on visiting Laolongtou and First pass great wall, and then will get the train to Qinhuangdao. Is there somewhere I can store my bag (small case on wheels) at Shanhaiguan railway station for about 4 hours?

Thanks in advance
Answers (1)
Answered by Gary from ICELAND | May. 01, 2016 21:33

0

0

Reply
As I know, you can deposit your luggage in the shops or supermarkets near the railway station, and the fare is about CNY10 per piece. Please take the valuables like cash, passport, phones and cameras with you.