Dove Nest Park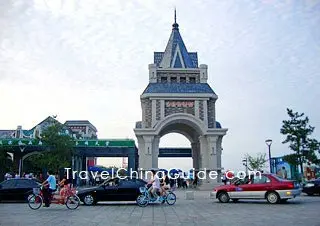 Dove Nest Park
Located at the easternmost part of the Beidaihe Scenic Area of Qinhuangdao City, Dove Nest Park is one of the four major attractions in this area. With an area of more than 50 acres (20 hectares), this park features wonderful natural waterscape and cultural landscape. The blue and limpid water with abundant aquatic plants creates a favorable eco-environment, attracting flocks of doves in spring and autumn; hence giving rise to its name "Dove Nest". Besides, this park is also named as "Eagle Horn's Park" because an eagle-like big stone is standing on the cliff of the seaside.
Dove Nest Park is surrounded by reefs, marshes and shrubberies. It is regarded as an ideal habitat for birds and a heaven of bird watching. The attractions are mainly Eagle Horn Pavilion, Seaside Corridor, the Place of Chairman Mao Viewing the Sea and Composing the Poem, Dove Nest Plateau and Mandarin Duck Lake.
Eagle Horn Pavilion
Located on the mountain behind the eagle-like stone, the Eagle Horn Pavilion was built on the cliff of seaside in 1937 as a summerhouse. The designing of the pavilion embodies the traditional characteristics of Chinese Architectural Style. It is equipped with four stone pillars and a glazed roof. Seeing from afar, the Eagle Horn Pavilion is just like a lighting pearl in this park. Especially, this pavilion is a perfect site to view the sunrise. Every year, because of its advantageous geological location, this pavilion attracts more and more tourists to see the sunrise.
Seaside Corridor
Walking southwest from the Eagle Horn Pavilion, one can see the Seaside Corridor with Square Pavilion and Octagonal Pavilion on each end. With an area of 215 square yards (180 square meters), this corridor which is 54 yards (50 meters) long absorbs the elegant characteristics of both the
Summer Palace
in Beijing and
the Mountain Resort of Chengde
in Hebei. Hundreds of Chinese traditional paintings can be found along the Seaside Corridor. The main contents and themes of these paintings are 24 attractions and 206 folktales in the Beidaihe Scenic Area. Most of them, decorated with special patterns of Chinese flowers, fishes and plants, belong to the traditional colored painting style of Suzhou area. There is also a Book Collection Hall in the south of the corridor for celebrities and tourists to write poems and draw pictures.
Chairman Mao Statue
Besides the beautiful and attractive natural scenery, Dove Nest Park also has a memorial scenic spot, the Place of Chairman Mao Viewing the Sea and Composing the Poem. This place has a statue of Chairman Mao with a height of 10 feet (3.2 meters). The famous poem by Chairman Mao "Beidaihe – to the melody of Langtaosha" (1954) is engraved on the base of the statue. This poem embodies the new life of China and Chinese people, and encourages many Chinese generations to fight for their bright futures.
Dove Nest Plateau
This plateau is regarded as an ideal place for tourists to appreciate different sedimentary landscapes, including wave marks and raindrop traces. Compared with grand spring tides in other scenic areas, the tidewater here is placid and slow. Thus, Dove Nest Plateau wins high popularity among local people and tourists to swim and take sunbaths. In summer and autumn every year, there are always numerous native rare birds to inhabit that also attract many ornithologists.
Mandarin Duck Lake
It is a peaceful lake with a small island in the central part. There are always many lovers going there and rowing boat on the lake. Every summer, tourists can see lots of mandarin duck in the lake which add more romantic atmosphere. If you have sufficient time, take a stroll around the lake and enjoy the slow-paced lifestyle; it is a good way to relax.
Tips:
1. Dove Nest Park feeds over 600 pigeons; all of them have been domesticated, so visitors can play and take photos with them freely.
2. Walk along the nearby seaside road to the cruise port, there are boats or cruise for sea viewing.
3. The park is a good place to view the cherry blossom from late April to early May.
4. There are many sanatoriums near the park, which offer accommodation service for travelers.
Transportation
1. Take bus No. 34 at
Qinhuangdao Railway Station
or Beidaihe Haibin Coach Station to get off at Chitushan bus stop. Then you can easily walk to the park.
2. Take bus No. 37 at
Beidaihe Railway Station
to Chitushan station (North Lianfeng Road). Upon getting off, walk to the park directly.
Admission Fee
Adult: CNY 25;
Children (3.9 to 4.9 feet/1.2 to 1.5m): CNY 15
Free for children below 3.9 feet (1.2m)
Opening Hours
May to September : 03:00 – 18:00
October to the next April : 08:00-18:00
Best Travel Time
April to October
Recommended Visiting Duration
Around 1.5 hours

Recommended Nearby Attractions:

Tiger Stone Park

Lianfeng Mountain Park

Safari Park
- Last updated on Jun. 14, 2021 -
Questions & Answers on Dove Nest Park
Asked by Noie | Jun. 06, 2021 20:34

Reply
Is there an official account of Dove Nest Park where we can buy tickets?
Answers (1)
Answered by Isla | Jun. 14, 2021 19:39

0

0

Reply
Sorry, I didn't find the official account. You are suggested to purchase the ticket when you arriving there.