Baoding Travel Guide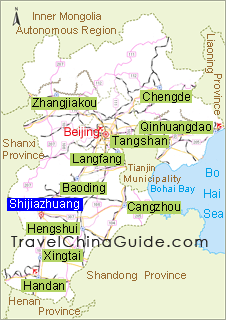 Baoding Facts
Chinese Name: 保定 (bǎo dìng)
Population: 11,860,000
Area: 19,000 square kilometers (7,336 square miles)
Location: in the central area of Hebei Province, north China
Administrative Division: 5 districts (Jingxiu, Lianchi, Mancheng, Qingyuan, Xushui); 4 county-level cities (Xushui, Zhuozhou, Dingzhou, Guo' an, Gaobeidian); 15 counties; 2 development area
Area Code: 0851
Zip Code: 561000
GDP (2019): CNY 355.7 billion (USD 51.56 billion)
South Gate of Beijing
Located in central Hebei Province, Baoding is bounded on the north by Beijing and Zhangjiakou, on the east by Langfang and Cangzhou, and on the south by Shijiazhuang and Hengshui, as well as on the west by Shanxi Province. Seated in the center of Beijing, Tianjin and Shijiazhuang, this city is 140 kilometers (87 miles) south of Beijing, 145 kilometers (90 miles) west of Tianjin and 125 northeast of Shijiazhuang and it is considered as the south gate of Beijing. The short distance from the capital city makes it one of the top tourist destinations to enjoy a weekend trip from Beijing. Baoding possesses a great number of historical sites as well as natural views. Lush forest, inscriptions on precipices and secluded caved at the Yesanpo Scenic Area and a large-scale of lotus at the Baiyangdian Lake are the highlights of a Baoding tour. Besides, Baoding people always advocate culture and pay attention to education. Numerous schools were built from the end of the Qing Dynasty (1636 - 1912). Now, Baoding still has a great number of institutions of higher education.
Baoding Attractions - Things to Do

Yesanpo Scenic Area: an emerging and developing tourist destination combining gorges, rivers, mountains and virgin forests



Baiyangdian Lake: the largest fresh water lake in North China consisting hundreds of shallow lakes and waterfilled depressions



Western Qing Tombs: one of the two grand groups of imperial Mausoleum architecture of the Qing Dynasty.



Ancient Lotus Pool: a famous classical garden in northern China built in 1227 and one of the ten famous gardens in China
How to get to Baoding
There are several trains daily from Beijing and Shijazhuang to Baoding for about two hours. Visitors can also choose buses. Generally, buses to Beijing and Shijiazhuang will depart every 20 minutes. The Tianjin-Baoding Expressway shortens the distance between these two cities into three hours' ride.

Baoding Railway Station located close to city center operates mainly normal trains to/from Beijing, Tianjin, Shijiazhuang, Handan, Chengde, Qinhuangdao, Chengdu etc. And East Railway Station is a high speed train station with trains to/from Beijing, Xi'an, Tianjin, Guangzhou, Taiyuan, Handan, Shenyang and so on.

And Xiong'an Railway Station in Xiongxian County is the largest high speed train station in Asia. It mainly operates bullet trains to/from Beijing and Beijing Daxing Airport now with about 12 departures each day.



See Beijing - Baoding Train
Weather
-
Baoding belongs to the warm temperate zone semi-humid monsoon climate with most rainfall concentrated in summer. It has clear seasons with relatively great temperature difference. For the sand-dust weather, the spring is dry with slight pollution.

When to Go
: Most visitors choose to visit there in autumn for the cool weather. In addition, many tourist festivals and ceremonies are held in summer and autumn, so, they are the best season for visiting.
Baoding Travel Tips

History: The city area originally came into being during the Warring States Period (476BC-221BC). In the Song Dynasty (960-1279), it was ascended to be Baozhou, becoming a big city in North China. The city was destroyed by the southward invasion of Genghis Khan and rebuilt in 1227. In the Ming Dynasty (1368-1644), the central government set up Baoding Shire here. During the early ages of the establishment of PRC in 1949, Baoding acted as the capital city of Hebei Province.



Physical Features: Lying along the east foot of the northern part of Taihang Mountains, the terrain of Baoding inclines from the northwest to southeast and is mainly comprised of the western mountain area and eastern plain. In the east of the plain, there are many waterfilled depressions and shallow lakes.



Local Highlights:
Local traditional operas: Haha-qiang of Qingyuan County, Baoding Laodiao (old tunes)
Local Folk Customs: Lion Dance of Xushui County, Shadoe Play of Zhuozhou City
Folk Music: Luogao Ancient Music of Laishui County
Handicrafts: Quyang Stone Carvings, Baigou Clay Figures, Yishui Inkstone, Twisted-Placenta Artistic Pottery, Reed Knitting
Special Local Products: Baiyangdian Preserved Egg, Kuihuai Pickles



In addition, the Lantern Festival of Zhuozhou City held in the 15th day of the first lunar month, the Peach Blossom Festival of Shunping County in April and the Lotus Festival of Baiyangdian Lake from July 23rd to September 23rd can provide something more perfect to your journey to Baoding.
- Last updated on Jun. 07, 2022 -
Questions & Answers on Baoding Travel
Asked by Mereoni Lord from CHINAL | Sep. 26, 2018 22:23

Reply
Hi, I would like to know how to get to Anxin County from Baoding City?
Answers (1)
Answered by Emery from USA | Sep. 27, 2018 20:27

0

0

Reply
Hello,
you can take the direct bus at the terminal station to Anxin, departing from about 08:00 to 19:00. The duration is about 1 hour and the ticket fare is CNY 15 per person.
Asked by LEEGWISU from SOUTH KOREA | Aug. 03, 2018 16:29

Reply
How to get to Baishishan Mountain in Baoding city by public transportation ?
I want to know how to get there by public transportation?
Answers (1)
Answered by Frank from CANADA | Aug. 07, 2018 00:46

0

0

Reply
It's not very convenient to take public transportation because the nearest bus station 661 is about 6.5km from the scenic area.
Asked by Alice from MALAYSIA | Jul. 23, 2018 00:51

Reply
Western Qing Tombs to Baoding
I will travel by long-distance by from Beijing to Western Qing Tombs after the visit there I want to travel to Baoding or Baiyangdian, but I cannot find much information re: transport to/from Baoding. Can you help?
Answers (3)
Answered by George from GEORGIA | Jul. 23, 2018 19:06

0

0

Reply
You can take a bus or taxi to Yi County first, then take a bus from the bus station to Baoding.
Answered by Alice from MALAYSIA | Jul. 23, 2018 20:10

0

0

Reply
Thank you. Yi county and Yixian are the same I believe. Searches with Yi county often don't produce results. Any idea where I can get bus schedules. I don't want to miss the last bus. Are there accommodation nearby in case I do? Thanks for your help.
Answered by George | Jul. 24, 2018 18:55

0

0

Reply
You can take bus line 681 to from Yixian Bus Station to Xilu Gang Station and then transfer to bus line 6 to South Gate of Jingxiu Park to the central area to BD. The operatime of 681 is from 5:15 to 17:40. Of course, there are a lot of hotels in that county.
Asked by Alex from MALAYSIA | May. 29, 2018 02:08

Reply
I'm planning to go to Baoding from Tianjin by bus.
Could anyone tell me which bus to use from which bus station in Tianjin (and where would it arrive in the destination?)
Answers (1)
Answered by Kevin from USA | May. 30, 2018 22:33

0

0

Reply
There is a bus departing at 9:35 from Tongsha Bus Station in Tianijn to BD Bus Station.
Asked by Sanyaluk from THAILAND | Mar. 17, 2018 22:35

Reply
How to go to east railway station from Baoding railway station by public transportation?
Answers (2)
Answered by Nigel from UK | Mar. 19, 2018 02:36

0

0

Reply
Take Bus K1 to the East Station directly.
Answered by Sanyaluk from THAILAND | Mar. 19, 2018 07:50

0

0

Reply
Thank you.