Langfang Travel Guide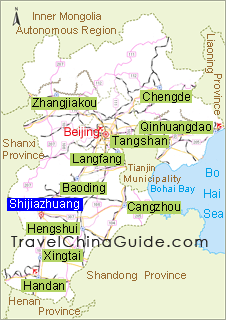 Langfang Facts
Chinese Name: 廊坊 (láng fáng)
Population: 4,795,000
Area: 6,429 square kilometers (2,482 square miles)
Location: in the east-central of Hebei Province, north China
Administrative Division: 2 districts (Guangyang, Anci); 2 county-level cities (Sanhe, Bazhou); 6 counties (Dachang, Xianghe, Yongqing, Gu'an, Wen'an, Dacheng)
Area Code: 0316
Zip Code: 065000
GDP (2019): CNY 319.6 billion (USD 46.326 billion)
The City Situated Midway Between Beijing and Tianjin
Situated in the eastern-central part of Hebei Province, Langfang borders Beijing to the north, Tianjin to the east, Cangzhou to the south, and Baoding to the west. The urban Langfang is 40 kilometers (25 miles) away from Tiananmen Square in Beijing, 60 kilometers (37 miles) away from the central area of Tianjin and close to Beijing Daxing International Airport. The Grand Epoch City, which imitates the cityscape of Beijing in the Ming and Qing Dynasties, is the biggest attraction of Langfang tourism. The city has 22 ancient buildings and royal gardens which represent the scenery of the Old Summer Palace.
Langfang Attractions - Things to Do
Grand Epoch City
Located in Anping Town in Xianghe County, about 22 miles from Langfang City, Grand Epoch City is a large tourist resort that recreates the original scenery of old Beijing during the Ming (1368-1644) and Qing (1644-1911) dynasties. It is a reproduction of an ancient architectural complex which conveys the essence of Chinese culture in both past and present times.

Grand Epoch City is composed of an outer city and an inner city. From the vast square in front of the inner city, you can see the moat and the Golden-River Bridge across it. Every morning, at nine o'clock, there is a grand ceremony recreating the traditional way of opening the city gate. Walk across the Golden-River Bridge and you come to the most unique place in Grand Epoch City. Here, the old Beijing City Wall has been reborn. There are ten city gates which have been built to replicate the originals. They are Yongding Gate, Zuoan Gate, Youan Gate, Guangan Gate, Guangqu Gate, Dongbian Gate and Xibian Gate as well as two turrets and one embrasure watchtower.

Pass through the huge Yongding Gate, and you enter the inner city where a replica of the Old Summer Palace (Yuanming Yuan) lies in the eastern quarter. Covering an area of 186,574 square yards, it was rebuilt to include eight scenic sights according to the original look of Yuanming Yuan. They are Zhengda Guangming (Open and Aboveboard Hall), Pinghu Qiuyue (Smooth Lake and Autumn Moon Hall), Jiuzhou Qingyan, Wanfang Anhe, Shangxia Tianguang, Dashuifa, Yuanyingguan and Wanhuazhen. Here, you can experience and admire the extravagant luxury of Yuanming Yuan in the past.

The western section of the Grand Epoch City is a high-tech amusement park which contains several entertainment attractions such as Donggan (Energetic) Cinema, Super Train and Animal World.

Welcome to Grand Epoch City. It will take you back to the old Beijing.
Nature Park
Located in the northwestern outskirt of Langfang City, the Nature Park is the natural landscape famous for its rustic charm. Covering an area of 193 hectare, 90% of it is verdant woods where more than 40 varieties of wild birds established their homes. An artificial lake in the middle of the park sparkles brightly in the sunlight. To the west of the lake stands a newly built cultural forest of tablets. To the east, one finds eight lifesize white marble elephants. To the north is an animal sightseeing park. To the south, on the other hand, is the elegant and classic "Jingyun Fengqing" (The Appeal and Charm of Beijing) which resembles the courtyard layout of the Qing Dynasty (1644 - 1911). Moreover, many pieces of commemorative woodlands have been opened recently, such as Qingnian (Youth) Wood, Jinguo (Heroine) Wood, and Shimin (Citizen) Wood.

Covered by green wildwood, Langfang Nature Park appeals to those intending to return to nature and emphasize on living harmoniously with nature. It enjoys a resounding prestige over Hebei Province and north China.

How to get to Langfang
This city is only a 20 or 30 minute ride from Beijing and Tianjin respectively. There are buses and trains daily from this city to Beijing and Tianjin departing every 15 to 20 minutes. Many trains go to Beijing and Tianjin via the city, the trip taking about one hour.
Weather
-
Langfang enjoys a temperate, continental monsoon climate with four clear seasons. The weather in spring is dry and windy, and it is hot and rainy in summer. Autumn is cool and comfortable, while winter is chilly. January is the coldest month with an average temperature of 4.7°C (40.5°F) and July the hottest with an average temperature of 26.2°C (79.2°F).

When to Go
: Autumn is the best season in which to visit there.
Langfang Travel Tips

Physical Features: The terrain of the city is low and flat. Depressions and dunes can both be found in this area. Its northern part is mainly comprised of hills and mountain areas. But the central and southern part of the city is alluvial plain which is much lower in altitude.



History: According to historical records, ancestors of the Langfang people inhabited this area as early as 6,000 thousand years ago. It was included in the territory of the Yan Kingdom during the Warring States Period (476BC-221BC), and as a national boundary of the Song Dynasty (960-1279) and Liao Kingdom (an ethnic regime in north China). It was just a small and shallow village in the eighteenth Century and gradually became a town in the late Qing Dynasty (1644-1911).



Special Local Products:
Foods: pear, walnut, golden thread small jujube
Handicrafts: willow knitting of Gu'an County, cloisonne



Langfang New Century Walk Street is a good shopping destination which is located in the central downtown area. The European style architecture of the street truly provides a feast for the eye. In addition, the city has rich geothermal resources. It is a wonderful idea to have a spa in the Mingtang Hotspring in Bazhou City.
- Last updated on Apr. 15, 2020 -
Questions & Answers on Langfang Travel
Asked by Elaine Elisabetsky from BRAZIL | Sep. 09, 2019 10:16

Reply
Is it a good idea to visit Langfang in October? How many days you suggest for tourism?
Answers (1)
Answered by Connor from FRANCE | Sep. 10, 2019 00:27

0

0

Reply
Yes, it will be ok for you to visit the city in October. You can spend 2 or 3 days to tour around.
Asked by Zita | Jan. 08, 2019 12:09

Reply
Hi, is there a direct train or bus from Beijing to Gu'an? Or how is it possible to get there?
Answers (1)
Answered by Fanny from AUSTRALIA | Jan. 10, 2019 21:40

0

0

Reply
Do you refer to Gu'an County in Langfang City?
If yes, there is no direct train between these two places. Thus you can take a coach from Muxiyuan Coach Station directly. The bus schedules are from 06:10 to 17:20. The ticket fare is CNY13 to 18 per person.
Asked by Navneet Bhatnagar from INDIA | Jul. 22, 2018 19:58

Reply
I want to go from Linyi to Langfang city by train. Can any one suggest the best route?
Is there any direct train between the two cities?
Answers (1)
Answered by Michelle from UNITED KINGDOM | Jul. 23, 2018 01:52

0

0

Reply
Yes, one train departs from LY at 14:43 and it takes around 12.5 hours to get.
Asked by Lyailya from KAZAKHSTAN | Feb. 20, 2018 01:21

Reply
please i want to make police certfcate no crime record.
please advice some agency whom i can to apply?
Answers (1)
Answered by Phebe from FRANCE | Feb. 23, 2018 01:08

0

0

Reply
If you need a no crime record in China, you are suggested to apply for it in local Public Security Bureau; if you it refers to the record in your country, you need to contact an agency of your country to help you.