Handan Travel Guide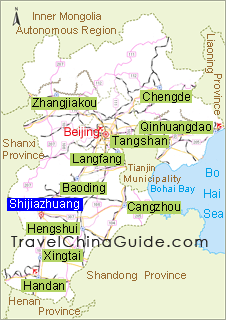 Handan Facts
Chinese Name: 邯郸 (hán dān)
Population: 952,800
Area: 12,073.8 square kilometers (4,661.72 square miles)
Location: in the south of Hebei Province, north China
Administrative Division: 6 districts (Congtai, Fuxing, Handan, Fengfeng Mining, Feixiang, Yongnian); 1 county-level city (Wu'an); 11 counties (Jize, Qiuxian, Quzhou, Guantao, Shexian, Guangping, Cheng'an, Weixian, Cixian, Linzhang, Daming); 1 new district (Jinan); 1 high and new technology industrial development zone
Area Code: 0310
Zip Code: 056000
GDP (2019): CNY 348.6 billion (USD 50.53 billion)
The Capital of Chinese Idioms and Allusions
Located in the south of Hebei Province, it is in the communication center of Hebei, Henan, Shanxi and Shandong within 200 kilometers (124 miles) away from the capital cities of these four provinces and about 450 kilometers (280 miles) from Beijing and Tianjin. Being an important transportation hub, Handan possesses the integrated transport means of railway, highway and aviation, which can serve 13 cities nearby with a population of 70 million. Handan is also a famous historical and cultural city. Among the idioms and allusions people use in daily life, there are 1,584 of them from Handan or related to Handan. A large amount of historic sites including mausoleums, temples, inscriptions on a tablet and grottoes are now highlights of Handan tourism. The Wahuang Palace, Jingniang Lake and Xiangtangshan Grottoes are the most popular attractions. Travelers can get deep cultured in this ancient city and learn about the interesting idioms.
Handan Attractions - Things to Do
Wahuang Palace
Commonly referred to as "Nainai Ding" (Grandma Temple), Wahuang Palace is located in Fenghuang Mountain in northwestern Shexian County and about 68 miles to the west of Handan City. First built in Northern Qi Dynasty (550 - 577), it was constructed in remembrance of Nuwa, a goddess in Chinese mythology. The whole structure was built along the contour of the mountain. The elegance of the construction demonstrates the ingenuity and high level of Chinese ancient architecture.

Jingniang Lake
Jingniang Lake is an enchanting land with green hills and clear water. It is located in the northwest of Wuan city and about 37 miles away from Handan City. Its name originated from the touching story of Zhao Kuangyin, the first emperor of the Song Dynasty (960 - 1279) who sent off the girl he rescued, Jingniang.

Embraced by verdant mountains, Jingniang Lake is picturesque with a variety of both natural and artificial formations. The latter is ever so vividly created that they blended well into the environment and were created based on historical stories. There are 18 scenic sights in all, including Gaoxia Pinghu (Calm Lake Rising from the Steep Gorge), "Fury Lion Raises Its Head", Jingniang Gorge, Songzu Gorge and Xianling Gorge.

Jingniang Lake was originally known as Koushang Reservoir which is the inverted Chinese character "人" and has eastern and western branches. After years of exploration and development, it has become a tourist resort.

Xiangtangshan Grottoes
Construction began in the year of 550AD. The sight is comprised of 16 grottoes with thousands of Buddha statues and offers a good opportunity to study Buddhist architecture, caving, painting and Calligraphy.
How to get to Handan
Handan Airport
, 14 kilometers (9 miles) to downtown, has opened direct flights to/from about 18 domestic cities, including Shanghai, Guangzhou, Shenzhen, Chengdu, Chongqing... To get to downtown, passenger can take airport shuttle bus, city bus line 604 and taxi.
Transport from Handan to Beijing, Tianjin and Shijiazhuang is very convenient. Visitors can depart from there by train or long-distance bus to these big cities. The trips take respectively about 5, 6 and 2 hours.

See more
Beijing to Handan Train
Weather
-
Handan City enjoys a continental monsoon climate and features four clear seasons. It is dry and windy in spring, hot and rainy in summer. The weather is temperate and cool in autumn and chilly in winter. The average temperature for the year is about 13.5

C (51.8

F). January is the coldest month and July the hottest of a year.

When to Go: Summer and autumn are the best seasons to visit that city.
Handan Travel Tips

History: The Cishan Culture made this area a glowing pearl in Central Plain of China about 8,000 years ago. As the most time-honored city in Hebei, Handan was the capital of Zhao Kingdom in Warring States Period (476BC-221BC) as a political, economic and cultural center of northern China. In Han Dynasty (206BC-220AD), it enjoyed a high reputation as one of the five essential cities of China. Then it gained its name for the Hanshan Mountain in the east of the city.



Physical Features: The city lies at the east foot of Taihang Mountains, and borders the North China Plain in the east. Euptelea and Wild Herbal Flowers of Taihang Mountains are the unique plant of Handan City. It also has rich reserves of coal and iron.



Local Specialities: Donkey meat sausage, Congtai wine, Cizhou pottery



Local Highlights: As an old city with thousands of years of history, Handan has inherited a rich cultural heritage, such as Chinese idioms and legends, folk arts, such as Buddhist temple music, Shan Gu Wu (dance with fans and drums), and Yongnian Tai Chi (a style of Tai Chi originating in Yongnian County).
- Last updated on Jun. 07, 2022 -
Questions & Answers on Handan Travel
Asked by SERAH from ZAMBIA | Oct. 20, 2023 03:25

Reply
Hi i what to come to Hebei to buy castrol oil where is the plant located?
Hi i what to come to Hebei to buy Castrol oil where is the plant located?
Answers (1)
Answered by Andy | Oct. 22, 2023 19:09

0

0

Reply
As I know, there is no plant of the brand in Hebei and only some stores can be found.
Asked by Peter from NETHERLANDS | Apr. 16, 2018 04:53

Reply
Is Handan or East railway station best for a bus connection to Guanfu ancient town?
Answers (2)
Answered by John from GERMANY | Apr. 16, 2018 21:37

1

0

Reply
Actually, it's Guangfu Ancient Town. From HD East Railway Station, you can take bus 11 to 11 lu Linshi Tingkao Zhan and interchange to bus 605 to Guangfucheng Nanmen.
Answered by SHEPHATIAH | Mar. 02, 2020 22:41

0

0

Reply
You'd better choose the Handan Railway Station, because of the bus station beside.
The bus station is south 150m away, very near. And you can find bus 605 easily.
Asked by Bimmy from INDIA | Nov. 06, 2017 02:02

Reply
Xiangtangshan Grottoes
Last year the grottoes were closed for renovating the area, are the Xiangtangshan Grottoes open now? If so, is there a direct bus from Handan East Station to the grottoes or would I need to go to the bus station near the Handan train station in the city to take a bus to the grottoes? Thanks in advance.
Answers (1)
Answered by Selina from CANADA | Nov. 06, 2017 18:50

0

0

Reply
Yes, it's open to public now.
You can take Bus 5 to Tiedaoqiao, which is about 2km west to your destination.So then you can take a taxi or local car there.
Asked by Jan from SINGAPORE | Jun. 21, 2016 23:46

Reply
Is there bullet train from Shanghai airport to Handan city?
Answers (2)
Answered by Joe from USA | Jun. 22, 2016 00:41

0

0

Reply
I am sorry that no bullet train is available. You may take shuttle bus line 5 from PVG to Shanghai Railway Station. Then, take an ordinary train to the destination. The train departs at 11:12, and the trip takes about 17 hours.
Or, you may fly to the city from PVG directly (about 2.5 hours). :)
Answered by Helen from CANADA | Jun. 22, 2016 04:52

0

0

Reply
Yeah, no bullet train is available between the two cities, and only one ordinary train runs between. So direct flight is the best way to go.
Asked by Ng c k from MALAYSIA | Jan. 21, 2016 20:23

Reply
Many Handan - Shanghai/ Tianjin/ Beijing flights?
Answers (1)
Answered by Amy from USA | Jan. 22, 2016 01:45

1

0

Reply
To Shanghai, there are only a few direct flights. And there is no direct flight that can take you to Tianjin and Beijing.
So to Tianjin, you can take direct bullet train from East Railway Station. The train schedules are 08:15, 10:02, 11:31, 12:45, 15:09, 17:05, 18:42 and 20:23. It takes around 3 hours on the way. The ticket fare of second class seat is CNY203 and first class seat is CNY325.
To Beijing, you can also take high-speed train from East Railway Station. The schedules are from 08:09 to 21:24. The duration is about 2 hours. Second class seat costs CNY209 and first class seat costs CNY335.