Handan Travel Guide
Handan Facts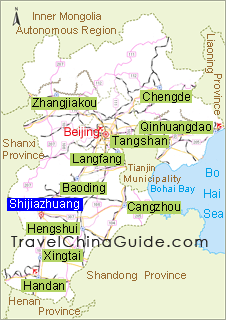 Chinese Name: 邯郸 (hán dān)
Population
: 8,841,000
Area
: 12,074 square kilometers (4661 square miles)
Nationalities
: Han, Hui
Location: Located in the south of
Hebei Province
it is in the communication center of Hebei, Henan, Shanxi and Shandong provinces within 200 (124 miles) kilometers away from the capital cities of these four provinces and about 500 kilometers (311 miles) from Beijing and Tianjin.
Administrative Division
: 4 districts; 1 county-level city; 14 counties
Useful Numbers
:
Tourist Complaint: 0310-3216667
Weather Forecast: 121
Bank of China: 95566
Handan Attractions - Things to Do
Commonly referred to as "Nainai Ding" (Grandma Temple), Wahuang Palace is located in Fenghuang Mountain in northwestern Shexian County and about 68 miles to the west of Handan City. First built in Northern Qi Dynasty (550 - 577), it was constructed in remembrance of Nuwa, a goddess in Chinese mythology. The whole structure was built along the contour of the mountain. The elegance of the construction demonstrates the ingenuity and high level of Chinese ancient architecture.

Jingniang Lake
Jingniang Lake is an enchanting land with green hills and clear water. It is located in the northwest of Wuan city and about 37 miles away from Handan City. Its name originated from the touching story of Zhao Kuangyin, the first emperor of the Song Dynasty (960 - 1279) who sent off the girl he rescued, Jingniang.

Embraced by verdant mountains, Jingniang Lake is picturesque with a variety of both natural and artificial formations. The latter is ever so vividly created that they blended well into the environment and were created based on historical stories. There are 18 scenic sights in all, including Gaoxia Pinghu (Calm Lake Rising from the Steep Gorge), "Fury Lion Raises Its Head", Jingniang Gorge, Songzu Gorge and Xianling Gorge.

Jingniang Lake was originally known as Koushang Reservoir which is the inverted Chinese character "人" and has eastern and western branches. After years of exploration and development, it has become a tourist resort.

Xiangtangshan Grottoes
Construction began in the year of 550AD. The sight is comprised of 16 grottoes with thousands of Buddha statues and offers a good opportunity to study Buddhist architecture, caving, painting and Calligraphy.
How to get to Handan
Transport from Handan to Beijing, Tianjin and Shijiazhuang is very convenient. Visitors can depart from there by train or long-distance bus to these big cities. The trips take respectively about 5, 6 and 2 hours.

See more
Beijing to Handan Train
Weather
-
Handan City enjoys a continental monsoon climate and features four clear seasons. It is dry and windy in spring, hot and rainy in summer. The weather is temperate and cool in autumn and chilly in winter. The average temperature for the year is about 13.5

C (51.8

F). January is the coldest month and July the hottest of a year.

When to Go: Summer and autumn are the best seasons to visit that city.
Handan Travel Tips

History: The Cishan Culture made this area a glowing pearl in Central Plain of China about 8,000 years ago. As the most time-honored city in Hebei, Handan was the capital of Zhao Kingdom in Warring States Period (476BC-221BC) as a political, economic and cultural center of northern China. In Han Dynasty (206BC-220AD), it enjoyed a high reputation as one of the five essential cities of China. Then it gained its name for the Hanshan Mountain in the east of the city.



Physical Features: The city lies at the east foot of Taihang Mountains, and borders the North China Plain in the east. Euptelea and Wild Herbal Flowers of Taihang Mountains are the unique plant of Handan City. It also has rich reserves of coal and iron.



Local Specialities: Donkey meat sausage, Congtai wine, Cizhou pottery



Local Highlights: As an old city with thousands of years of history, Handan has inherited a rich cultural heritage, such as Chinese idioms and legends, folk arts, such as Buddhist temple music, Shan Gu Wu (dance with fans and drums), and Yongnian Tai Chi (a style of Tai Chi originating in Yongnian County).
- Last modified on Oct. 12, 2019 -