Genting Resort Secret Garden
Located in Chongli County, Zhangjiakou City, Hebei Province, the Genting Resort Secret Garden is an ideal place for snow and mountain sports. The average temperature is 38

F (3.3

C), and the snow period is as long as 150 days, running from late November to late March of the next year.
Beijing and Zhangjiakou have host the
2022 Winter Olympics
from February 4th to 20th. During the games, the Genting Resort Secret Garden staged the freestyle skiing and snowboard skiing.
Skiing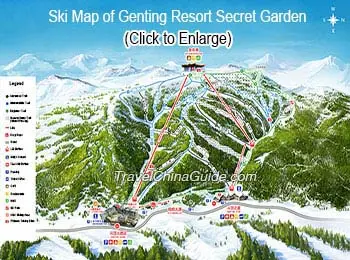 Ski Map of Genting Resort Secret Garden
The construction of the ski resort is sponsored by Malaysia's Genting Group and China's Excellence Group. When completed, it will be the largest snow tourist spot in China. By then, there will be 87 ski trails, with a total length of 43 miles (70 kilometers) and a total area of 647 acres (262 hectares). The ski resort will be able to accommodate 19,610 skiers at one time. Additionally, 22 cable lines will be installed, with a combined length of 19 miles (30 kilometers).
So far, 35 ski trails have been opened in the ski resort for beginners, intermediate skiers, and advanced skiers. Advanced Italian snow-making and grooming machines provide sufficient snow for skiers. The ski resort is equipped with a snowboard entertainment zone for snowboard skiers. Moreover, three cable lines and two magic carpets are already in use. Skiers and sightseers can be carried up and down the mountains easily by cable cars, chairlifts, or magic carpets.
With a length of 1,985 yards (1,815 meters) and a vertical drop of 1,296 feet (395 feet), Cable Line 1 provides people with both cable cars and chairlifts. It can transport as many as 2,400 people per hour. In contrast with Cable Line 1, Cable Line 5 and Cable Line 6 provide four-rider chairlifts to shuttle people up and down the mountains. Cable Line 5 can transport 2,025 people per hour, with a length of 615 yards (562 meters) and a vertical drop of 230 feet (70 meters). With a gross capacity of 2,220 people per hour, Cable Line 6 has a gross length of 1,264 yards (1,156 meters) and a drop of 925 feet (282 meters). Additionally, the two magic carpets can carry 1,500 people and 1,420 people per hour respectively.

Warm Reminders
1. Pregnant women and people who suffer from heart disease or high blood pressure are forbidden to ski.
2. Never ski after drinking alcohol.
3. Select an appropriate ski trail according to one's skiing ability.
4. Control your speed and gesture so as to stop easily and avoid collisions.
5. Pay attention to the signs along the trails and avoid closed trails and areas.
6. Mind your safety when taking the cable cars, chairlifts, or magic carpets.
Skiing Price (2022 - 2023)
CNY1,275 for 3 times of skiiing;
CNY2,022 for 5 times of skiing;
CNY2,688 for a youngth seasonal card allowing unlimited skiing for those between 12 and 22 years old;
CNY4,688 for a card allowing unlimited skiiing on non-holiday days during 2022 - 2023 skiing season;
CNY5,288 for a card allowing unlimited skiing in 2022 - 2023 skiing season.
Mountain Sports
The Genting Resort Secret Garden is an ideal place for mountain sports, including mountain bike riding, mountain climbing, and camping.
The Mountain Bike Park is the most professional and advanced in China. There are three professional trails. The Marmot Trail is a primary cross country trail, with a total length of 4,046 yards (3,700 meters). The Cloud Crossing Trail is the most professional downhill trail in China, measuring 4,593 yards (4,200 meters) long. The Deer Hunting Trail is a professional cross country trail, with a length of 12,030 yards (11,000 meters).
Mountain climbing is beneficial to people's eyesight, hearts, lungs, arms, and legs. There are three paths for mountain climbing in the ski resort, including the Youtian Path, the Cantian Path, and the Xiaotian Path.
Apart from mountain bike riding and mountain climbing, camping is very popular. There are three different camps, including the Golden Flower Pavilion Camp, the Watchtower Camp, and the Valley Camp. Camping lovers can have a great time here!
Opening Hours
The Genting Resort Secret Garden is open from 8:30 to 16:30.
Genting Resort Secret Garden is about 220km (137mi) north to Beijing.



Shuttle bus: 4h, CNY100
| From Beijing ↓ | From Genting Resort ↑ | Pick-up Site |
| --- | --- | --- |
| 07:00 | 21:00 | Exit F of Guomao subway station on line 1 & line 10 |
| 07:30 | 20:30 | Exit A of Huixinxijie Nankou subway station on line 5 & line 10 |
| 08:00 | 20:00 | Exit C of Jiandemen subway station, on line 10 |
| 12:20 | 16:00 | Parking lot no. 2 of Genting Resort Secret Garden |

Long-distance Bus:
→ Take a long-distance bus to Chongli County at Beijing Lianhuachi Long-distance Bus Station: 3 hours, CNY80/person.
Schedule: 07:00, 07:30, 09:00, 13:00, 14:30
→ A. Hail a taxi to the ski resort for a distance of 24km (15mi): 15min, CNY50-60.
B. Go to Chongli Hornesy Hotel or Rongchen International Holiday Hotel to take the shuttle bus to the ski resort: 40min, CNY20. The bus departs from Hornesy Hotel at 08:00, picks up passengers at Rongchen International Holiday Hotel at 08:10, and arrives at the ski resort at 08:45. It returns at 16:00.



Train:
→ Take a train from Beijing Railway Station or West Railway Station to Shalingzi West Railway Station: 3-4h, CNY20–30 for a hard seat & CNY45–50 for a soft seat.
→ Transfer to city bus special line 1 or 10 to Zhangjiakou Long-distance Bus Station: 50min, CNY1; or take a taxi to the coach station: 15min, CNY30.
→ Board a coach to Chongli: 60-70min, CNY20.
→ Take a taxi to the ski resort.

Note: Zhangjiakou South Railway Station is now closed due to the construction of Beijing – Zhangjiakou high speed rail road.



Further Reading:
Tips on Skiing
Ski Resorts in Zhangjiakou
Ski Resorts in China
- Last updated on Mar. 04, 2022 -
Questions & Answers on Genting Resort Secret Garden
Asked by CC from AUSTRALIA | Oct. 30, 2019 20:12

Reply
Is hiring a car or van to drive to Secret Garden easily available from Beijing?
Do you need an international driver's permit?
Is there parking at Genting Resort?
Is it easy to hire 4WD (4 wheel drive) cars from Beijing to drive to the resort? Do you need to also hire chains?

Answers (1)
Answered by Kimi from USA | Nov. 03, 2019 20:00

0

0

Reply
It is not that easy for foreigners to drive a car cross the province. It is suggested to hire a local driver.
Asked by B from GERMANY | Jan. 04, 2018 16:29

Reply
Where does the shuttle bus to Genting Secret Garden depart?
Answers (1)
Answered by Olivia from NEW ZEALAND | Jan. 04, 2018 19:43

0

0

Reply
You can find it in the No.2 Parking lot.
Asked by Joe from USA | Dec. 06, 2017 03:46

Reply
Cultural Tourism Close to Genting Secret Garden
Are their any cultural destinations that would be interesting for someone to visit that are in close proximity to the Ski Resort. That is to say, are their any temples or something of that sort that would be interesting to visit while spending time at the Resort. I would appreciate any help or advice. Kind Regards...
Answers (1)
Answered by Liela from USA | Dec. 06, 2017 20:43

0

0

Reply
Sorry, but no such a place is nearby.
To visit temples, you can take a regular bus to Zhangjiakou South Railway Station and then take a taxi to Huguo Temple.
Asked by Maggie from AUDTRALIA | Aug. 24, 2017 07:15

Reply
how can I get back to Bejiiing after a day of skiing at Genting Resort Secret Garden?
Answers (3)
Answered by Tom from FRANCE | Aug. 24, 2017 21:38

1

0

Reply
Well, you can take the direct long distance bus, which returns to Beijing at 16:00. You may find it at the Lobby of Genting Resort Hotel.
Answered by Maggie from AUSTRALIA | Aug. 25, 2017 03:00

0

0

Reply
Thanks so much but I need to leave after 9.00 following an aerial skiing competition in December. Any ideas re this problem really appreciated.
Answered by Linda | Aug. 25, 2017 03:23

0

0

Reply
As I know, shuttle buses are available from the resort to Zhangjiakou and the first leaves at 09:20. You may catch. Then go to Zhangjiakou North Bus Station to take a long-distance bus to Beijing.