Ski Resorts in China

Tips on Skiing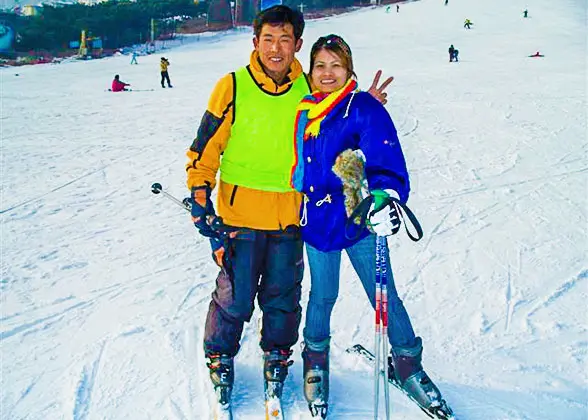 Ski Resort in China
If you are ready to start a winter trip to China, do not miss the chance to embrace snow. There is no shortage of wonderful ski resorts and well-equipped skiing fields throughout China and they will bring great delight to your winter vacations. Apart from Qinghai-Tibet Plateau and the lofty peaks above the snow line in north part of the country, Northeast China has the longest snow period, averagely about 150-200 days every year. According to the statistics of nationwide meteorological stations, the Heavenly Lake in Changbai Mountain, Mohe in the northernmost of Chinese territory, Urumqi, Daxing'anling Mountain, Harbin and northern Inner Mongolia have the longest snow cover period with rich snow tourism resources in nearby areas.
Here are the top snow resorts in the country for both sightseeing and snow sports for you to choose from.

Harbin & Yabuli
Attracting millions of visitors from home and abroad, the
Harbin International Ice and Snow Festival
has become an annual winter feast, not only in the city of Harbin. At this time, exotic buildings and fanciful ice and snow sculptures of this charming city inspire a strong wave of passion which can melt the winter freeze. Fascinating ice lanterns, a snow sculpture exposition and various snow activities are amply provided for your comfort.
The natural beauty within a couple of hours' drive from Harbin will also make visitors linger on. For example,
Yabuli Ski Resort
is the largest in Asia which once successfully staged the 3rd Asia Games and 24th World University Winter Games. Yabuli is where the country's skiing tourism started. It is about 2.5 hours drive by coach from downtown Harbin. There are also direct trains to Yabuli from Beijing and Harbin.
Other recommendations around Harbin:
Erlongshan Ski Resort – Only 65 kilometers (about 40 miles) from downtown Harbin, it relies on convenient transportation and its natural landscape in the scenic area. It provides a shuttle bus between the resort and Harbin, with pick-up stops at some big hotels (such as the Harbin New World Hotel, the Harbin Singapore Hotel, etc). It is nice choice for beginners and intermediate learners.
Yueliangwan (Moon Bay) Ski Resort – Located in the city proper of Harbin, it is very close to
Sun Island
where the Snow Sculpture Exposition of Harbin Snow Festival is held. The
Siberian Tiger Park
is also close by.

See Harbin Tour Packages

China Snow Town
– Shuangfeng Forestry Farm
Shuangfeng Forestry Farm is located in Changting Town, Mudanjiang City, Heilongjiang Province, which can be reached by car from Yabuli (2-2.5 hours) or Harbin (5-6 hours). There is snow from October to May. The yearly snowfall can reach 2 meters. China's National Skiing Team has its training center in the Snow Town, so visitors may have chance to see the professional ski training. Interesting skiing boards and activities created by local people provide a lot of fun. The nightscape and the forest here are enchanting too.

Jilin
Rime Island – A coating of rime ice on pine trees in Jilin along the Songhua River is a special winter scene unique to this area. This island is one of the most well-known rime pine trees sightseeing spots called Zhenzhu Dao (Pearl Island) in Wulajie Town, which is 30 kilometers (18.6 miles) north of downtown Jilin on the east bank of Songhua River.
Beidahu Ski Resort – This is a sports and tourism center combined with training, competition and entertainment, being the venue of two China's National Winter Games. It is about 50 kilometers (31 miles) from Jilin city proper. The city's passenger transport center has regular daily direct buses to take visitors here.
Changbaishan Ski Resort – Located in the forest of
Changbai Mountain
Nature Reserve, it nestles in mountain peaks. The snow quality is just like that of those in France and northern Italy. There aren't ski lifts. Skiers take cross-country vans or snowmobiles up to the hills. The Heavenly Lake is to its south. Changbai Mountain also has fine hot springs. A soak in the hot springs after skiing is a highlight here.

Beijing
Ice & Snow Season in
Bird's Nest
– The Happy Snow Season runs from Mid-December through Mid-February at the Bird's Nest. This is a wonderful time for family. Apart from skiing, flying disks, there are also skating areas, bumper cars on snow, snowball flight competitions and the chance to experience Olympic game – Curling.
When the weather is cold enough and all the lakes have iced over, the parks in Beijing will be full of local people enjoying the ice. People can skate, ride ice bicycles, play ice hockey and ride various kinds of ice vehicles. The outdoor ice skating rinks can be found on the pools of
Beihai Park
,
Shichahai
, Zizhuyuan Park,
Yuyuantan Park
, Zhongshan Park and
Taoranting Park
. The rental is about CNY10-20/hr.
There are also ski resorts in suburban areas for people who want skiing around Beijing: Shijinglong Ski Resort in Yanqing, Nanshan Ski Resort in Miyun, Yuyang Ski Resort and Huaibei Ski Resort in Pinggu. Chongli is a perfect skiing destination in Zhangjiakou City, which is 3 hours' drive by car from downtown Beijing. There are
Genting Resort Secret Garden
, Saibei, Wanlong and Duolemeidi Ski Resorts to choose from. The Genting Resort Secret Garden is designated for ski competition venues of the
2022 Winter Olympics
. Saibei is the first and the nearest natural ski resort around Beijing. Wanlong has tracks for the beginners, intermediate and advanced skiers. The participation of a world famous skiing equipment manufacturer and Italian managing company makes Duolemeidi a modern and comprehensive field with eight tracks named after eight cities of Italy.

See Beijing Tour Packages


Ski Resorts in Beijing


Ski Resorts in Zhangjiakou

Chengde
Mulan Weichang Ski Resort – Chengde is well-known as an imperial summer resort with mountains, forests and imperial style buildings. There is another place in Chengde, which is also renowned since ancient times. It is Mulan Weichang, the imperial hunting ground in the Qing Dynasty adjacent to Inner Mongolia's grassland. This is not only a grassy hunting ground, but also a winter resort with rich snow resources. There are three tracks with fine sports facilities and accommodations.

See Chengde Tour Packages

Lijiang
Jade Dragon Snow Mountain Ski Resort – With eight months of snow from November to June, this is a natural alpine resort with the altitude between 4,500-4,700 meters (14,764-15,420 feet). This is also the 'warmest' ski resort for its low latitude. It is situated at the east foot of Jade Dragon Mountain. Snow covered lofty peak form a picture-perfect background.

See Lijiang Tour Packages

Inner Mongolia
Aershan Ski Resort – It is made up of a training & competition ground in the west hill and a skiing playground in the east hill. The cross-country tracks and the alpine fields are surrounded by forests here. Complete facilities cater to skiers at different levels. Traditional Mongolian sporting games are available too, such as wresting, horse racing, archery and hunting. It is located in Aershan City of Xing'an Meng, northeastern Inner Mongolia. People can fly to Ulanhot or Hailaer first and then change to a coach to get here.

Chengdu
Emeishan Ski Resort – Built in 1998, this is the first ski resort in Sichuan Province. It is situated inside the famous
Mt. Emei
Scenic Area, beside Leidongping Car Park. It is 2,500 meters (about 8208 feet) above the sea level. Skiing is available from later December through March. There is an expressway connecting Chengdu and Emeishan. Visitors can be there in two hours from downtown Chengdu.
Xiling Snow Mountain Ski Resort – Located on the Xiling Snow Mountain, it is a big playground on snow with about twenty snow sports games. There are seven standard tracks with a capacity of two thousand visitors at one time. It also provides a large grassy area for summer 'skiing'. Thus, this snow resort turns to be a perfect grass ski paradise in summer.

See Chengdu Tour Packages

Urumqi
Silk Road International Ski Resort – This is regarded as the largest in Xinjiang with bright winter sunshine and clear air. After three phrases of construction, it now has a snowboarding park, a professional skating rink, many tracks, equipment stores, a training center and other ancillary facilities.
Within 60 kilometers (about 37 miles) from Urumqi, there are several other ski resorts, such as Tianshan, Xuelianshan, Yinfeng and Baiyun.

See Urumqi Tour Packages

Shennongjia
Shennongjia Ski Resort – Shennongjia is an old and mysterious place. It is located on Jiuhuping Forest Farm, a nice skiing field in South China. It runs at primary and intermediate levels with a slope of 5-15 degrees. Visitors can still enjoy the fun of skiing while visiting South China in winter.
- Last modified on Apr. 14, 2021 -
Questions & Answers on Ski Resorts in China
Asked by Amrita from CHINA | Dec. 27, 2015 03:11

Reply
Does the Anji ski resort have actual snow or fake snow?
I heard Anji ski resort close to shanghai has skiing- However, Does the Anji ski resort have actual snow or fake snow? Because I am not sure if it at all snows there?
Answers (1)
Answered by Amy from BELGIUM | Dec. 29, 2015 01:04

0

0

Reply
Amrita, snow is rare in southern China. According to what I found, snow in Anji Ski Resort is manmade.
Asked by AS from CHINA | Aug. 19, 2015 00:36

Reply
Best ski resort for a family with young kids
hello,
We are a family with 3 kids (6, 3 years old and a 4 month baby) , we live in Shanghai and we plan to go on ski vacation this winter. We would like to find a ski resort close to an airport Which destination is the best ? thanks !
Answers (1)
Answered by Andy from INDONESIA | Aug. 20, 2015 01:01

0

0

Reply
AS, you can take your children to Anji Jiangnan Tianchi Ski Resort. It's around 3 hours bus journey from Shanghai. Go to Shanghai South Long Distance Bus Station and take bus to Anji. After arriving, you can take regular bus to the ski resort.
Asked by Phoebe from PHILIPPINES | Dec. 15, 2014 02:41

Reply
Huaibei Ski Resort - Where to book for accommodation?
Hi, I have been searching how to book a room good for 2-3 adults (1 log cabin) for a night in Huaibei Ski Resort but I can't find any good link. How do I book to their resort? Is there any website or email address? Are ski resorts still open until Mar 11, 2015?
Answers (1)
Answered by Peter from HONDURAS | Dec. 15, 2014 19:21

0

0

Reply
Phoebe, I found that the ski resort provided blockhouses. You may contact them by phone or emails to ask about accommodation issues.
Tel: 010-89696677
Email: hbski

126.com
Asked by Mrs Tan from MALAYSIA | Nov. 14, 2014 01:25

Reply
Nearest ski resort from Hefei, Anhui province
Hi - we are going to Anhui province last week of November. where is the nearest ski resort to go from Hefei by train.
Answers (1)
Answered by Larry | Nov. 14, 2014 03:49

0

0

Reply
The Anqing Jushi Mountain Skiiing Resort is the best choice for you, personally speaking.

You can go to the Hefei Bus Station to take a bus for Anqing. Then you can take a local taxi to Yingjiangsi where you can find the direct bus to Jushi Mountain Scenic Sport.