Xinjiang Scenery with Ethnic Flavor Appreciation
S-609: 12 Days Urumqi - Buerjin - Kanas Lake - Hemu - Altay - Kuitun - Huocheng - Yining - Nalati Grassland - Bayanbulak - Yanqi - Urumqi
Tour Type:
Private Tour, any part of the itinerary can be customized
Guide & Driver:
English-speaking guide, experienced driver with an air-conditioned vehicle
Meals:
11 breakfasts, 10 lunches
Highlights:
Travel in depth to the Silk Road of 2,000 years ago & learn about the culture and history
Enjoy the beautiful and mysterious Kanas Lake, a heavenly oasis in Xinjiang desert
Explore Bayanbulak, the most fecund pasture in south Tianshan Mountains
Visit Xinjiang International Grand Bazaar, the largest Islamic style bazaar in China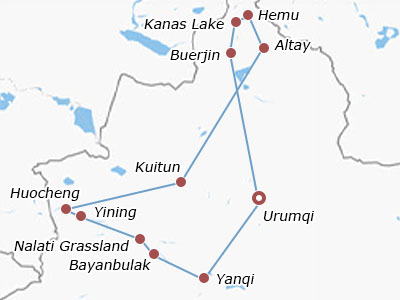 Your guide and driver will meet you at Urumqi Airport today and then transfer you to the hotel. The rest of the day is free for you to relax and get prepared for the following Xinjiang tour.
Accommodation: Excemon Xinjiang Yilite Hotel




It is a long drive today for about 8 to 9 hours from Urumqi to Buerjin. On the way, you will enjoy the fabulous scenery of the desert. Upon arrival at Buerjin, your will be escorted to check in at the hotel. Then you will witness the charming sunset at the colorful Rainbow Beach.
Meals: Western buffet breakfast, Lunch
Accommodation: Shangshi International Hotel




Day 3
Buerjin - Jiadengyu - Kanas
Kanas Lake
Drive about 2 hours to Jiadengyu. The whole day will be devoted to the charming
Kanas Nature Reserve
. The Kanas Lake is an alpine lake encircled by dense forest. Shaped like a crescent, the lake has the features of both northern vigor and southern grace of Xinjiang. You will take a boat trip on the beautiful lake. Afterwards, go for a short hike to the Watching Fish Pavilion, located about 60 meters above the lake, which is the best place to overview the whole Kanas Lake. Ascending it, you could also appreciate the marvelous mountain splendor around. In the evening, enjoy the Mogolian Tuwa Tribe music live show in the village.
Meals: Western buffet breakfast, Lunch
Accommodation: Friendship Peak Resort Hotel




Day 4
Jiadengyu - Hemu - Altay
We will take you to Altay today. It is about 4 hours' driving. On the way, visit
Hemu
, a small village close to Mongolia and Russia. The villagers here are living by nomadic hunting. The rivers, wooden houses, wisps of smoke and birch forest make this place a fairy world in real life, just like a colorful oil painting. Stay one night in a local hotel in Altay.
Meals: Western buffet breakfast, Lunch
Accommodation: Altay Di Qu Hotel



A 6-hour's private transfer will take you to Kuitun. En route, visit the Urbo Ghost City with the typical Yadan landform, which is the masterpiece of nature. The rock grounds are sculptured to various forms by the wind and rain for thousands of years. Here, you could find the rocks in shape of castles, palaces and even monsters. Upon arrival in Kuitun, check in at the hotel for an overnight stay.
Meals: Western buffet breakfast, Lunch
Accommodation: Haofeng International Grand Hotel




Sayram Lake
Drive to Huocheng for about 6 hours, where 29 minority groups live. After checking in at the hotel, proceed to the
Sayram Lake
, which is also praised as "the last drop of the Atlantic tears". It is the highest and largest cold water lake in Xinjiang covering an area of 458 square kms (177 square miles) and with an altitude of 2073 meters (6801 feet). With the perpetual snow mountains on its west bank and the vast area of grassland on its east bank, the Sayram Lake is absolutely a gorgeous place to visit. The best time is to visit it is from June to August, when the water is extremely clear and blue and the many unknown flowers are in the full blossom.
Meals: Western buffet breakfast, Lunch
Accommodation: Sayram Lake Hotel



In the morning, visit the Khorgos Port between China and Kazakhstan. Standing at the door of the port, you could see afar to Kazakhstan. Have a brief visit to the border cooperation area. Then visit the lavender flora park. It is the third largest lavender park in the world, only after Provence and Furano. The whole park is divided into different areas. The No. 65 has the largest area and the best lavenders. Here you could get many fascinating pictures with your camera. At last, drive to Yining and check in at the hotel.
Meals: Western buffet breakfast, Lunch
Accommodation: Meijing Hotel




Day 8
Yining - Nalati Grassland
Horse riding on Nalati Grassland
Today's highlight is the
Nalati Grassland
in the Nalati National Forest Park, a famous pasture since ancient time. This is also a famous tourism and holiday resort in Xinjiang which boasts beautiful grassland scenery and the Kazak ethnic flavor. You could join in the horse riding on the boundless grassland and get close to the local Kazak culture. It is a little bit cold here than in the city especially in the morning and evening, so please take some warm clothes with you.
Meals: Western buffet breakfast, Lunch
Accommodation: Liancheng Ecology Resort Xinyuan



Day 9
Nalati - Bayanbulak
Bayanbulak Grassland
After breakfast this morning, you will be driven to the
Bayanbulak Grassland
. Today's private tour will cover the Bayanbulak Grassland and the Swan Lake Natural Reserve. The Bayanbulak Grassland is the second largest grassland in China boasting luxuriant verdant grass, numerous flocks of sheep and varied plants. Being a far-flung and level prairie, it also abounds in varieties of grass, and is studded with numerous lakes and encircled by snow mountains. The Swan Lake is located in this grassland. Actually, it is made of a group of small lakes. You could go up to the Bird Watch Platform built there to appreciate the splendid spectacle of the swans, lakes, mountains, clouds and blue sky.
Meals: Western buffet breakfast, Lunch
Accommodation: White Swan Guest House
Day 10
Bayanbulak - Yanqi
After breakfast, we will head to Yanqi County. On the way, enjoy the wonderful scenery along the Tianshan Road. Also you could see the unique black headed sheep wandering on the grassland on both sides of the road. Visit the Bosteng Lake, which is a group of small lakes covering an area of 240 square kilometers (93 square miles).

Meals: Western buffet breakfast, Lunch
Accommodation: Best local hotel
Drive for about 6 hours to get back to Urumqi. You will check in at the hotel. After a short rest, your guide will accompany you to visit the
Xinjiang International Grand Bazar
, where the Uighur culture is best preserved. You will be dazzled by the strong Islamic style buildings with the unique Xinjiang flavored foods and handicrafts. You may choose some favorite souvenirs for your family or friends.
Meals: Western buffet breakfast, Lunch
Accommodation: Excemon Xinjiang Yilite Hotel




Day 12
Departure from Urumqi
Your guide and driver will transfer you to the airport for your homeward flight. We wish you a pleasant journey!

Meals: Western buffet breakfast
Why Travel With Us
Questions & Answers
Asked by Constantine from CANADA | Aug. 25, 2018 16:53

Reply
How often are the rest stop with proper toilet facility long the way for tour like S-607?
Answers (1)
Answered by Gina | Aug. 28, 2018 01:29

0

0

Reply
Generally, most of scenic spots have restrooms and the rest stops along the way also provide toilet facilities.
Asked by Constantine from CANADA | Aug. 23, 2018 15:04

Reply
I like the itinerary of Tour S-607. What is the temperature like in May and September?
Answers (1)
Answered by TravelChinaGuide | Aug. 24, 2018 02:17

0

0

Reply
Both May and September are good times to travel to Xinjiang. The average temperature of Urumqi during that period is about 24℃ (75℉) in the daytime but drops down to 12℃ (54℉) in the evening. A shirt and jeans are enough for the day, but at night you'll have to change into a long-sleeved clothes or even jacket.

However, the temperature in some remote areas or lake areas is much lower. Therefore, you are also suggested to take some heavy clothes like thick coat and down jacket to keep warm.
Asked by A. Chan from CANADA | Jul. 11, 2016 15:25

Reply
bathroom in guest houses?
I like to know if there's private bathroom in guest houses while travel to Xingjiang?
Thank you
Answers (1)
Answered by Lydia | Jul. 11, 2016 20:26

0

0

Reply
Most of hotels and guesthouses can offer private bathroom in Xinjiang.
Asked by Laurence from SINGAPORE | Oct. 29, 2012 21:32

Reply
How far from Urumqi to Kansas Lake and how long by bus
Answers (1)
Answered by Sharon | Oct. 29, 2012 09:42

0

0

Reply
There is no direct bus from Urumqi to Kanas Lake, you will need to take a bus at Nianzigou long-distance bus station to Buerjin first and then transfer a bus to Kanas. The bus journey will be difficult and takes a very long time(more than a day). Taking flight will be much more convenient and the journey only takes about one hour.
Asked by I Chan | Jun. 17, 2012 10:30

Reply
When is the best time to journey to Xinjiang? Is July & August too hot to go there?
Answers (1)
Answered by Adl | Jun. 17, 2012 06:36

0

0

Reply
Yes, Xinjiang is quite hot in July and August, while it is cool in the morning and at night. Many travelers still choose visit Xinjiang at this time, but they will bring sun block and light clothes like dress or shorts with them.