Zhangjiakou Weather
Thanks to the temperate continental monsoon climate, Zhangjiakou has four distinctive seasons during a year. The spring is dry with frequent windy and dusty days; the summer is comparatively hot with concentrated rainfall; the autumn is clear with cool weather; and the winter is frigid and long lasting.


Best Time to Visit Zhangjiakou
Zhangjiakou is close to Inner Mongolian Plateau. It has remarkable prairie landscape with plenty of plants and animals, therefore, summer and autumn are both nice seasons to visit Zhangjiakou to enjoy the colorful nature, especially in July. Besides, it's worth mentioning that although winter weather in Zhangjiakou is chill with high wind, which seems unsuitable to have a trip, it is still a great time to go there as Zhangjiakou has wonderful snow-covered landscape and ski resorts with high quality fields and long lasting opening time.
7-Day Zhangjiakou Weather Forecast
Zhangjiakou Weather by Month
Averages for Zhangjiakou Weather
High/Low Temperatures of Zhangjiakou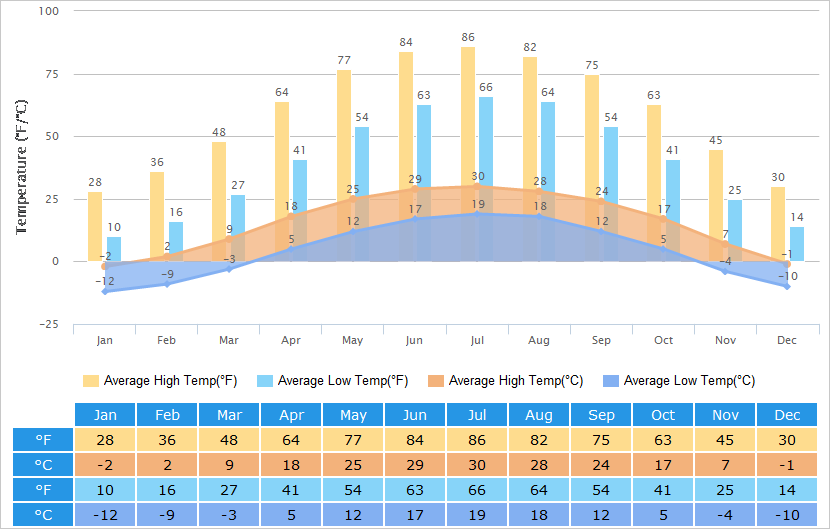 Average Temperatures of Zhangjiakou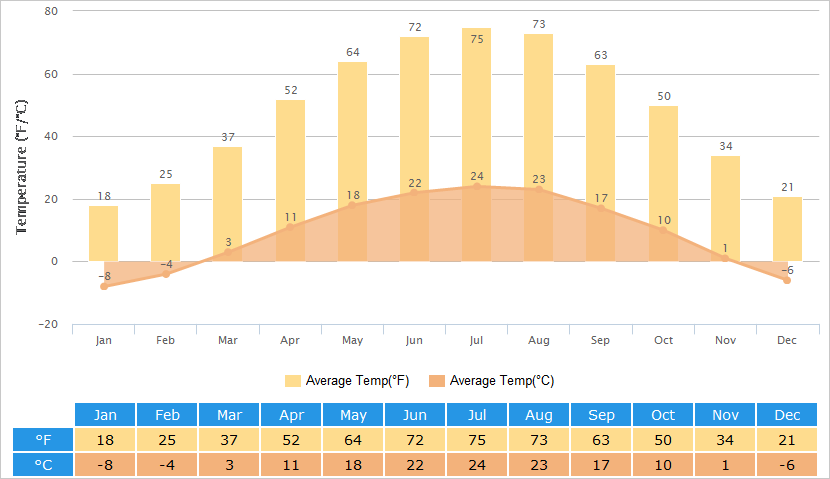 Humidity Graph of Zhangjiakou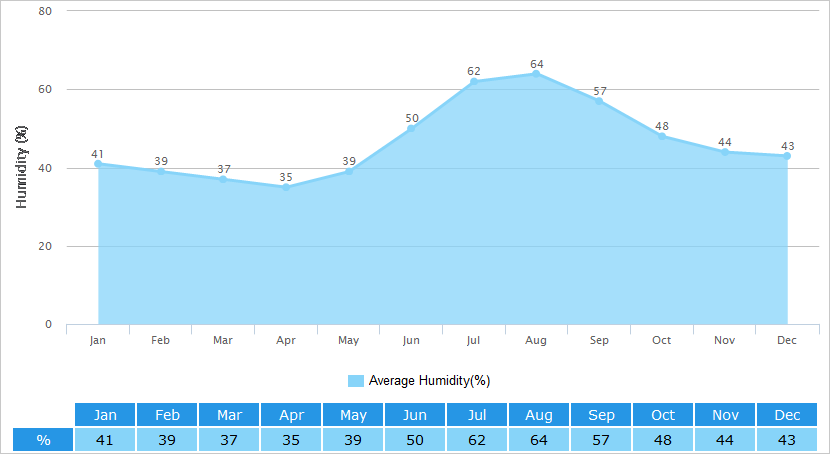 Average Rainfall of Zhangjiakou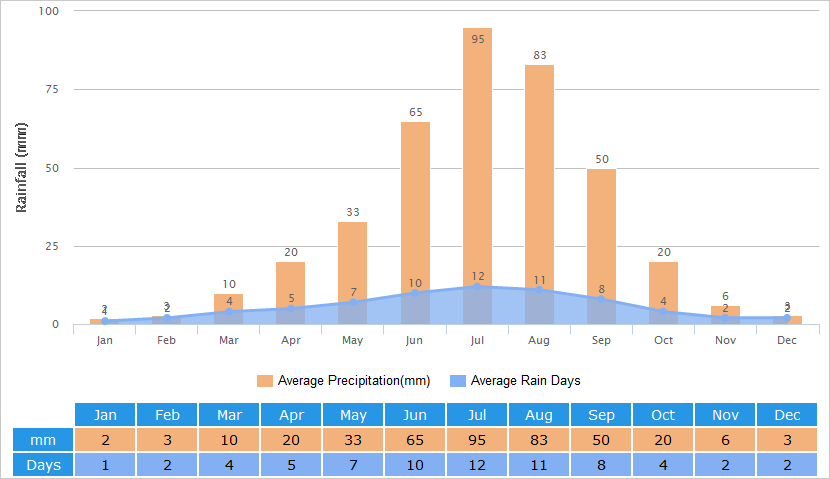 Air Quality of Zhangjiakou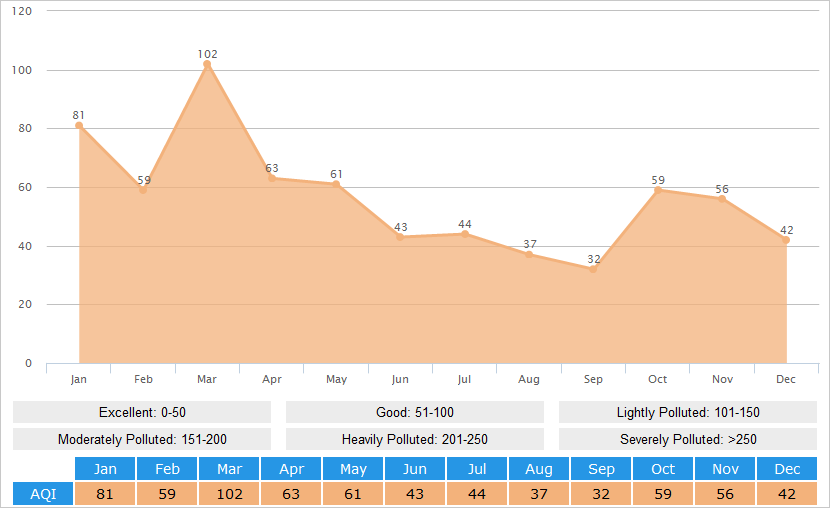 Zhangjiakou Climate - Seasons & Travel Advice
Zhangjiakou is located in an area of high latitude in Hebei of China and the geographical environment of which is complex and changeful, which makes the daily temperature difference here reaches up to around 10°C (50°F) from day to night. In general, there will be much more windy days in spring than other seasons. Meanwhile, rainy days in summer will occur often.

Spring (Mar. - May)
In spring, the cold air and the gradually rising land surface temperature will form strong wind frequently. According to the statistics, around 40% of the strong windy days in Zhangjiakou will occur in this season. You had better wear protective clothing like a mask, hat and glasses to protect your skin and eyes. Besides, do not forget to take some body lotion like baby oil and Vaseline to keep away from skin cracking.

Summer (Jun. - Aug.)
Summer welcomes the hottest period in Zhangjiakou, but the temperature is still mild enough for people to have a trip, ranging from around 18°C (64°F) at night to around 30°C (86°F) in the day on an average daily basis. As it is also the season with the most rainy days during a year, therefore, please do not forget to take rain gears. During this season, Zhangjiakou is full of vitality, the nature beauty of prairie, trees, birds and cows are there waiting for you to appreciate. The grassland tourist festival from July to September in Zhangjiakou adds more charm to the place.
Autumn (Sept. - Nov.)
In autumn, the weather of Zhangjiakou is cool and the air is clear, meanwhile the rainy days are becoming less and windy days are also comparatively few. The weather makes here quite a comfortable place to enjoy a travel. You can wear long sleeves trousers and middle-thickness overcoat for going out. In autumn of Zhangjiakou, some of the trees and grasses become gold and crimson but some still remain the color in summer, forming an oil painting that every tourists will not hope to miss.

Winter (Dec. - Feb.)
Winter in Zhangjiakou is so cold that the temperatures of most days in this season are under freezing point. At night, the average temperature usually falls to around-10°C (14°F). Keeping warm will definitely be the most important thing in this period. Wearing down coat, padded trousers and thermal underwear is wise. Taking scarf, gloves and woolen mask are also important. Watching the snow and ice world and do some snow and ice sports are perfect choices in this time.
- Last updated on Mar. 04, 2019 -