Zhangjiakou Weather in July
In July, Zhangjiakou welcomes the hottest weather of the year. In this time, the climate gradually becomes hot and the air is getting relatively humid. At the same time, rainy days will be the most frequent during a year. The highest daily mean temperature will be about 30
°C
(86
°F
) and the lowest will be around 19
°C
(66
°F
). Although July is the hottest month in Zhangjiakou, the temperature is still comfortable enough compared with many other cities in China, thus Zhangjiakou is a nice place to avoid summer heat.
In July, the grasses, trees and flower are more and more flourishing and luxuriant, making it an ideal period to enjoy the vitality of nature in Zhangjiakou. The grassland tourism festival in Zhangjiakou will be held from July and last for three months, when tourists can have fun in the campfire parties and appreciate the performances of Mongolian nationality, such as singing, dancing, horseracing and local opera.
Averages for Zhangjiakou Weather in July
Temperature: 24°C / 75°F
High Temperature: 30°C / 86°F
Low Temperature: 19°C / 66°F
Humidity: 62%
Rainfall: 95 mm
Rainy Days: 12 days
Sunrise: 04:53 ~ 05:16
Sunset: 19:38 ~ 19:56
Air Quality in July
Average AQI:44

What to Wear in Zhangjiakou in July
Wearing thin and comfortable clothing is a good choice for outdoor activities for Zhangjiakou climate in July . You can choose T-shirt, short pants, long dress, thin coat, casual trousers and light shoes.


Where to Go in Zhangjiakou in July
Summer, although hot weather, is the best season to have a tour on grassland in Zhangjiakou. Grass Skyline, located at the junction of Chongli and Zhangbei counties in Zhangjiakou, is considered as one of the top 10 beautiful highways in mainland China. Lying on the top of the mountains, Grass Skyline looks like a dragon under the blue sky and white clouds. In July, the two sides of the road are dotted with colorful wild flowers, forming a graceful picture together with the windmills, terraced fields, villages and birch forest.
Next to Grass Skyline is the
Zhangbei Grassland
, which is a part of
Xilingol Grassland
. On the boundless grassland, you can ride a horse, shoot an arrow and watch traditional grassland performances. What's more, Zhangbei Grassland Music Festival takes place at the end of July with many famous singers in China being present and is really a carnival for music lovers.
What is the temperature in Zhangjiakou in July?
High/Low Temperatures of Zhangjiakou in July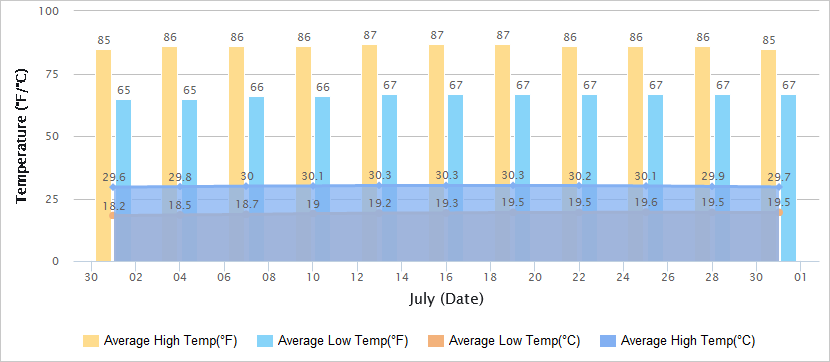 Air Quality of Zhangjiakou in July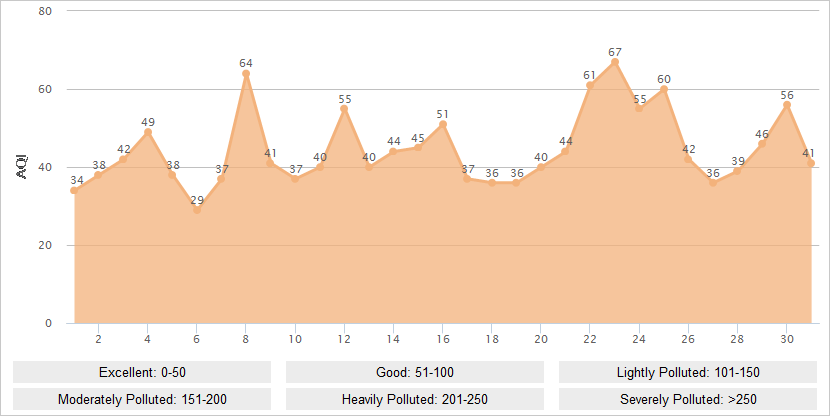 Historical Zhangjiakou Weather in July
Jul
Temperature
Sunrise / Sunset
Humi-
dity
(%)
High
Low
1
29.6°C / 85.2°F
18.2°C / 64.7°F

04:53

/

19:56

38
2
29.6°C / 85.2°F
18.3°C / 64.9°F

04:53

/

19:56

38
3
29.7°C / 85.4°F
18.4°C / 65.1°F

04:54

/

19:56

40
4
29.8°C / 85.6°F
18.5°C / 65.3°F

04:54

/

19:56

50
5
29.8°C / 85.6°F
18.6°C / 65.4°F

04:55

/

19:55

45
6
29.9°C / 85.8°F
18.6°C / 65.4°F

04:55

/

19:55

72
7
30°C / 86°F
18.7°C / 65.6°F

04:56

/

19:55

31
8
30°C / 86°F
18.8°C / 65.8°F

04:57

/

19:54

27
9
30.1°C / 86.1°F
18.9°C / 66°F

04:57

/

19:54

18
10
30.1°C / 86.1°F
19°C / 66.2°F

04:58

/

19:54

16
11
30.2°C / 86.3°F
19°C / 66.2°F

04:59

/

19:53

20
12
30.2°C / 86.3°F
19.1°C / 66.3°F

04:59

/

19:53

29
13
30.3°C / 86.5°F
19.2°C / 66.5°F
05:00 /

19:52

35
14
30.3°C / 86.5°F
19.2°C / 66.5°F
05:01 /

19:52

30
15
30.3°C / 86.5°F
19.3°C / 66.7°F
05:02 /

19:51

44
16
30.3°C / 86.5°F
19.3°C / 66.7°F
05:02 /

19:50

35
17
30.3°C / 86.5°F
19.4°C / 66.9°F
05:03 /

19:50

45
18
30.3°C / 86.5°F
19.4°C / 66.9°F
05:04 /

19:49

49
19
30.3°C / 86.5°F
19.5°C / 67.1°F
05:05 /

19:48

51
20
30.3°C / 86.5°F
19.5°C / 67.1°F
05:06 /

19:48

62
21
30.3°C / 86.5°F
19.5°C / 67.1°F
05:07 /

19:47

62
22
30.2°C / 86.3°F
19.5°C / 67.1°F
05:08 /

19:46

61
23
30.2°C / 86.5°F
19.6°C / 67.2°F
05:08 /

19:45

61
24
30.2°C / 86.5°F
19.6°C / 67.2°F
05:09 /

19:45

66
25
30.1°C / 86.1°F
19.6°C / 67.2°F
05:10 /

19:44

58
26
30°C / 86°F
19.6°C / 67.2°F
05:11 /

19:43

68
27
30°C / 86°F
19.6°C / 67.2°F
05:12 /

19:42

40
28
29.9°C / 85.8°F
19.5°C / 67.1°F
05:13 /

19:41

51
29
29.8°C / 85.6°F
19.5°C / 67.1°F
05:14 /

19:40

49
30
29.7°C / 85.4°F
19.5°C / 67.1°F
05:15 /

19:39

45
31
29.7°C / 85.4°F
19.5°C / 67.1°F
05:16 / 19:38
41
- Last updated on Sep. 19, 2019 -