Zhangjiakou Weather in April
In April, the weather in Zhangjiakou will become warmer and warmer. The daily average temperature will be 5°C~18°C (41
°F
~64
°F
) from night to day. Even the average temperature is above freezing, sometimes it snows in April in the north of Zhangjiakou. When April comes to Zhangjiakou, the cold air is still dominant, but the temperature is rising gradually, which will definitely cause frequent and strong winds as a result. The air will be a little dusty as well. Therefore, although the climate is not that cold compared with the past few months, the continual strong wind with fine sands flying up in the air requires people to wear warm clothing and take good care of their exposed skin.
Averages for Zhangjiakou Weather in April
Temperature: 11°C / 52°F
High Temperature: 18°C / 64°F
Low Temperature: 5°C / 41°F
Humidity: 35%
Rainfall: 20 mm
Rainy Days: 5 days
Sunrise: 05:21 ~ 06:04
Sunset: 18:45 ~ 19:16
Air Quality in April
Average AQI:63

What to Wear in Zhangjiakou in April
Considering the climate in
Zhangjiakou in
April, you'd better wear wind-proof clothes and accessories to protect yourself because of the gales. Wearing windproof jacket, thick wind coat, thermal underwear, thick jeans and sneakers is advisable. By the way, please do not forget to take a dust mask with you anywhere you go for protecting your face skin and respiratory tract in the sandy air.


Things to Do in Zhangjiakou in April
In this month, indoor activities are more recommended. As one of the top ice and snow sightseeing places in China, Zhangjiakou owns a strong atmosphere of ice and snow culture. Chongli Ice and Snow Culture Museum is the largest one of its kind in China and is unmissable for people who visit here. It includes the exhibition hall of skiing culture and knowledge, the window of world skiing, the hall of celebrities in the field of skiing, the hall of hi-tech interactive experience and some other halls with themes related to skiing.
You may also have the interest in bathing in hot springs like Chicheng Hot Spring and Huailai Diman Hot Spring.
What is the temperature in Zhangjiakou in April?
High/Low Temperatures of Zhangjiakou in April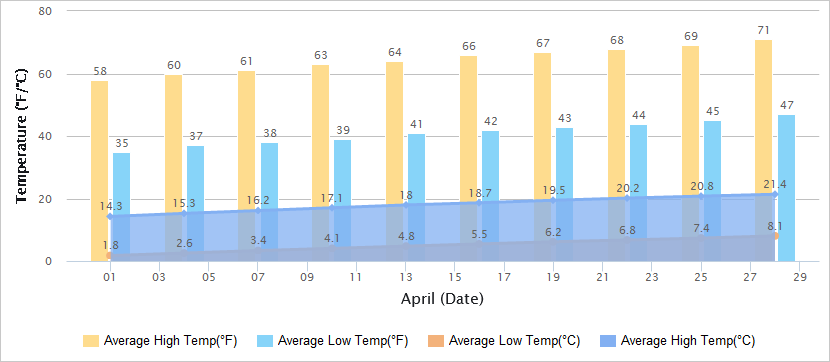 Air Quality of Zhangjiakou in April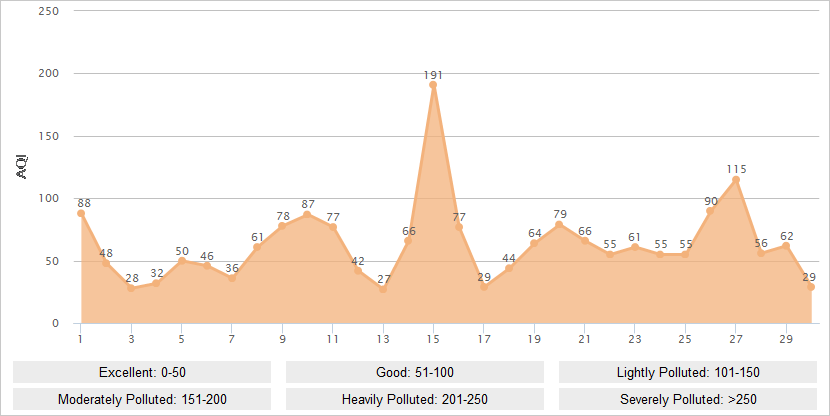 Historical Zhangjiakou Weather in April
Apr
Temperature
Sunrise / Sunset
Humi-
dity
(%)
High
Low
1
14.3°C / 57.7°F
1.8°C / 35.2°F

06:04

/

18:45

25
2
14.6°C / 58.2°F
2°C / 35.6°F

06:03

/

18:46

24
3
15°C / 59°F
2.3°C / 36.1°F

06:01

/

18:47

25
4
15.3°C / 59.5°F
2.6°C / 36.6°F

06:00

/

18:48

55
5
15.6°C / 60.1°F
2.9°C / 37.2°F

05:58

/

18:49

53
6
15.9°C / 60.6°F
3.1°C / 37.5°F

05:56

/

18:50

45
7
16.2°C / 61.1°F
3.4°C / 38.1°F

05:55

/

18:51

64
8
16.5°C / 61.7°F
3.6°C / 38.4°F

05:53

/

18:52

35
9
16.8°C / 62.2°F
3.9°C / 39°F

05:52

/

18:53

30
10
17.1°C / 62.7°F
4.1°C / 39.3°F

05:50

/

18:54

37
11
17.4°C / 63.3°F
4.4°C / 39.9°F

05:48

/

18:56

25
12
17.7°C / 63.8°F
4.6°C / 40.2°F

05:47

/

18:57

19
13
18°C / 64.4°F
4.8°C / 40.6°F

05:45

/

18:58

39
14
18.2°C / 64.7°F
5.1°C / 41.1°F

05:44

/

18:59

24
15
18.5°C / 65.3°F
5.3°C / 41.5°F

05:42

/

19:00

18
16
18.7°C / 65.6°F
5.5°C / 41.9°F

05:41

/

19:01

29
17
19°C / 66.2°F
5.7°C / 42.2°F

05:39

/

19:02

18
18
19.2°C / 66.6°F
5.9°C / 42.6°F

05:38

/

19:03

20
19
19.5°C / 67.1°F
6.2°C / 43.1°F

05:36

/

19:04

27
20
19.7°C / 67.4°F
6.4°C / 43.5°F

05:35

/

19:05

30
21
19.9°C / 67.8°F
6.6°C / 43.8°F

05:33

/

19:06

23
22
20.2°C / 68.3°F
6.8°C / 44.2°F

05:32

/

19:07

16
23
20.4°C / 68.7°F
7°C / 44.6°F

05:30

/

19:08

20
24
20.6°C / 69.1°F
7.2°C / 44.9°F

05:29

/

19:09

13
25
20.8°C / 69.4°F
7.4°C / 45.3°F

05:28

/

19:10

22
26
21°C / 69.8°F
7.6°C / 45.6°F

05:26

/

19:12

18
27
21.2°C / 70.1°F
7.9°C / 46.2°F

05:25

/

19:13

21
28
21.4°C / 70.5°F
8.1°C / 46.5°F

05:26

/

19:14

17
29
21.6°C / 70.8°F
8.3°C / 46.9°F

05:22

/

19:15

14
30
21.8°C / 71.2°F
8.5°C / 47.3°F

05:21

/

19:16

14
- Last updated on May. 28, 2020 -