Zhangjiakou Weather in August
Cool and pleasant weather still dominates August in Zhangjiakou. In this month, the daily highest temperature in daytime will be around 28°C (82°F) and the daily lowest temperature in nighttime will be around 18°C (64°F). Because of the unique geographical characteristics of Zhangjiakou, the temperature gap between day and night is very considerable, which is more than 10
°C
(20
°F
) as you can see. Thus in the morning and evening, it will be cooler in this period of Zhangjiakou and you will feel a little hot at noon. Dressing right at different times in the day can keep you away from catching a cold.
Zhangjiakou is located at the junction of Hebei Province and Inner Mongolia Autonomous Region with landscapes of both Mongolian Plateau and North China Plain. In this summer time, the variety of plants and animals on complex topography will satisfy your eyes.
Averages for Zhangjiakou Weather in August
Temperature: 23°C / 73°F
High Temperature: 28°C / 82°F
Low Temperature: 18°C / 64°F
Humidity: 64%
Rainfall: 83 mm
Rainy Days: 11 days
Sunrise: 05:17 ~ 05:46
Sunset: 18:55 ~ 19:37
Air Quality in August
Average AQI:37

What to Wear in Zhangjiakou in August
In Zhangjiakou, you would prefer wearing cool clothes for the climate in August, such as short sleeves shirt, polo shirt, skirt, and middle pants. Thin wind coat is also necessary to take if you are going out at night.


Where to Go in Zhangjiakou in August
In Zhangjiakou, there are quite a few amazing places for you to enjoy during this golden travel time. Old Sole Ravine (Laozhanggou) is located in Guyuan County of Zhangjiakou, which got its name as there is a big stone looking like a sole of the foot. There are overlapping mountains and deep valleys with many springs and streams, making here a wonderful place to go camping to avoid the summer heat and appreciate the stars at night.
Small Wutai Mountain Nature Reserve
is located at the junction of Zhuolu County and Yu County of Zhangjiakou, which is called the "roof of north China". This nature reserve is the heaven of people who are interested in hiking and mountain climbing. In August, you can find a sea of mountain flowers and whispering streams flowing down from high mountains. When standing on the mountain top, you will gain a kind of inner peace.
Other Tips
August falls during the summer vacation of China. Although Zhangjiakou is not as crowded as some top tourist destinations in China, you'd better book the transportation tickets in advance in case that any inconvenience may occur.
What is the temperature in Zhangjiakou in August?
High/Low Temperatures of Zhangjiakou in August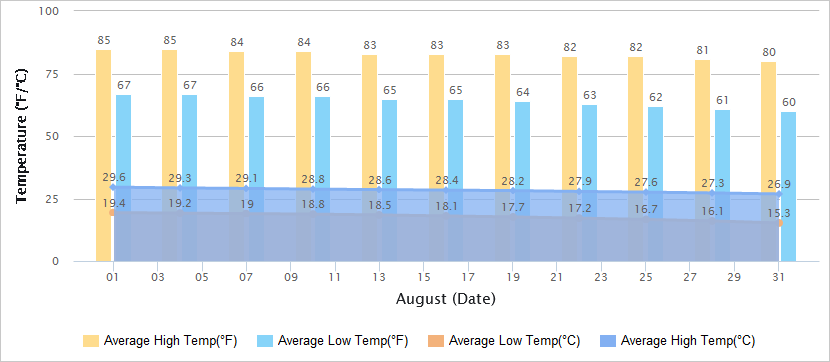 Air Quality of Zhangjiakou in August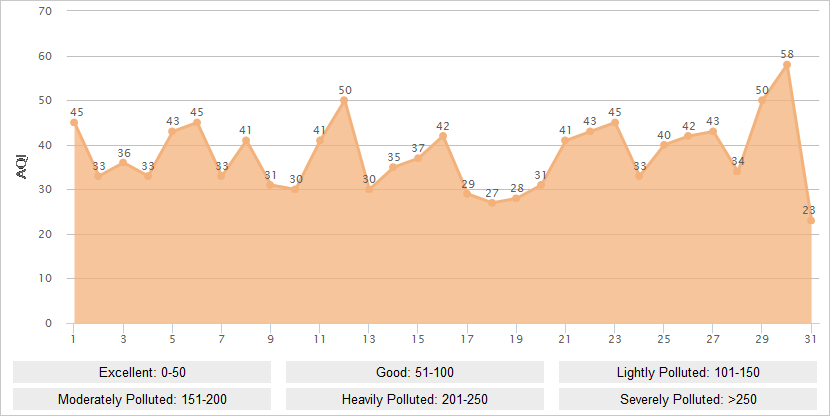 Historical Zhangjiakou Weather in August
Aug
Temperature
Sunrise / Sunset
Humi-
dity
(%)
High
Low
1
29.6°C / 85.2°F
19.4°C / 66.9°F

05:17

/

19:37

47
2
29.5°C / 85.1°F
19.4°C / 66.9°F

05:18

/

19:36

62
3
29.4°C / 84.9°F
19.3°C / 66.7°F

05:19

/

19:34

49
4
29.3°C / 84.7°F
19.2°C / 66.5°F

05:20

/

19:33

38
5
29.2°C / 84.5°F
19.2°C / 66.5°F

05:21

/

19:32

34
6
29.2°C / 84.5°F
19.1°C / 66.3°F

05:22

/

19:31

43
7
29.1°C / 84.3°F
19°C / 66.2°F

05:23

/

19:30

42
8
29°C / 84.2°F
18.9°C / 66°F

05:24

/

19:29

42
9
28.9°C / 84°F
18.8°C / 65.8°F

05:25

/

19:27

46
10
28.8°C / 83.8°F
18.8°C / 65.8°F

05:26

/

19:26

36
11
28.8°C / 83.8°F
18.7°C / 65.6°F

05:27

/

19:25

40
12
28.7°C / 83.6°F
18.6°C / 65.4°F

05:28

/

19:23

52
13
28.6°C / 83.4°F
18.5°C / 65.3°F

05:29

/

19:22

51
14
28.5°C / 83.3°F
18.4°C / 65.1°F

05:30

/

19:21

50
15
28.5°C / 83.3°F
18.3°C / 64.9°F

05:31

/

19:19

44
16
28.4°C / 83.1°F
18.1°C / 64.5°F

05:32

/

19:18

43
17
28.3°C / 82.9°F
18°C / 64.4°F

05:33

/

19:16

54
18
28.2°C / 82.7°F
17.8°C / 64°F

05:34

/

19:15

63
19
28.2°C / 82.7°F
17.7°C / 63.8°F

05:35

/

19:13

59
20
28.1°C / 82.5°F
17.5°C / 63.5°F

05:36

/

19:12

59
21
28°C / 82.4°F
17.4°C / 63.3°F

05:37

/

19:10

41
22
27.9°C / 82.2°F
17.2°C / 62.9°F

05:38

/

19:09

72
23
27.8°C / 82°F
17°C / 62.6°F

05:39

/

19:07

47
24
27.7°C / 81.8°F
16.9°C / 62.4°F

05:40

/

19:06

30
25
27.6°C / 81.6°F
16.7°C / 62°F

05:40

/

19:04

33
26
27.5°C / 81.5°F
16.5°C / 61.7°F

05:41

/

19:03

31
27
27.4°C / 81.3°F
16.3°C / 61.3°F

05:42

/

19:01

82
28
27.3°C / 81.1°F
16.1°C / 60.9°F

05:43

/

19:00

42
29
27.1°C / 80.7°F
15.9°C / 60.6°F

05:44

/

18:58

31
30
27°C / 80.6°F
15.5°C / 59.9°F

05:45

/

18:56

42
31
26.9°C / 80.4°F
15.3°C / 59.5°F

05:46

/

18:55

48
- Last updated on Sep. 19, 2019 -