Zhangjiakou Weather in June
When June arrives in Zhangjiakou, the weather is cool and pleasant. The daily average temperature varies from around 17°C to 29°C (63°F~84°F) which feels quite comfortable for people who visit here. The air humidity will be a little bit higher and the wind will not be as violent as it is in previous months. Grasses are lush and flowers are delicate and charming, marking that Zhangjiakou is turning into a more colorful and vivid world.

In this time, outdoor scenic areas are delightful to visitors for the gentle wind, moderate climate and animate nature.
Averages for Zhangjiakou Weather in June
Temperature: 22°C / 72°F
High Temperature: 29°C / 84°F
Low Temperature: 17°C / 63°F
Humidity: 50%
Rainfall: 65 mm
Rainy Days: 10 days
Sunrise: 04:48 ~ 04:52
Sunset: 19:46 ~ 19:56
Air Quality in June
Average AQI:43

What to Wear in Zhangjiakou in June
For the climate in Zhangjiakou in June, wearing light clothes and shoes is about right for a tour and daily activities. For example, you are suggested to wear knitwear, long sleeves shirt, jeans and hiking shoes. The temperature difference is still a matter of concern; therefore, you'd better take a coat with you if you plan to go out at night.

Where to Go in Zhangjiakou in June
Tianmo Desert
, located in Huailai County, is a miniature golden desert. Because of its distinctive natural beauty, many famous movies and teleplays in China have been shot here in recent years. The desert is unique for the clear boundary dividing it from the surrounding farmland, mountains and reservoir. Its cause of formation is still a mystery.
Next to Tianmo Desert is another well-known spot Guanting Reservoir. The reservoir is wide and clear, making it a wonderful place for people to relax and recreate in their spare time. Under the blue sky, you can go fishing, row a boat, and wander along the waterside.
Huapiling Scenic Area (Birch Bark Mountain) is the starting point of the eastern section of Grass Skyline. With thick forest, mountain springs, brilliant wild flowers and vast meadows, Huapiling Scenic Area becomes an excellent place to stay close to nature.
What is the temperature in Zhangjiakou in June?
High/Low Temperatures of Zhangjiakou in June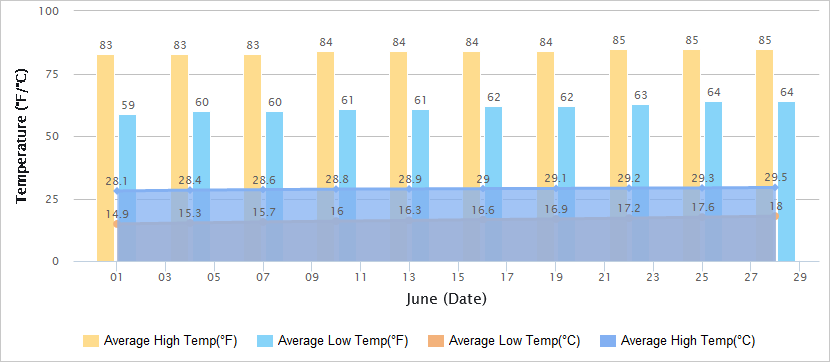 Air Quality of Zhangjiakou in June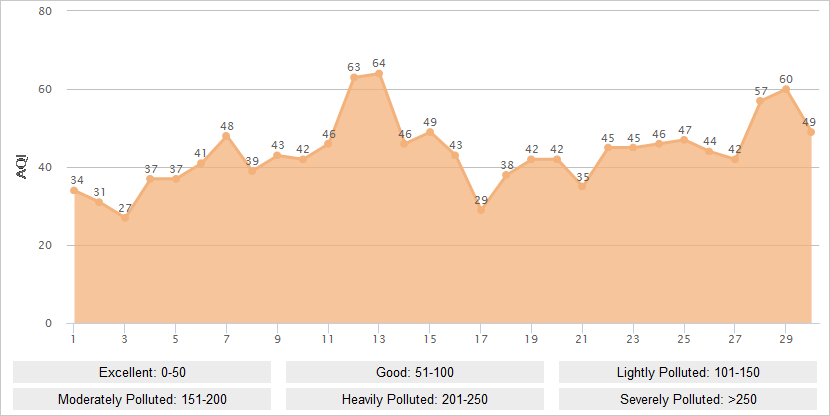 Historical Zhangjiakou Weather in June
Jun
Temperature
Sunrise / Sunset
Humi-
dity
(%)
High
Low
1
28.1°C / 82.5°F
14.9°C / 58.8°F

04:51

/

19:46

26
2
28.2°C / 82.7°F
15°C / 59°F

04:51

/

19:47

42
3
28.3°C / 82.9°F
15.2°C / 59.3°F

04:50

/

19:47

33
4
28.4°C / 83.1°F
15.3°C / 59.5°F

04:50

/

19:48

22
5
28.5°C / 83.3°F
15.4°C / 59.7°F

04:50

/

19:49

37
6
28.6°C / 83.4°F
15.6°C / 60°F

04:49

/

19:49

47
7
28.6°C / 83.4°F
15.7°C / 60.2°F

04:49

/

19:50

31
8
28.7°C / 83.6°F
15.8°C / 60.4°F

04:49

/

19:50

25
9
28.8°C / 83.8°F
15.9°C / 60.6°F

04:49

/

19:51

20
10
28.8°C / 83.8°F
16°C / 60.8°F

04:49

/

19:52

27
11
28.8°C / 83.8°F
16°C / 60.8°F

04:48

/

19:52

39
12
28.9°C / 84°F
16.1°C / 60.9°F

04:48

/

19:53

46
13
28.9°C / 84°F
16.3°C / 61.3°F

04:48

/

19:53

44
14
28.9°C / 84°F
16.4°C / 61.5°F

04:48

/

19:53

28
15
29°C / 84.2°F
16.5°C / 61.7°F

04:48

/

19:54

25
16
29°C / 84.2°F
16.6°C / 61.8°F

04:48

/

19:54

26
17
29°C / 84.2°F
16.7°C / 62°F

04:48

/

19:55

46
18
29.1°C / 84.3°F
16.8°C / 62.2°F

04:48

/

19:55

46
19
29.1°C / 84.3°F
16.9°C / 62°F

04:49

/

19:55

35
20
29.1°C / 84.3°F
17°C / 62.6°F

04:49

/

19:55

27
21
29.1°C / 84.3°F
17.1°C / 62.7°F

04:49

/

19:56

44
22
29.2°C / 84.5°F
17.2°C / 62.9°F

04:49

/

19:56

96
23
29.2°C / 84.5°F
17.3°C / 63.1°F

04:49

/

19:56

74
24
29.3°C / 84.7°F
17.4°C / 63.3°F

04:50

/

19:56

58
25
29.3°C / 84.7°F
17.6°C / 63.6°F

04:50

/

19:56

47
26
29.4°C / 70.2°F
17.8°C / 64°F

04:50

/

19:56

44
27
29.4°C / 84.9°F
17.9°C / 64.2°F

04:51

/

19:56

46
28
29.5°C / 85.1°F
18°C / 64.4°F

04:51

/

19:56

52
29
29.5°C / 85.1°F
18.1°C / 64.5°F

04:52

/

19:56

41
30
29.6°C / 85.2°F
18.1°C / 64.5°F

04:52

/

19:56

49
- Last updated on Sep. 19, 2019 -