Zhangjiakou Weather in January
January witnesses the coldest month in Zhangjiakou over a year. As a city which is located in Hebei in the north of China, Zhangjiakou weather in January is quite cold compared with many other cities in China. Moreover, the weather is often dry and blustery in this period as well. The average temperature of Zhangjiakou in January is from around -12°C (10°F) at night to -2°C (28°F) in the day.
Although the winter climate seems not very suitable for people to have a trip, Zhangjiakou is really a nice place to visit in this period. As one of the 10 best tourist cities of ice and snow in China and one of the competition areas of
Beijing 2022 Winter Olympic Games
, it has abundant snowfall and beautiful winter landscape. With many well-developed ski resorts, Zhangjiakou is especially an ideal place to go skiing in January.
Averages for Zhangjiakou Weather in January
Temperature: -8°C / 18°F
High Temperature: -2°C / 28°F
Low Temperature: -12°C / 10°F
Humidity: 41%
Rainfall: 2 mm
Rainy Days: 1 day
Sunrise: 07:32 ~ 07:45
Sunset: 17:03 ~ 17:37
Air Quality in January
Average AQI:81

What to Wear in Zhangjiakou in January
As mentioned before, the weather is not only very cold but also windy and dry. Wearing a downcoat, cotton-padded clothes, thick sweater and padded trousers is advisable. Besides, hat, scarf, mask and gloves can help to protect your exposed skin from the cold and strong wind of Zhangjiakou's climate in January.


Where to Go in Zhangjiakou in January
Going skiing is highly recommended in this month of Zhangjiakou. Next to the Inner Mongolia steppe, Chongli Snow Mountain in Zhangjiakou has many high-quality ski resorts with gorgeous natural scenery like
Wanlong Ski Resort
,
Genting Resort Secret Garden
and
Changchengling Skiing Field
.
Chongli Ice and Snow Culture Museum is also a wonderful place to visit, which presents the history, culture and development of winter sports, making you have a more profound understanding of these sports and the city.
Other Tips
Skiing is a kind of extreme sport, which is dangerous to a certain degree. Therefore, you should prepare suitable outfits and do sufficient warming-up exercise before you go skiing in case of sprain or other injuries.
What is the temperature in Zhangjiakou in January?
High/Low Temperatures of Zhangjiakou in January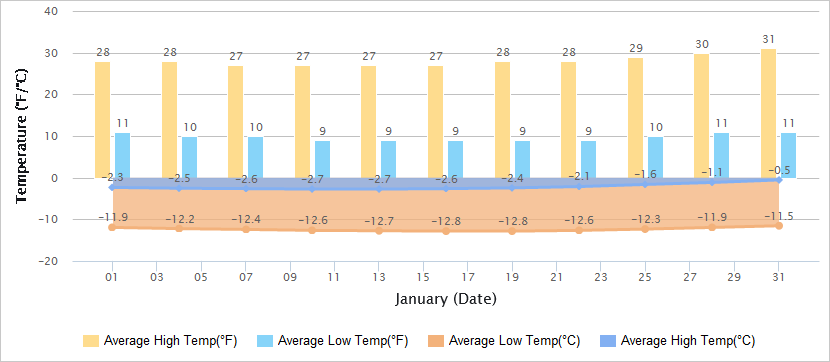 Air Quality of Zhangjiakou in January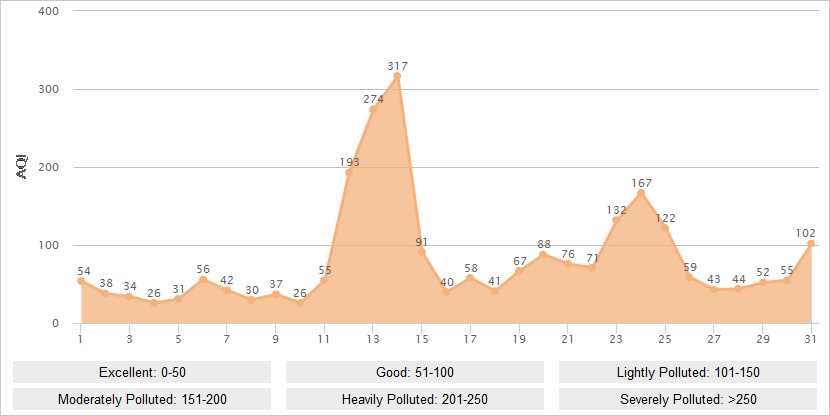 Historical Zhangjiakou Weather in January
Jan
Temperature
Sunrise / Sunset
Humi-
dity
(%)
High
Low
1
-2.3°C / 27.8°F
-11.9°C / 10.5°F

07:45

/

17:03

41
2
-2.3°C / 27.8°F
-12°C / 10.3°F

07:45

/

17:04

41
3
-2.4°C / 27.6°F
-12.1°C / 10.2°F

07:45

/

17:05

47
4
-2.5°C / 27.5°F
-12.2°C / 10°F

07:45

/

17:06

39
5
-2.5°C / 27.5°F
-12.2°C / 10°F

07:45

/

17:07

58
6
-2.6°C / 27.3°F
-12.3°C / 9.8°F

07:45

/

17:08

67
7
-2.6°C / 27.3°F
-12.4°C / 9.6°F

07:45

/

17:09

66
8
-2.7°C / 27.1°F
-12.5°C / 9.5°F

07:45

/

17:10

51
9
-2.7°C / 27.1°F
-12.5°C / 9.5°F

07:45

/

17:11

62
10
-2.7°C / 27.1°F
-12.6°C / 9.3°F

07:45

/

17:12

53
11
-2.7°C / 27.1°F
-12.7°C / 9.1°F

07:44

/

17:13

56
12
-2.7°C / 27.1°F
-12.7°C / 9.1°F

07:44

/

17:14

59
13
-2.7°C / 27.1°F
-12.7°C / 9.1°F

07:44

/

17:15

45
14
-2.7°C / 27.1°F
-12.8°C / 8.9°F

07:43

/

17:16

30
15
-2.7°C / 27.1°F
-12.8°C / 8.9°F

07:43

/

17:17

38
16
-2.6°C / 27.3°F
-12.8°C / 8.9°F

07:43

/

17:19

61
17
-2.6°C / 27.3°F
-12.8°C / 8.9°F

07:42

/

17:20

50
18
-2.5°C / 27.5°F
-12.8°C / 8.9°F

07:42

/

17:21

44
19
-2.4°C / 27.6°F
-12.8°C / 8.9°F

07:41

/

17:22

50
20
-2.3°C / 27.8°F
-12.8°C / 8.9°F

07:41

/

17:23

36
21
-2.2°C / 28°F
-12.6°C / 9.3°F

07:40

/

17:24

56
22
-2.1°C / 28.2°F
-12.6°C / 9.3°F

07:39

/

17:26

56
23
-1.9°C / 28.5°F
-12.5°C / 9.5°F

07:39

/

17:27

59
24
-1.8°C / 28.7°F
-12.4°C / 9.6°F

07:38

/

17:28

58
25
-1.6°C / 29.1°F
-12.3°C / 9.8°F

07:37

/

17:29

30
26
-1.5°C / 29.3°F
-12.2°C / 10°F

07:36

/

17:31

55
27
-1.3°C / 29.6°F
-12.1°C / 10.2°F

07:36

/

17:32

37
28
-1.1°C / 30°F
-11.9°C / 10.5°F

07:35

/

17:33

35
29
-0.9°C / 30.3°F
-11.8°C / 10.7°F

07:34

/

17:34

48
30
-0.7°C / 30.7°F
-11.6°C / 11.1°F

07:33

/

17:35

22
31
-0.5°C / 31.1°F
-11.5°C / 11.3°F

07:32

/

17:37

27
- Last updated on Sep. 19, 2019 -