Zhangjiakou Weather in October
In October, Zhangjiakou witnesses the weather of deep autumn. The temperature decreases further and the highest average daily temperature is 17°C (63°F) or so and the lowest daily temperature on average is 5°C (41°F). The cold air is becoming stronger and stronger during this period. At the same time, there will be more windy days and less rainy days.

This period is in the harvest season of many fruits, dried nuts and vegetables. Thereinto, Zhuolu Youyou Jujube is one of the best fruits in Zhuolu County of Zhangjiakou, which becomes mature and tastes best during this period. It tastes delicious and crispy with sweetness and sour, making it the best fruit to enjoy and be given as a present to others.
Averages for Zhangjiakou Weather in October
Temperature: 10°C / 50°F
High Temperature: 17°C / 63°F
Low Temperature: 5°C / 41°F
Humidity: 48%
Rainfall: 20 mm
Rainy Days: 4 days
Sunrise: 06:17 ~ 06:49
Sunset: 17:18 ~ 18:03
Air Quality in October
Average AQI:59

What to Wear in Zhangjiakou in October
The climate in Zhangjiakou in October is getting colder. If you'd like to visit Zhangjiakou in this month, please be careful to keep warm in case of catching a cold. Thick long sleeves shirt, woolen vest, greatcoat and corduroys are all wise choices.


Where to Go in Zhangjiakou in October
At present, Zhangjiakou owns the most of the
Great Wall
of China, referred to as "the museum of Great Wall". Here you would not like to miss a visit of Great Wall.
Dajingmen Great Wall
is the most famous one here. Dajingmen is one of the four great strategic passes of the Great Wall of China, together with
Shanhaiguan
,
Juyongguan
and
Jiayuguan
, and is an important pass of traffic and trade in ancient China. The shape of Dajingmen is solemn and massive, making you feel the vicissitude of Chinese history.
Jade Emperor Pavilion is located in Yu County of Zhangjiakou, which is also called Jingbian Tower. This pavilion was built in the Ming Dynasty (1368-1644) to enshrine and worship Jade Emperor. Meanwhile, it has the function of military defense in Yu Ancient City. Nowadays, the Jade Emperor Pavilion still retains its original appearance, showing people the magnificent and exquisite ancient China architectural style.
Other Tips
During the vacation celebrating Chinese National Day from October 1st to October 7th, tourist numbers may be more than other days in this month to some extent, you'd better stagger this time for a happy tour.
What is the temperature in Zhangjiakou in October?
High/Low Temperatures of Zhangjiakou in October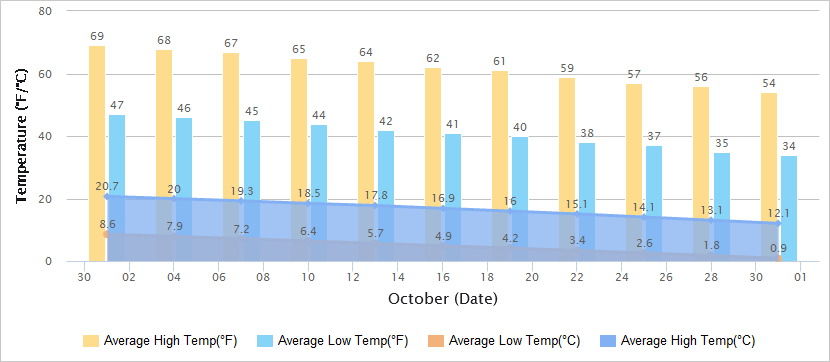 Air Quality of Zhangjiakou in October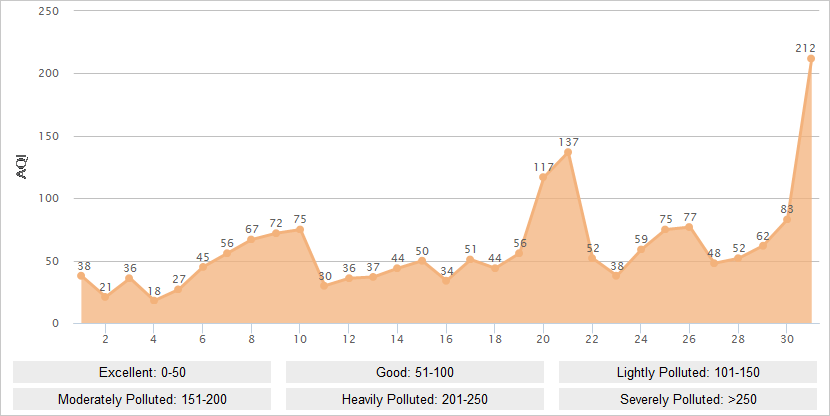 Historical Zhangjiakou Weather in October
Oct
Temperature
Sunrise / Sunset
Humi-
dity
(%)
High
Low
1
20.7°C / 69.2°F
8.6°C / 47.4°F

06:17

/

18:03

22
2
20.4°C / 68.7°F
8.3°C / 46.9°F

06:18

/

18:01

62
3
20.2°C / 68.3°F
8.1°C / 46.5°F

06:19

/

18:00

29
4
20°C / 68°F
7.9°C / 46.2°F

06:20

/

17:58

26
5
19.8°C / 67.6°F
7.6°C / 45.6°F

06:21

/

17:56

41
6
19.5°C / 67.1°F
7.4°C / 45.3°F

06:22

/

17:55

47
7
19.3°C / 66.7°F
7.2°C / 44.9°F

06:23

/

17:53

55
8
19°C / 66.2°F
6.9°C / 44.4°F

06:24

/

17:52

60
9
18.8°C / 65.8°F
6.7°C / 44°F

06:25

/

17:50

69
10
18.5°C / 65.3°F
6.4°C / 43.5°F

06:26

/

17:48

74
11
18.3°C / 64.9°F
6.2°C / 43.1°F

06:27

/

17:47

47
12
18°C / 64.4°F
5.9°C / 42.6°F

06:28

/

17:45

44
13
17.8°C / 64°F
5.7°C / 42.2°F

06:29

/

17:44

34
14
17.5°C / 63.5°F
5.4°C / 41.7°F

06:30

/

17:42

41
15
17.2°C / 62.9°F
5.2°C / 41.3°F

06:31

/

17:41

41
16
16.9°C / 62.4°F
4.9°C / 40.8°F

06:32

/

17:39

45
17
16.6°C / 61.8°F
4.7°C / 40.4°F

06:33

/

17:38

56
18
16.3°C / 61.3°F
4.4°C / 39.9°F

06:35

/

17:36

69
19
16°C / 60.8°F
4.2°C / 39.5°F

06:36

/

17:35

51
20
15.7°C / 60.2°F
3.9°C / 39°F

06:37

/

17:33

43
21
15.4°C / 59.7°F
3.7°C / 38.6°F

06:38

/

17:32

47
22
15.1°C / 59.1°F
3.4°C / 38.1°F

06:39

/

17:30

55
23
14.8°C / 58.6°F
3.1°C / 37.5°F

06:40

/

17:29

43
24
14.4°C / 57.9°F
2.9°C / 37.2°F

06:41

/

17:28

43
25
14.1°C / 57.3°F
2.6°C / 36.6°F

06:42

/

17:26

43
26
13.8°C / 56.8°F
2.3°C / 36.1°F

06:44

/

17:25

22
27
13.4°C / 56.1°F
2.1°C / 35.7°F

06:45

/

17:24

43
28
13.1°C / 55.5°F
1.8°C / 35.2°F

06:46

/

17:22

29
29
12.8°C / 55°F
1.5°C / 34.7°F

06:47

/

17:21

23
30
12.4°C / 54.3°F
1.2°C / 34.1°F

06:48

/

17:20

21
31
12.1°C / 53.7°F
0.9°C / 33.6°F

06:49

/

17:18

37
- Last updated on Sep. 19, 2019 -