Datong Travel Guide
Datong Facts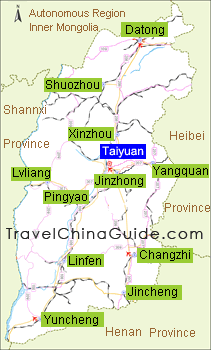 Chinese Name: 大同市 (dà tóng shì)
Location: Datong is situated in northern Shanxi Province. It is bordered by Inner Mongolia to the North and Hebei Province to the east.

Population: 3,421,900
Area: 14,176 square kilometers (5473 square miles)
Nationalities: Han
City Flower: Lilac
City Tree: Chinese scholartree

Administrative Division: Covering an area of it has four districts and seven counties under its prefecture. It is the second largest city in Shanxi Province.
4 districts (Chengqu, Kuangqu, Nanjiao,Xinrong);
7 counties (Yanggao, Tianzhen, Guangling, Lingqiu, Hunyuan, Zuoyun, Datong);
8 towns (Xinrong, Longquan, Yuquan, Huquan, Wuling, Yong'an, Yunxing, Xiping)




Pictures
These prosperous days left the city with a series of splendid historic and cultural relics like the Yungang Grottoes, Hanging Monastery and Wooden Pagoda. Most of them are the integration of minorities' cultural and Han culture.
| | |
| --- | --- |
| Yungang Grottoes | Yanmenguan Pass, Great Wall |
Recommended Tours:

3 Days Private Datong Tour from Beijing from $279


4 Days Tour to Pingyao & Datong from $519


Hiking Adventure: Information about hiking in Datong for your reference
Since it is a key resource city, transportation here is quite convenient, especially by air and by train. Series of flight routes and railways work as a huge net to connect the city with many nearby cities. The city has three main bus stations: Datong Bus Station, Xinnan Passenger Transport Station and Dongguan Bus Station. City-buses and taxis provide a lot of convenience for tourists to tour around the city.
Weather
-

History: Datong is one of the 24 famous historical and cultural cities in China due to its ever prosperous history. With a history of over 2400 years, it was the capital of Northern Wei (386~534) for 96 years, and the 'support capital' of Liao (916~1125) and Jin (1115~1234). It was the political, economic and military center of ancient North China, which attracted many people from various nations for trade or business.



Physical Features: The scenery here differs markedly from the delicate and pretty cities south of Yangtze River. Here, green hills and small clean streams are rarely seen. What you can find is continuous peaks rising one upon another; majestic old temples standing for thousands of years and the vast sky and light cloud over your head. All of this reveals a grand and infinite air.



Local Highlights: Known as the 'City of the Coal', it has developed into the second largest industrial city in Shanxi due to its advantage in energy. Its large reserves of coal make it a very important energy base for China.



Further Reading:


Shopping & Nightlife

Dining
- Last modified on Feb. 28, 2019 -