Datong Travel Guide
Datong Facts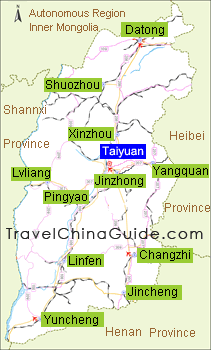 Chinese Name: 大同 (dà tóng)
Population: 3,463,000
Area: 14,176 square kilometers (5,473 square miles)
Location: in the north of Shanxi Province, north China
Administrative Division: 4 districts (Chengqu, Kuangqu, Nanjiao, Xinrong); 6 counties (Yanggao, Tianzhen, Guangling, Lingqiu, Hunyuan, Zuoyun)
Area Code: 0352
Zip Code: 037000
GDP (2019): CNY 131.88 billion (USD 19.12 billion)
Famous for Yungang Grottoes, Hanging Monastery & Mt. Hengshan
Datong is the second-largest city in Shanxi. It is situated in northern Shanxi and bordered by Inner Mongolia to the north and Hebei to the east. As an important energy base in China, Datong has abundant and high-quality coal which is the outstanding industrial power fuel. Datong is also one of the most popular tourist destinations in China due to its magnificent and picturesque Mt. Hengshan. It has many religious buildings, especially the Hanging Monastery, the world's oldest wooden pagoda hanging in the cliff.

In addition, Datong has preserved many exquisite sculptured reliefs in Chinese history. Taking the sculptures in Yungang Grottoes, Huayan Temple and Shanhua temple as examples, they have created the pinnacle of Chinese sculpture art. Now, the Chinese Sculpture Museum in the north city wall displays the works of modern Chinese and foreign sculptors in different forms every year.



Pictures
These prosperous days left the city with a series of splendid historic and cultural relics like the Yungang Grottoes, Hanging Monastery and Wooden Pagoda. Most of them are the integration of minorities' cultural and Han culture.
| | |
| --- | --- |
| Yungang Grottoes | Yanmenguan Pass, Great Wall |
Recommended Tours:

3 Days Private Datong Tour from Beijing



4 Days Tour to Pingyao & Datong from $639



Hiking Adventure: Information about hiking in Datong for your reference
Since it is a key resource city, transportation here is quite convenient, especially by air and by train. Series of flight routes and railways work as a huge net to connect the city with many nearby cities. The city has three main bus stations: Datong Bus Station, Xinnan Passenger Transport Station and Dongguan Bus Station. City-buses and taxis provide a lot of convenience for tourists to tour around the city.
Weather
-

History: Datong is one of the 24 famous historical and cultural cities in China due to its ever prosperous history. With a history of over 2400 years, it was the capital of Northern Wei (386~534) for 96 years, and the 'support capital' of Liao (916~1125) and Jin (1115~1234). It was the political, economic and military center of ancient North China, which attracted many people from various nations for trade or business.



Physical Features: The scenery here differs markedly from the delicate and pretty cities south of Yangtze River. Here, green hills and small clean streams are rarely seen. What you can find is continuous peaks rising one upon another; majestic old temples standing for thousands of years and the vast sky and light cloud over your head. All of this reveals a grand and infinite air.



Local Highlights: Known as the 'City of the Coal', it has developed into the second largest industrial city in Shanxi due to its advantage in energy. Its large reserves of coal make it a very important energy base for China.



Further Reading:


Shopping & Nightlife

Dining
- Last updated on Apr. 08, 2021 -
Questions & Answers on Datong Travel
Asked by ROOKIEMOMO | May. 05, 2019 08:47

Reply
How do I go Wutaishan from Yingxian Wooden Pagoda without going back to Datong?
Is there a bus that i can take from Yingxian to Shahezhen?
Answers (1)
Answered by Kesha from USA | May. 06, 2019 18:27

0

0

Reply
It seems there is no direct bus departing from Yingxian to Wutaishan and you have to go back to Datong.
Asked by Gina Tan from SINGAPORE | May. 02, 2019 20:37

Reply
Hi, plan to visit Shanxi next year, need how many days to travel whole Shanxi province, tks
Answers (1)
Answered by Fred from GERMANY | May. 06, 2019 18:19

0

0

Reply
5-7 days can cover main attractions of the province.
Asked by susi from INDONESIA | Mar. 24, 2019 00:39

Reply
Datong in one day
hi, could you tell me how to arrange my trip?
I will be arrive early morning by sleeper train from Beijing and planning to back with another sleeper train in the night.
So, i plan to go to yungang grottoes first , i heard there is direct bus from railway station, then after that i plan to go to hanging monastery :
1. how can i go to hanging temple from yungangg grottoes?
2. from hanging temple, how can i back to railway station?
3. is it possible to see nine dragon screen after hanging temple? how can i go there?
4. any recommended place for dinner before i back to railway station?

Thank you
Susi
Answers (1)
Answered by Fred from CANADA | Mar. 28, 2019 23:54

0

0

Reply
1. You need to take a regular bus from DT East Bus Station to Hunyuan Bus Station first and then take a taxi to the temple. From grottoes to the east bus station, you can take Bus Line 3 to Gongjiao Sigongsi, then walk north about 250m to take Bus Line 38 to the East Bus Station. The bus from east bus station to Hunyuan departs from 6:30 to 17:20 every 30 min.

2.Take a bus from Hunyuan Bus Station to DT East bus station. The bus starts from 7:00 to 16:55 with an interval about 20 minutes. Then take Bus Line 70/66 to the railway station.

3. No, the time is too tight and you need to spend a lot of time on the way. In fact, hiring a private car is more recommended.

4.You can find some restaurants near the railway station but it is too hurry to taste some delicious food in the city before leaving.
Asked by Manuela from BRAZIL | Aug. 14, 2018 06:21

Reply
How can I get from Yungang Grottoes to Hanging Temple by bus?
I'm having trouble to find the bus stations on the map and others accurate informations.
Answers (3)
Answered by Chris from GERMANY | Aug. 14, 2018 20:16

0

0

Reply
There is no direct bus between the two places. You need to take a bus to the Railway Station first and then take a bus to Hunyuan County, then take a tourist bus to the Hanging Monastery.
Answered by Manuela from BRAZIL | Aug. 15, 2018 04:21

0

0

Reply
Thank you, Chris.

Do you know the numbers of these buses?
Answered by Chris from GERMANY | Aug. 15, 2018 18:06

0

0

Reply
First take tourist bus line 603 to the railway station and there is no bus number on the bus. They always use the Chinese character "大同-浑源".